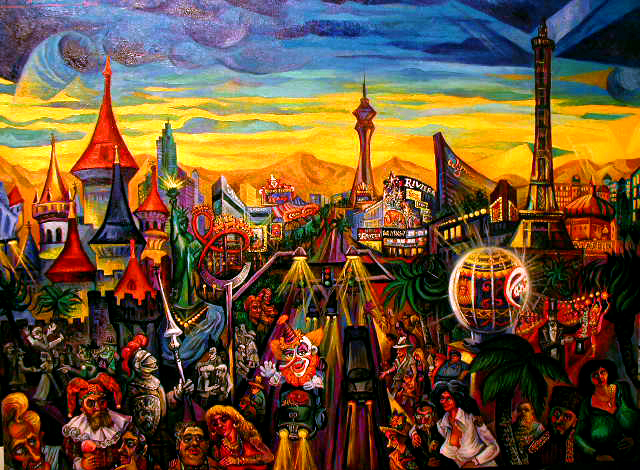 Many thanks to the valued collector who purchased this painting and chose to display it over the one of a kind original antique slot machine from a Las Vegas casino.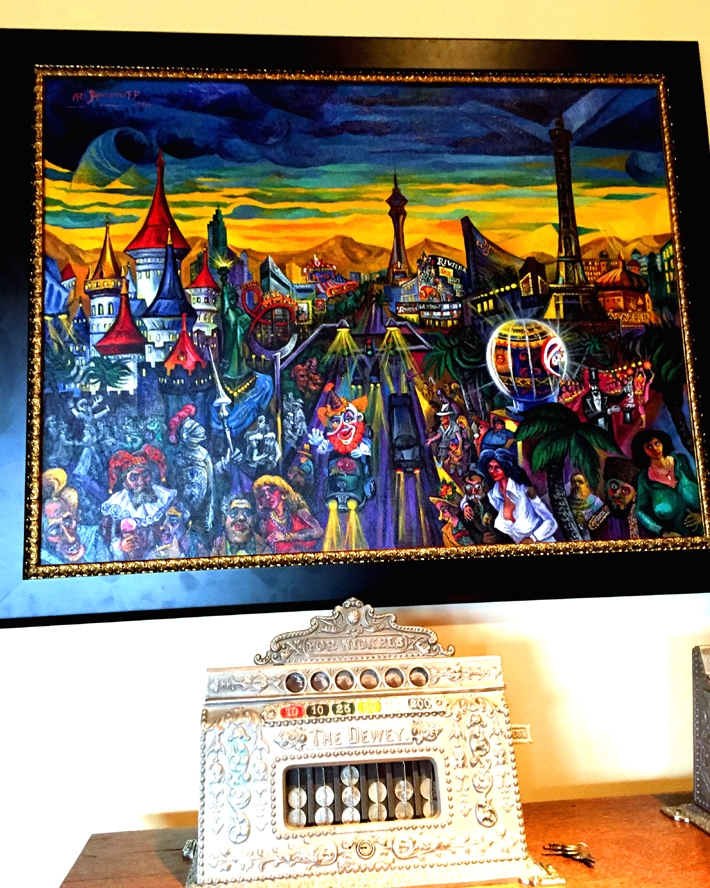 "LAS VEGAS RAZAMATAZ"
 The evening descends on Vegas as the lights go up the entire town springs to life! This is an Authentic Signed and Dated, Ari Roussimoff Oil on Canvas Painting from the year 2005. With sparkling jewel-like colours, the artist has created an almost monumental 30 x 40 inches sized homage to that legendary American playground in the desert. Filled with an abundance of whimsical activity, the essence of Las Vegas has never been captured with such clarity of vision and style. In order to achieve this spellbinding effect, Roussimoff chose select icons of Vegas and incorporated them into one single gigantic composition of dynamic planes and glistening colours. With its poetic but Expressionist palette and subtle Cubist like shapes, one easily identifies an array of famous landmarks. Within this grand phantasmagoria, one recognizes the glistening "Riviera Hotel", the lyrical "Circus Circus", "The Mirage", the towering "Stratosphere", the exotic "Aladin" and "New York, New York" with its outstanding Roller Coaster and Statue of Liberty. Also represented are some of the newest hotels such as the "Paris" with its dazzling "Eifel Tower" and Steve Wynn's artistic extravaganza hotel and casino. Front right is the great Medieval styled Disneyesque Castle Casino known as "Excaliber". Within this composition there is even a representation of magicians Siegfreid and Roy together with one of their beloved tigers. This exciting work represents the artist's impressions of one of his favorite American cities. A place he respects as being a complete and unique vision in and of itself. "LAS VEGAS RAZAMATAZ" with its cast of fun loving families, magicians, cowboys, cowgirls, clowns, dancing show girls, tattooed gamblers, lusty patrons, philosophic jesters, knights in armor and all around multitude of picturesque visitors is as life-like and inspiring as a painting can be. Roussimoff, who is not only an esteemed painter, but a director of movies as well, makes reference to the favorite of his movies, "Freaks Uncensored", which he has painted on a T-Shirt worn by "Jo Jo the Dog Faced man" in the front.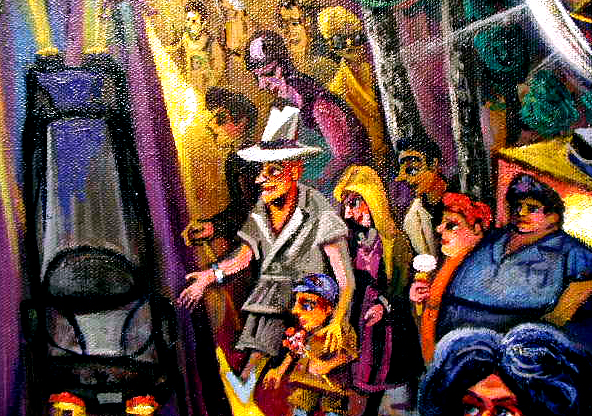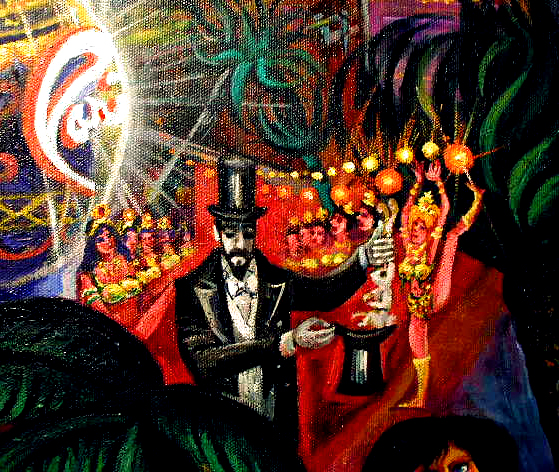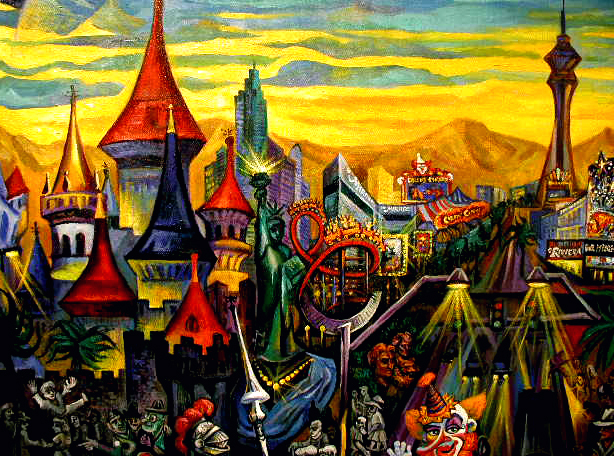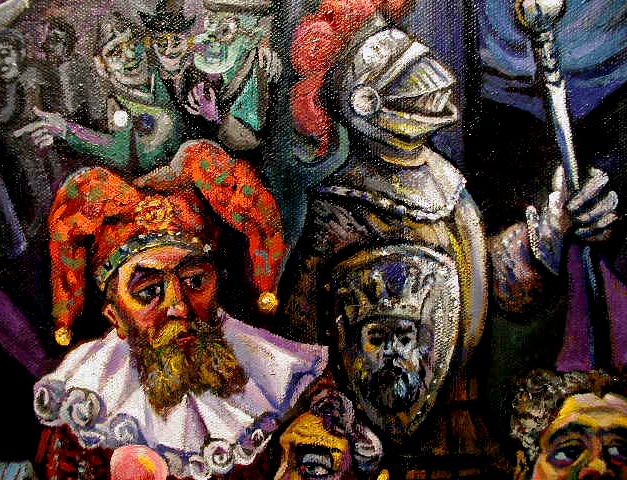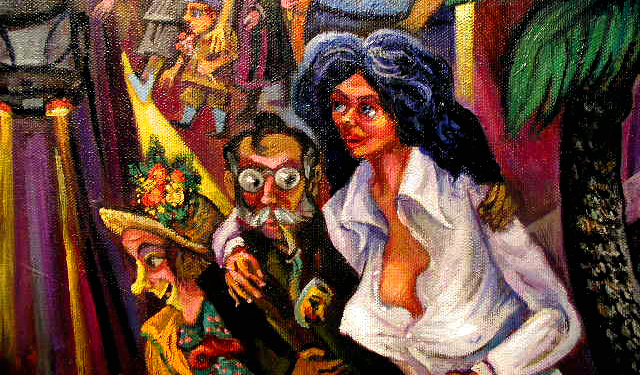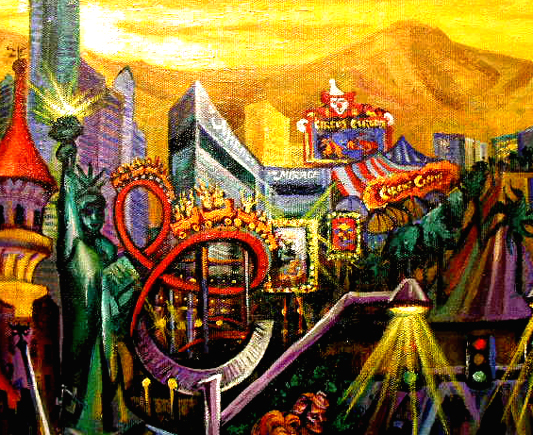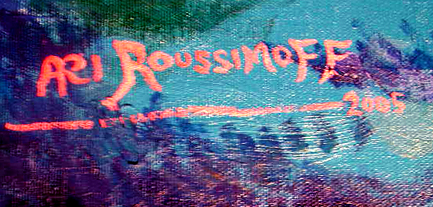 "LAS VEGAS RAZAMATAZ"
Oil on Canvas by Ari Roussimoff