An Outstanding and Symbol-Rich Work of Eastern European Surrealist and Fantasy Art, Painted by the World Famous Russian-European Painter and Film Director Ari Roussimoff.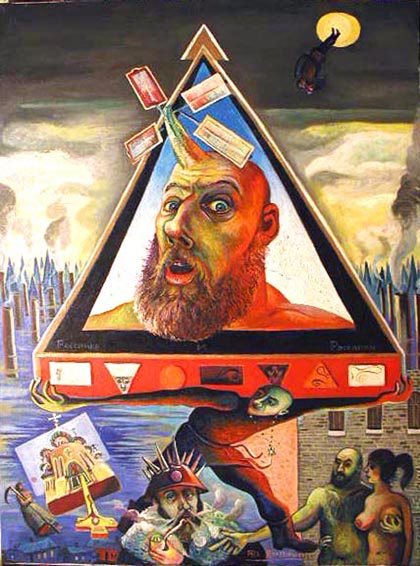 "A MIND IS A SEXY THING TO WASTE" is a Genuine Signed & Dated Ari Roussimoff Oil on Canvas Painting, measuring a Large-Sized approx. 23 1/2 x 31 1/4 inches. It was painted in Munich, Germany during the year 1981. "A MIND IS A SEXY THING TO WASTE" serves as Roussimoff's Incredible Phantasmagoric Commentary on our society gone fully topsey-turvey with all the priorities messed up. The artist asks incredulously: Is everything around us going absolutely haywire? Is mankind ignoring the very essence of life, of existance? Has everyone put aside their needs for both spirituality and human sexuality? Roussimoff views the sexual and the spiritual as being one, a powerful and sensuous life-force which is neccessary to enhance creativity and all-around positive energies and well-being. In this amazing work, the central figure, framed within a mystical triangle, is shocked to discover himself within a lanscape of military weaponry, cold and pointed metallic spikes aggressively aimed upwards toward Heaven alongside smokestacks contaminating the environment with their belching of soot. The man is aghast at the unfolding situation, and demands to understand how all the great positive energy which was bestowed upon humanity by the Creator, is being corrupted and diminished by weakness of the spirit, thrown into chaos by powers of destruction. This is a most striking Surrealist painting with a gorgeous rainbow-like composition of colours.
This Beautiful Painting, rendered in strong, yet magical and poetic colours, typifies the work that Mr. Roussimoff was doing throughout the 1970's and early 80's. "A MIND IS A SEXY THING TO WASTE" is a fabulous work of art. It is a great addition to anyone's fine collection of Art. The purchaser will receive a certificate of authenticity.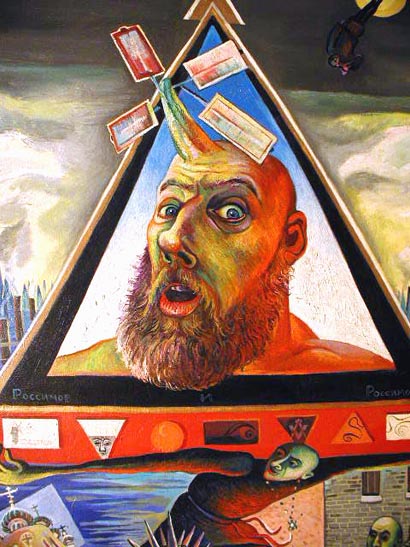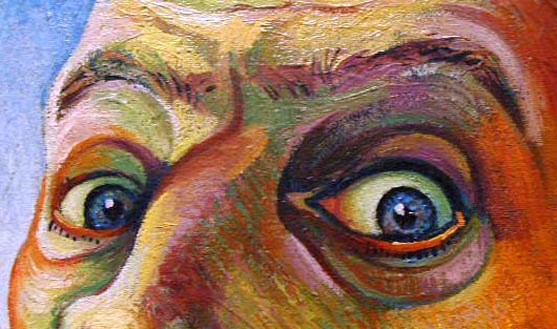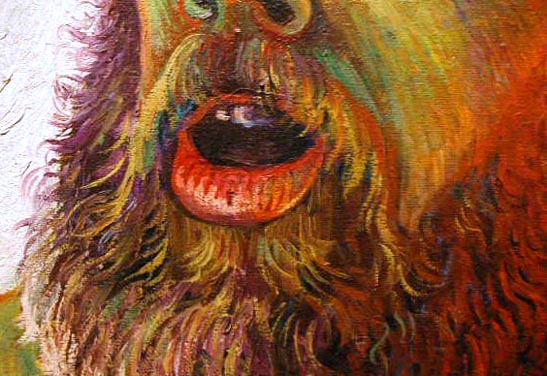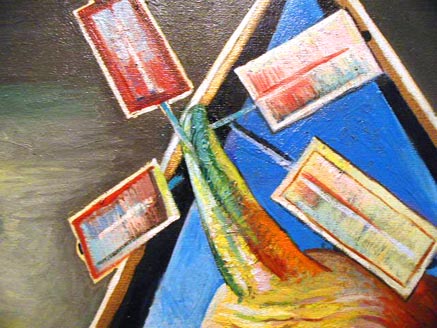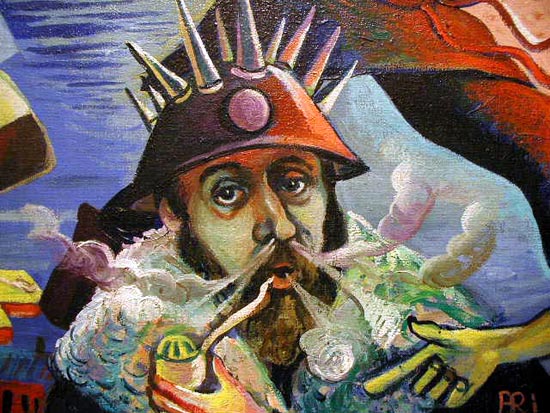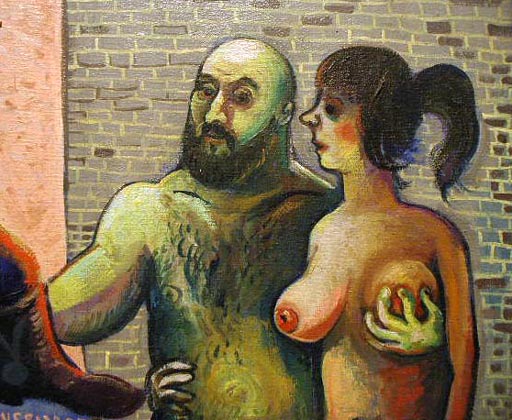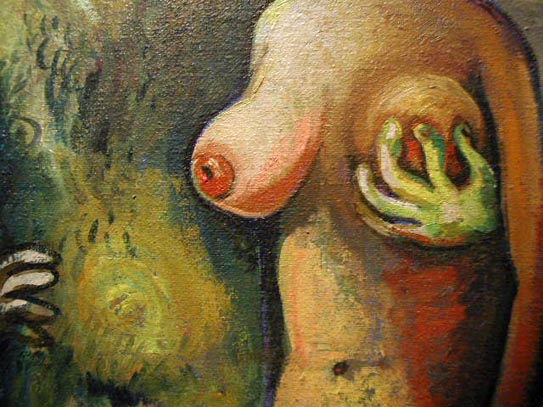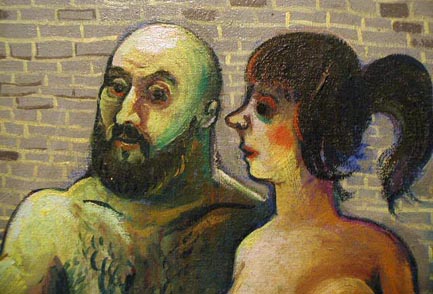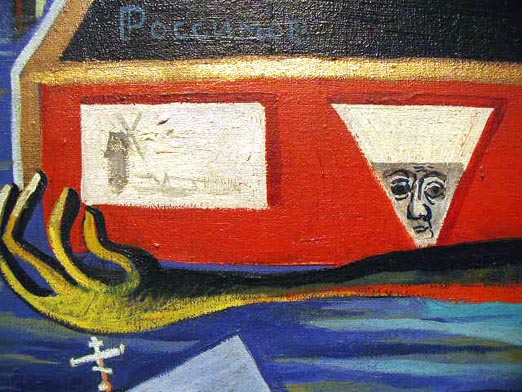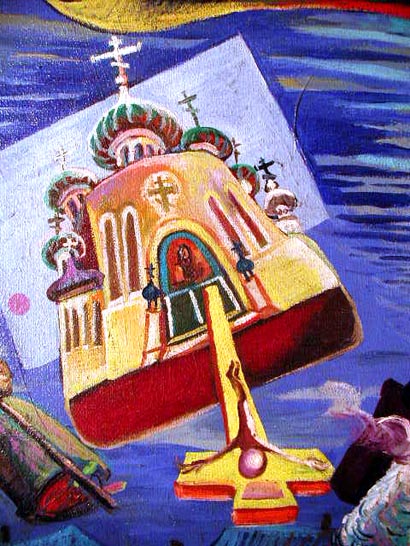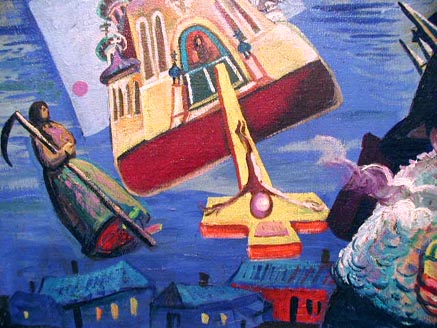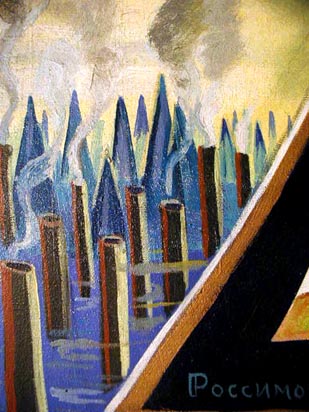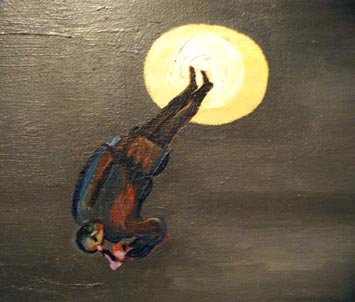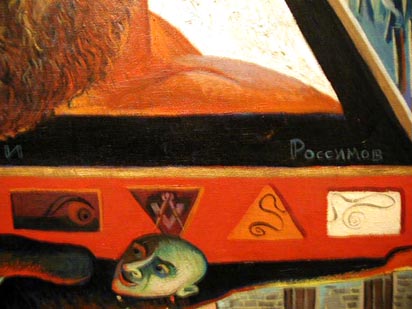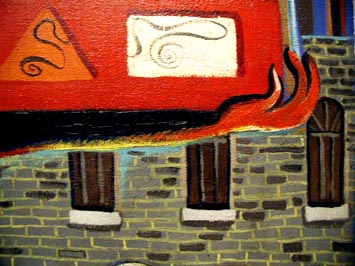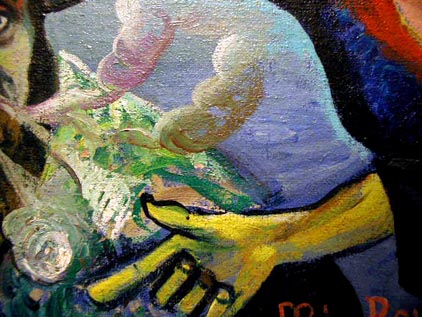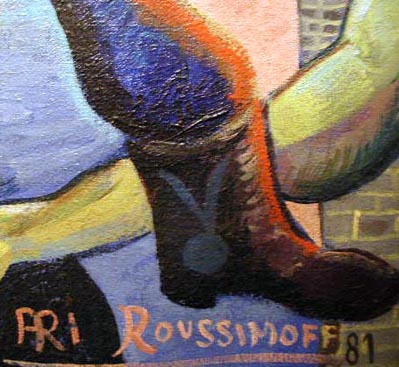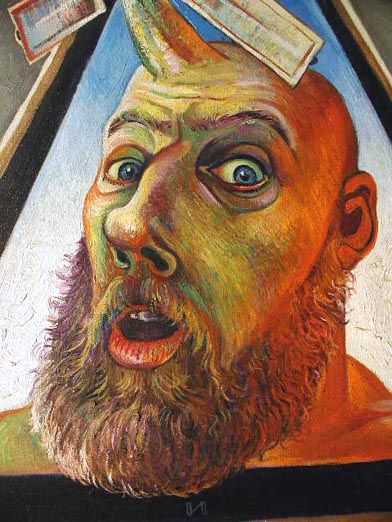 "A MIND IS A SEXY THING TO WASTE"
Oil on Canvas by Ari Roussimoff
Roussimoff Photo Gallery
(below) Here is a small selection of photos showing Roussimoff's paintings being displayed in prestigious art galleries and museums.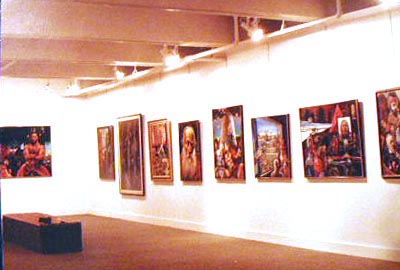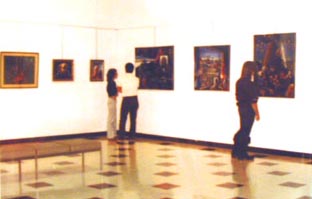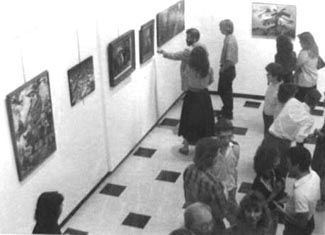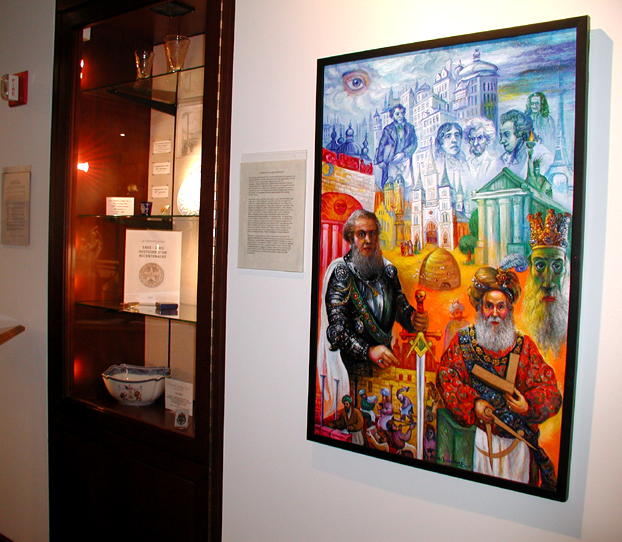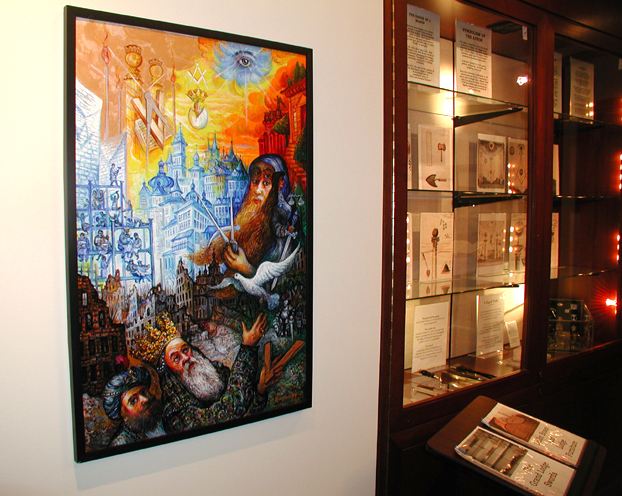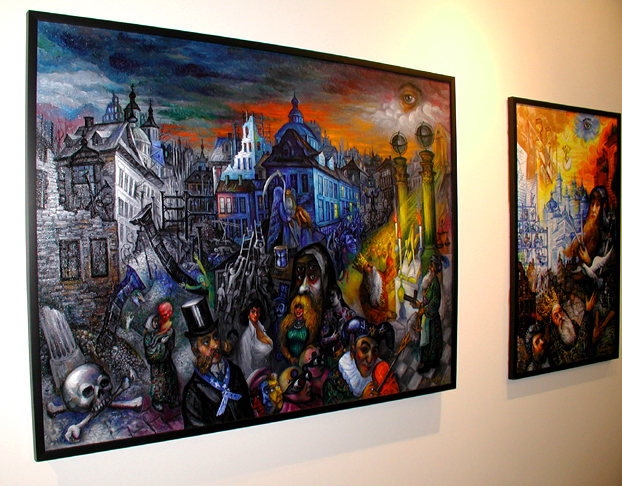 (below) Magazine & newspaper articles and announcements for Roussimoff exhibits in different languages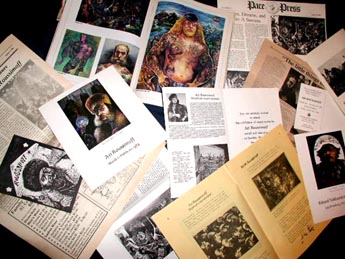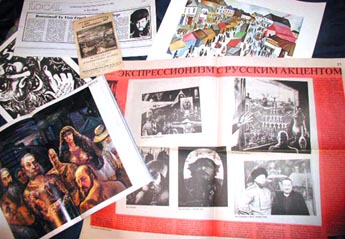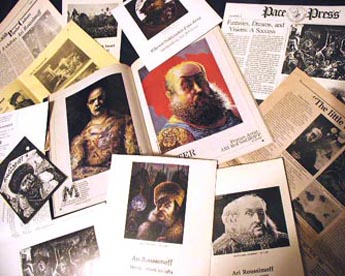 (below) Roussimoff's live appearances. 1. Lecturing to university students. 2. Featured on MTV. 3. Amusing a sell-out crowd in New York's famed Disco club, The "Limelight".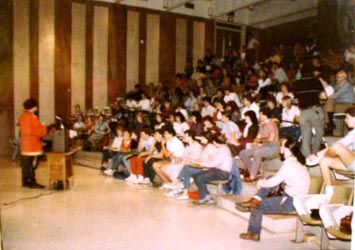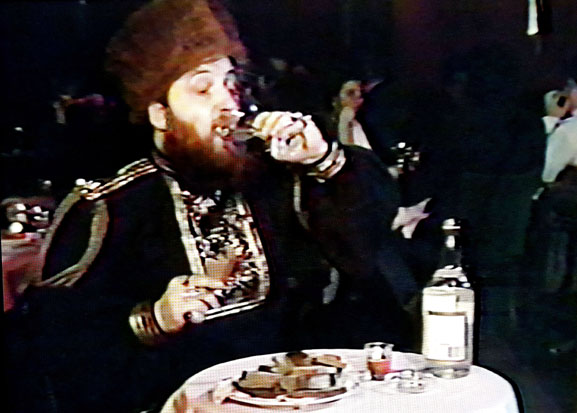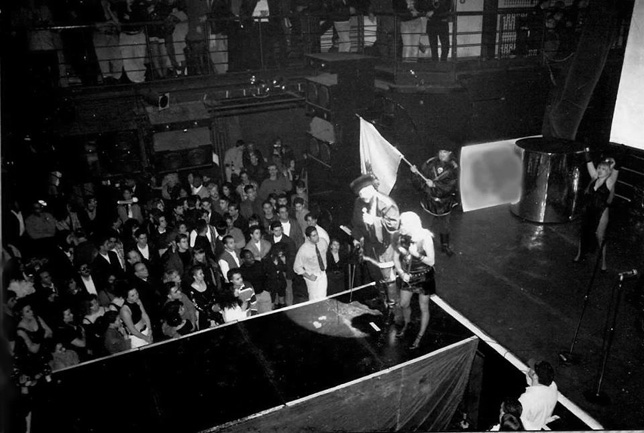 (below) Roussimoff dressed in a vintage coat worn by the great Russian opera star Feodor Chaliapin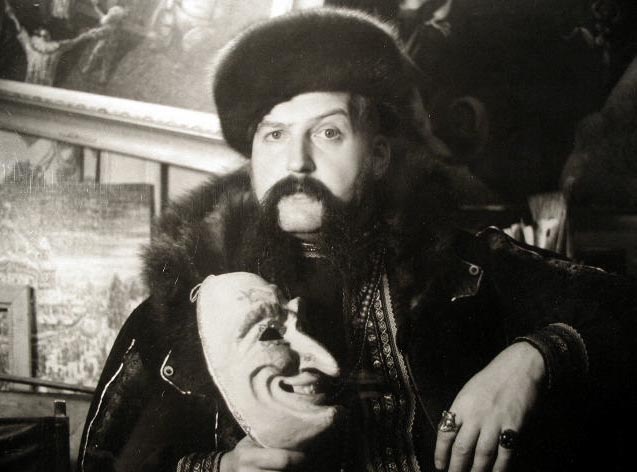 (below) Roussimoff viewing some of his early works at a recent exhibition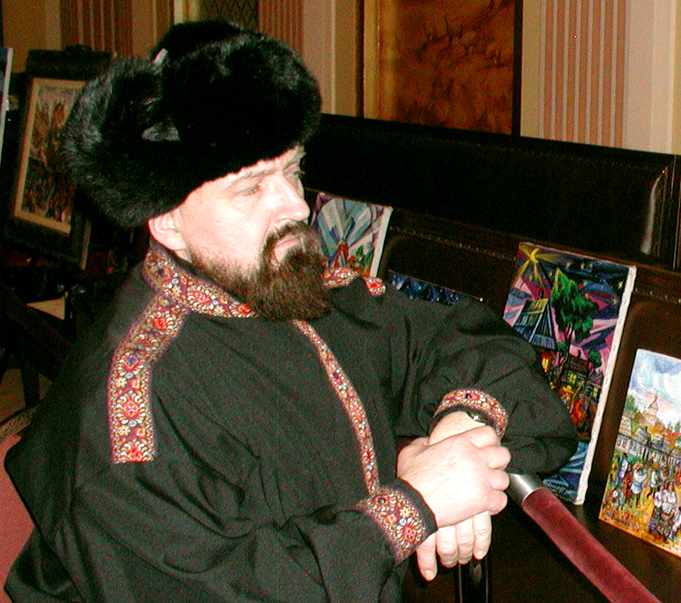 ABOUT ARI ROUSSIMOFF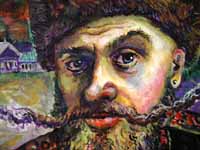 Ari Roussimoff, a critically acclaimed painter and film director, has been called one of the most prolific and creative artists of his generation. His paintings of Russian, Ukrainian, Jewish, symbolic and Masonic themes have earned him much acclaim and they have been shown in over 80 exhibitions worldwide, including at the Eduard Nakhamkin Fine Arts Galleries, M.L. International Gallery of Fine Arts, The Metropolitan Museum of Art, A & J Galleries, The Bucharest Museum , The Nicholas Roerich Museum, Chancellor Robert R. Livingston Masonic Library and Museum, The Peter Fingesten Gallery-Pace University, Arma Galleries, Galerie Ehmer, Stephanie Ann Roper Gallery-Frostburg State University, The Theodor Herzel Institute, Evangelical Lutheran Church, Weintraub Gallery, Anthology Film Archives, Ingber Gallery, Hudson Guild Art Gallery, YM-YWHA, Art Gallery of the Educational Alliance, Galerie Fischer, Ukraine Club Gallery and many others. Among the many who have lauded Ari Roussimoff's paintings were the modern art masters Marc Chagall and Oskar Kokoschka. And as a teenager, he was invited to lunch with Salvador Dali and his wife Gala. For some years now, Ari Roussimoff has also been active as a director of motion pictures. His first full-length feature film was the critically acclaimed surrealist horror movie, "SHADOWS IN THE CITY". Roussimoff won the Phantom of the Movies' award for Best Documentary of 1999 for his incredible film, "FREAKS UNCENSORED" (directed by Roussimoff, screenplay by Vivian Forlander). Considered by critics and audiences alike as the best ever documentary about Circus Sideshow Performers, "FREAKS UNCENSORED" was listed by the esteemed Facets Movie Lovers Video Guide as one of THE BEST DOCUMENTARY MOVIES OF ALL TIME! Roussimoff's colorful life also includes creating sets for a Broadway show, costume design, performance art, hosting a three-part television music program on MTV and appearing on the stage of the Metropolitan Opera in a non-singing acting role. A colorful speaker, the artist has given many talks on his work (and still does). Roussimoff has lectured at colleges, universities, cultural institutions, and various functions in both Europe and America. He has perfectly meshed his life as a painter and as a filmmaker in a way that has not been done before. A world traveler, Roussimoff has lived and worked in Zurich, Amsterdam, New York, Los Angeles, Munich, Miami Beach and San Diego, among other places. Roussimoff works at painting all the time and considers each picture an adventure.

Powered by eBay Turbo Lister
The free listing tool. List your items fast and easy and manage your active items.