A Coloful Vision of Folk Life Painted on an Authentic Cow Horn.
DREAMS OF OLD WORLD RUSSIA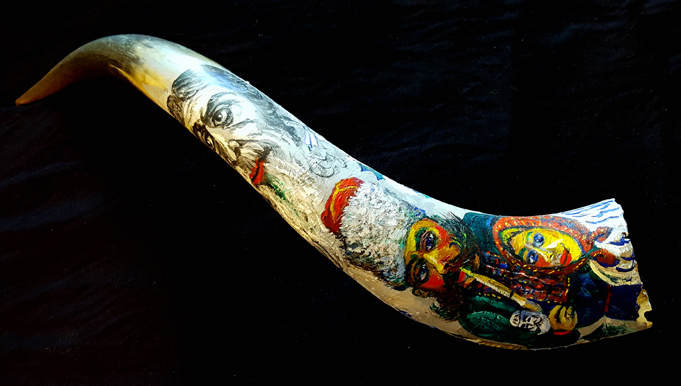 A CAPTIVATING IMAGE FILLED ARTISTIC VISION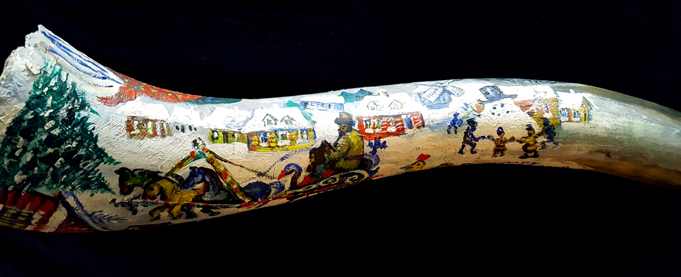 PAINTED ON AN AUTHENTIC COW HORN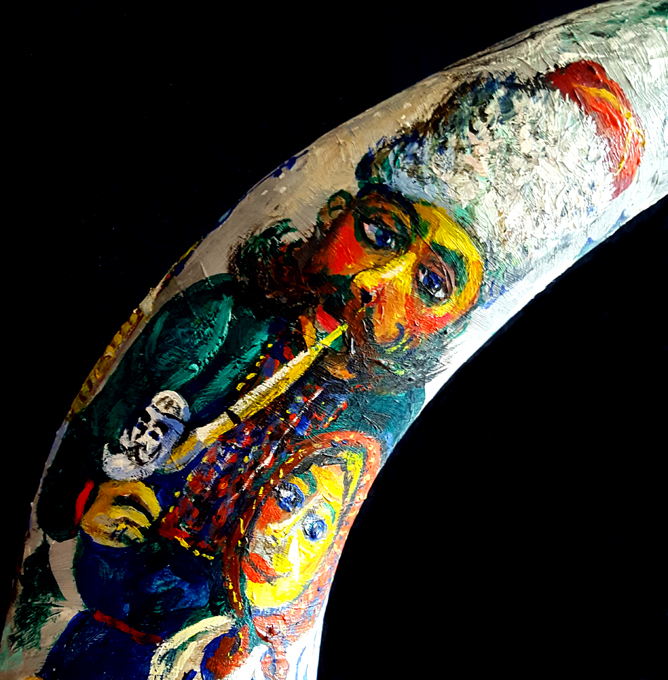 MAGICAL COLORS, AN OLD WORLD COMES TO LIFE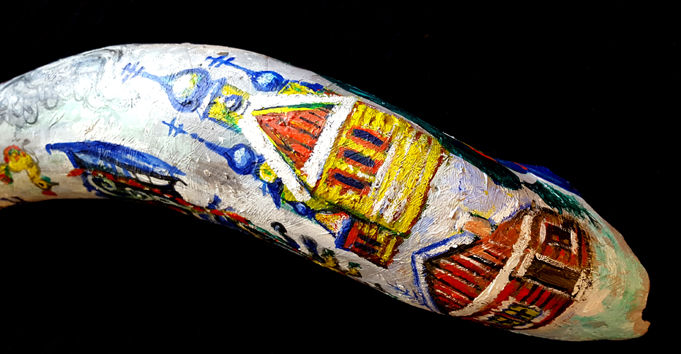 CHILDREN PLAYING, PEASANTS ENJOYING SNOW
A JOYOUS HOLIDAY SPIRIT IN THE RUSSIAN VILLAGE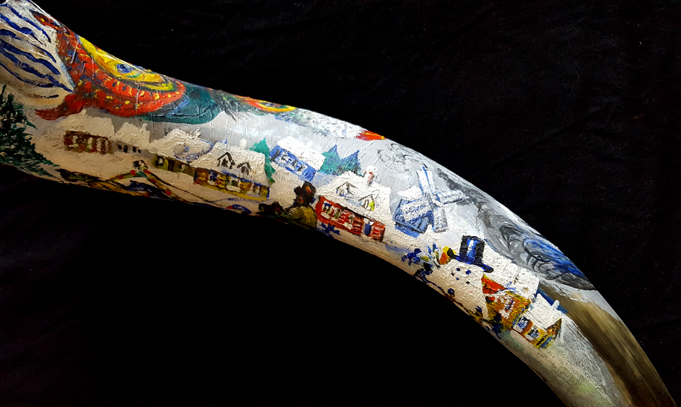 GRANDFATHER WINTER HAS A VERY LONG BEARD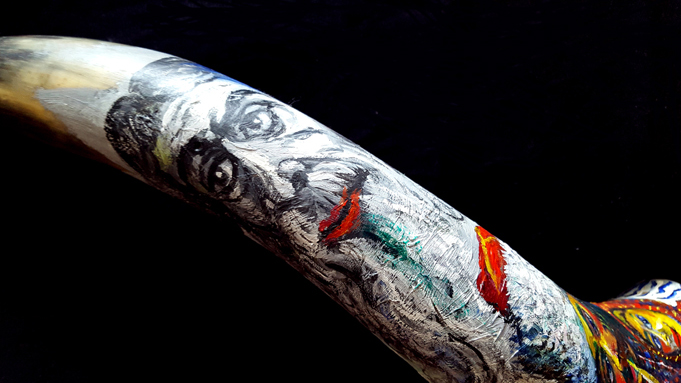 THE TROIKA, ITS HORSES MERRILY GALLOPING
ONION DOMED CHURCH AND ANCIENT WINDMILL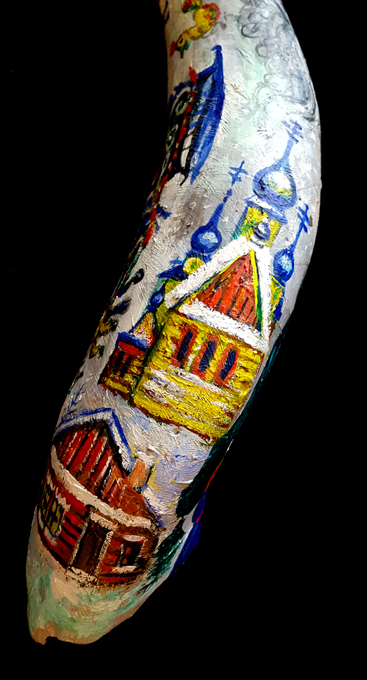 EVERYONE IS HAPPY IN THIS VIVID FANTASY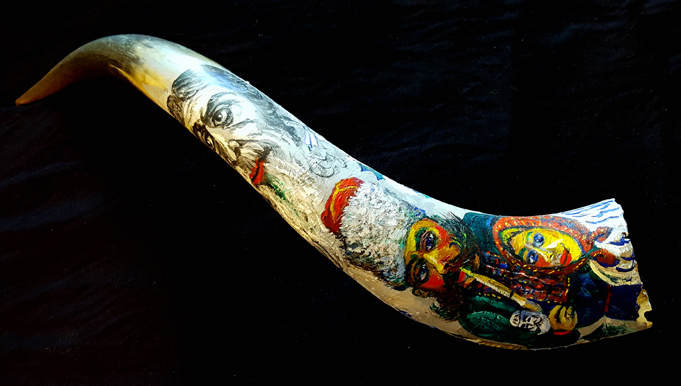 TRULY A ONE OF A KIND ARTWORK BY ARI ROUSSIMOFF
DREAMS OF OLD WORLD RUSSIA
2007 Acrylic on Cow Horn 20 ¼ inches length
This is a rare and unique fairy-tale-like composition depicting the artist's dreams of  the Russia of centuries ago. Here is a beautiful fantasy painting that is rich in colour and imagery. Inspired by historic Russian and Slavic Folk Arts, Ari Roussimoff painted these wondrous scenes on a genuine vintage domestic bovine cow horn. Resembling a powder horn, this highly original artwork will add distinction to any collection. The piece features among other things, a lively Troika making its way through a snowy village, Children playfully dancing around a Snowman, a colorful Peasant couple, a traditional Onion Domed Village Church with Wooden Windmill and Grandfather Winter. Anyplace one looks, one finds captivating images. This is a delightful fantasy artwork. "DREAMS OF OLD WORLD RUSSIA is an Authentic Signed and Dated Ari Roussimoff Acrylic on Cow Horn Painting measuring approximately 20 ¼ inches length and dated 2007. Buyer will receive a certificate of authenticity.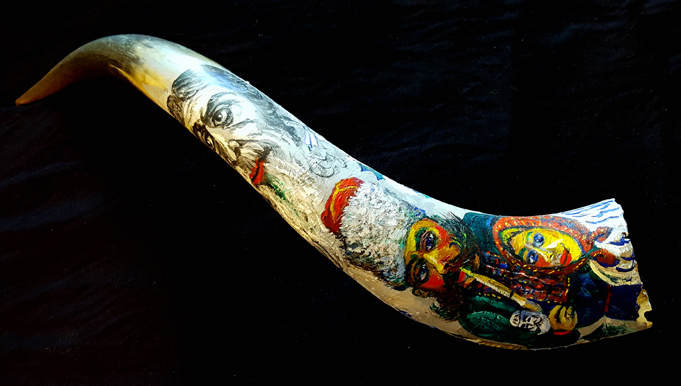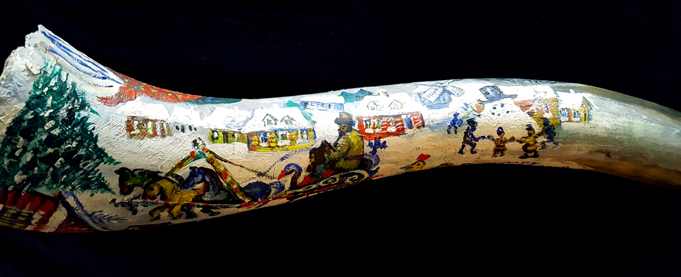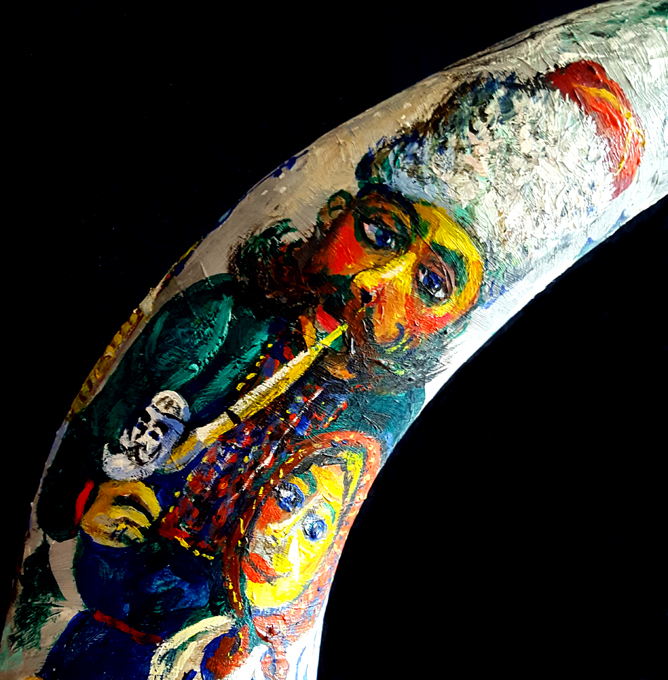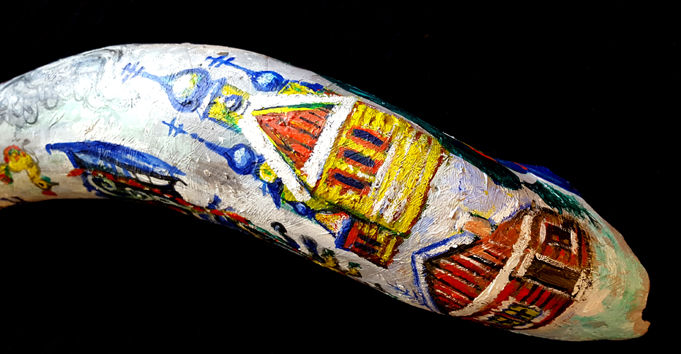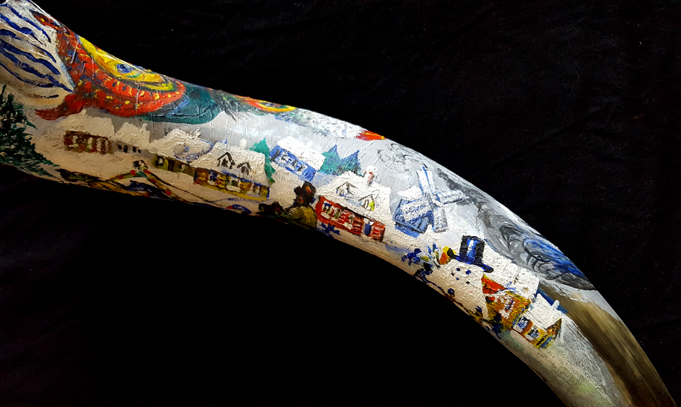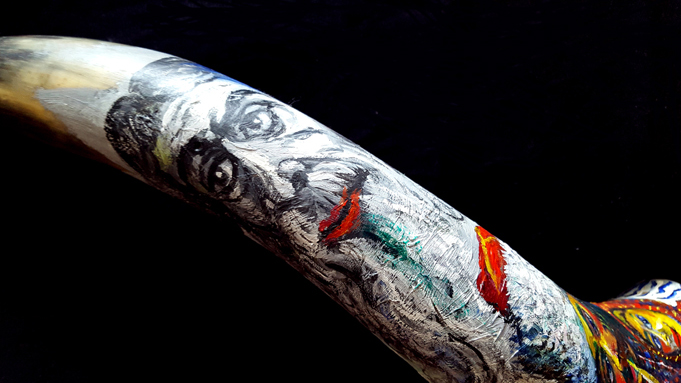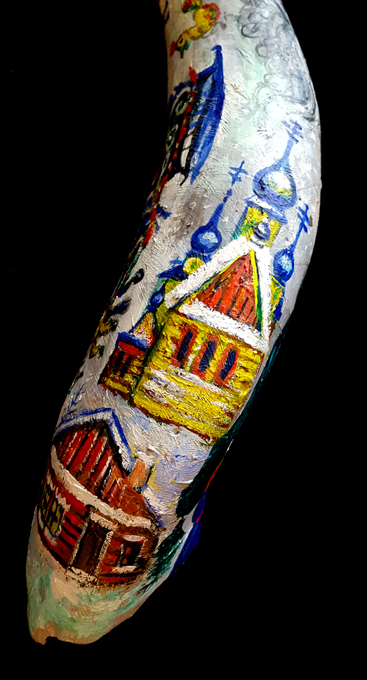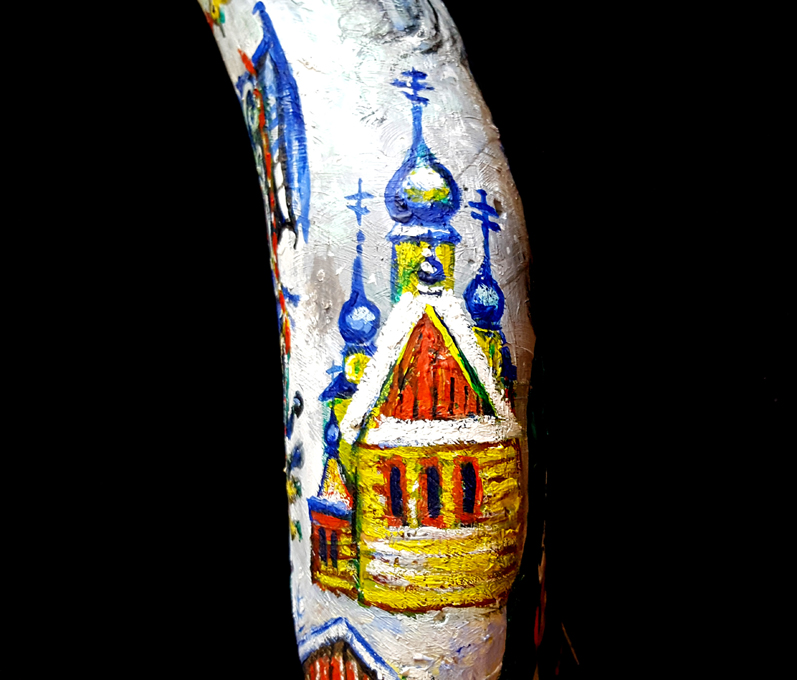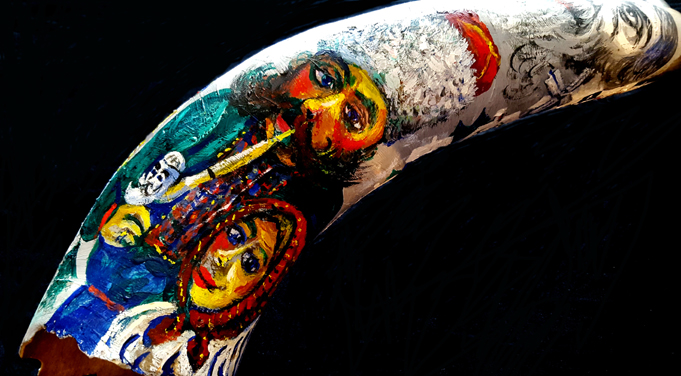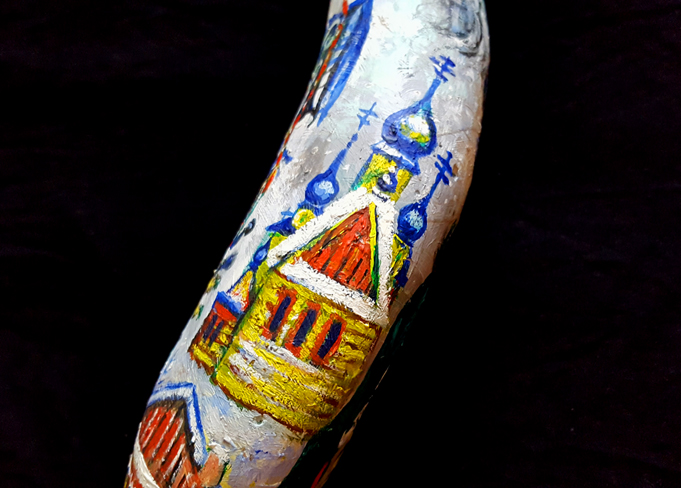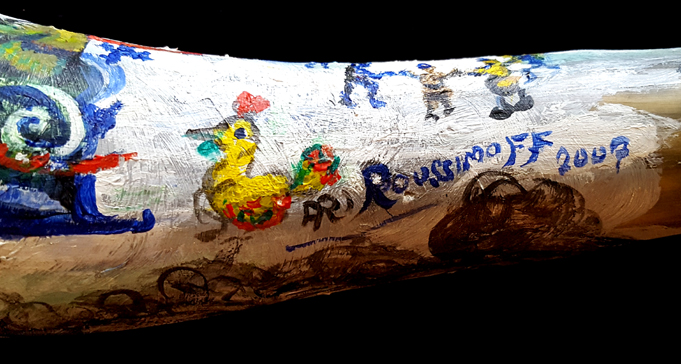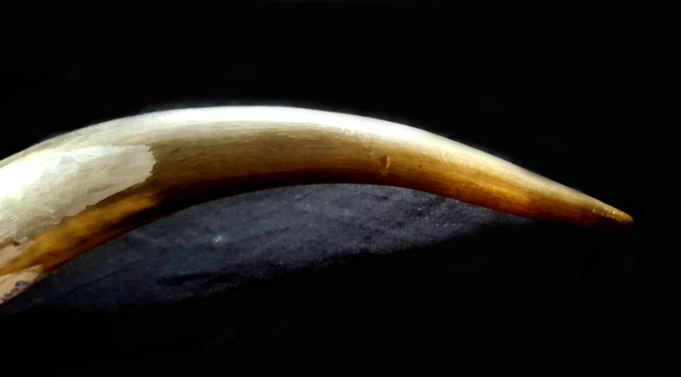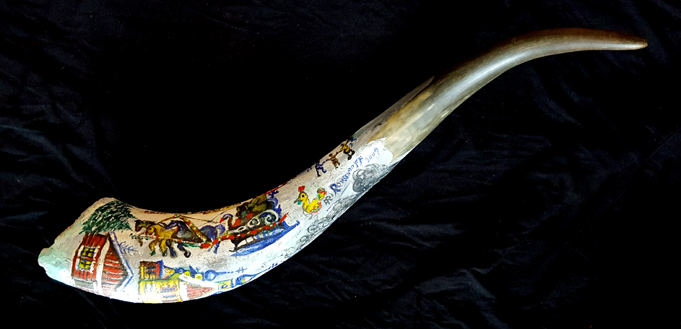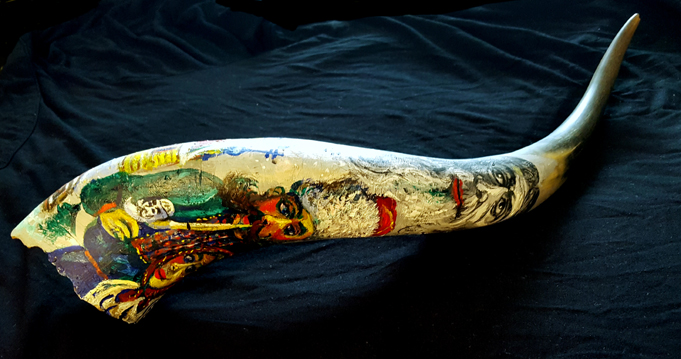 DREAMS OF OLD WORLD RUSSIA
2007 Acrylic on Cow Horn 20 ¼ inches length