A Mezmerizing Artwork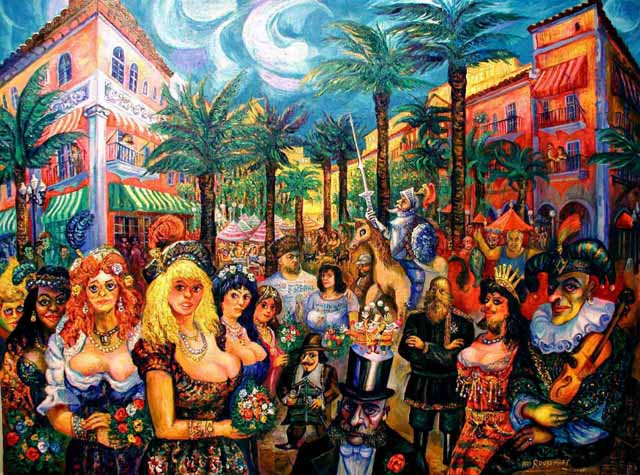 "CARNIVAL ESPANOLA IN MIAMI BEACH"
2006 oil on canvas 36 x 48 inches
The artist placed this amazing, almost Baroque scene in what is one of Miami Beach's most picturesque European spirited areas, known as Espanola Way. The exotic scenery plays host to a lively equally exotic and sensuous Carnival. Celebrating amidst the old-world Spanish architecture with its quaint cafes and shops are figures from the carnival, the circus and the sideshows. There are Jesters, dancing Pinheads, a Bearded Lady, Jo-Jo the Russian Dog Faced Man, a Magician as well as the great 17th century Spanish Old Master Velasquez and Miguel de Cervantes' legendary Don Quixote riding alongside the faithful Sancho Panza. A painting that is timeless in spirit.
An composition filled with enthusuaiasm and joy "CARNIVAL ESPANOLA IN MIAMI BEACH" evokes the mood of a Mardis Gras, Karneval or a Fasching celebrations. This is an Authentic Signed and Dated, Ari Roussimoff Oil on Canvas Painting from the year 2006. It measures an almost monumental 36 x 48 inches. A very large and captivating painting with much intricate high-detail work. Rendered in strikingly Expressionist colours and strong vigourous brushwork, this artist also displays his passion for 17th century painting wit in his love of costume and the Baroque spirit. Roussimoff, an international artist and world traveller has a great love for the state Florida where he enjoys painting its unique flavour. The artist who is not only an esteemed painter, but a director of movies as well, makes reference to the favorite of his own movies, "Freaks Uncensored", which he has painted on a T-Shirt worn by himself (with his Russian hat) in the background. This large colourful composition is guaranteed to brighten up any room and collection
"CARNIVAL ESPANOLA IN MIAMI BEACH" is an extraordinary work of art. It is a great addition to any one's fine collection of Art. The purchaser will receive a certificate of authenticity.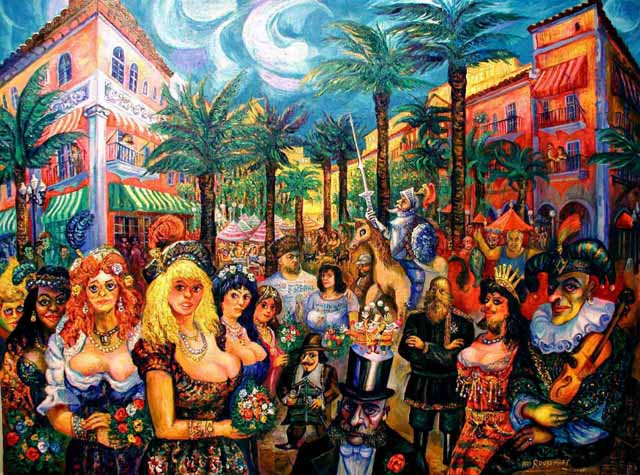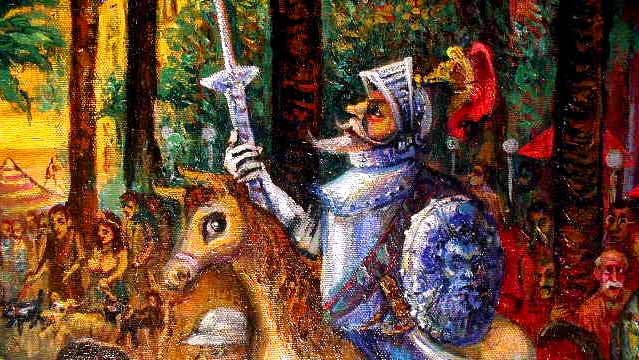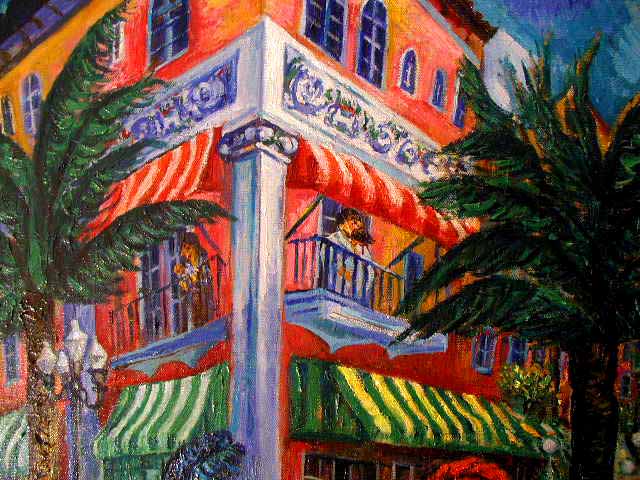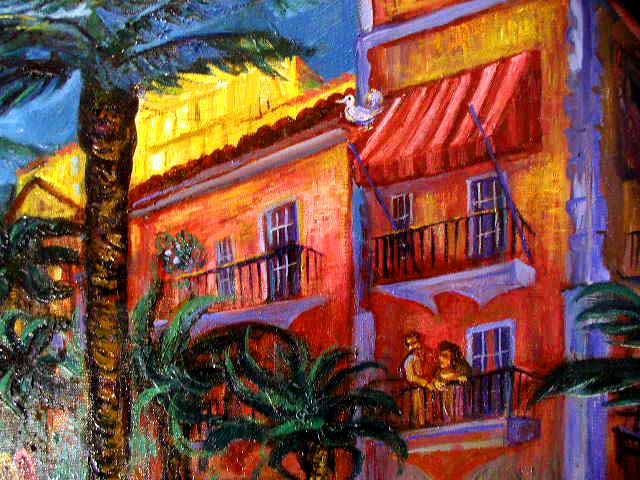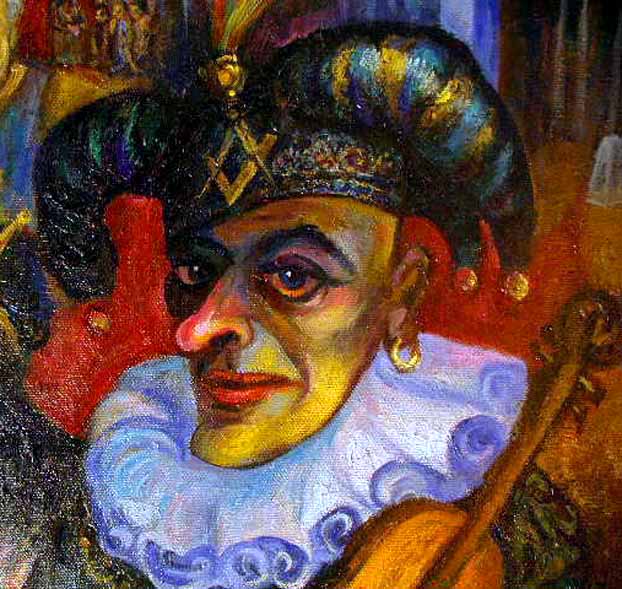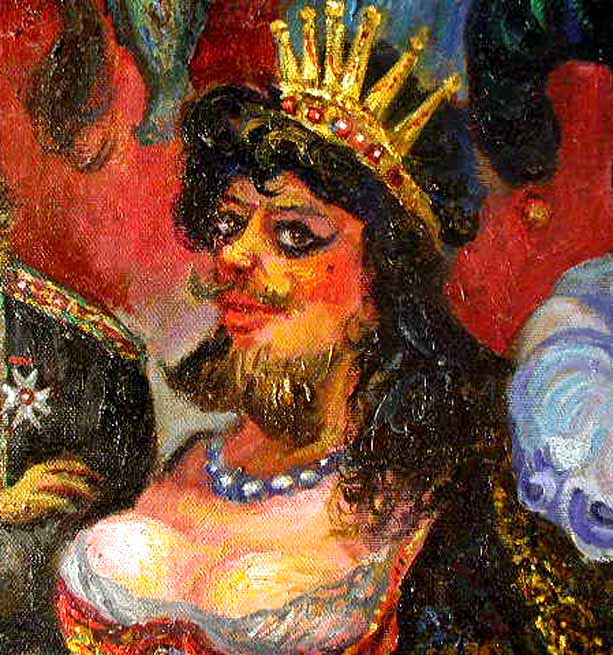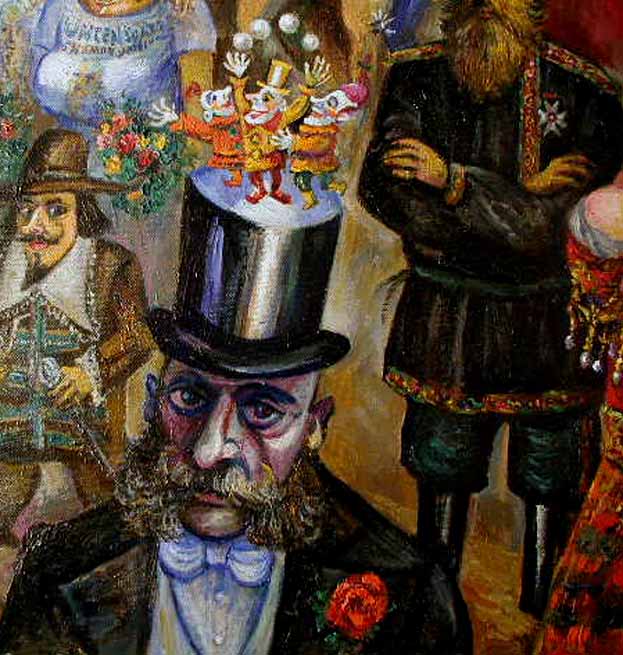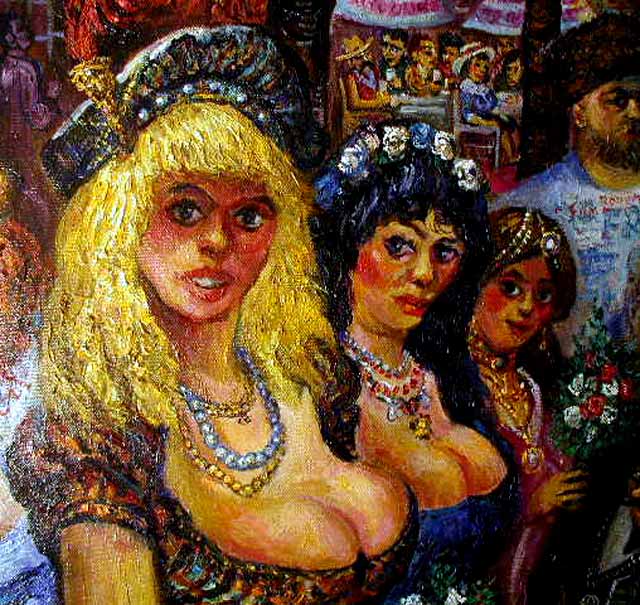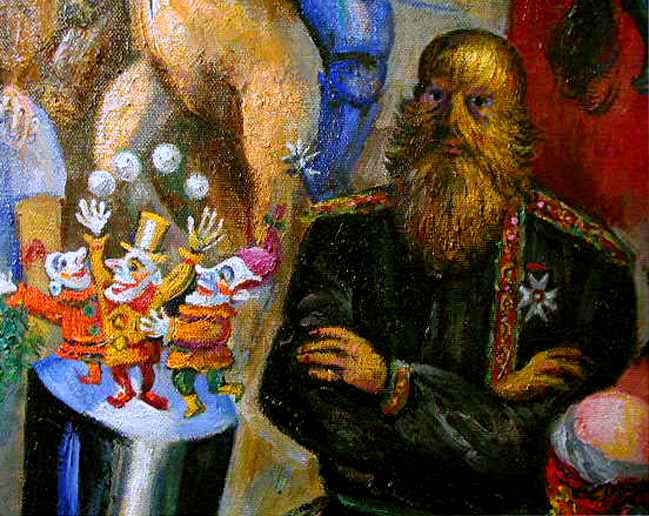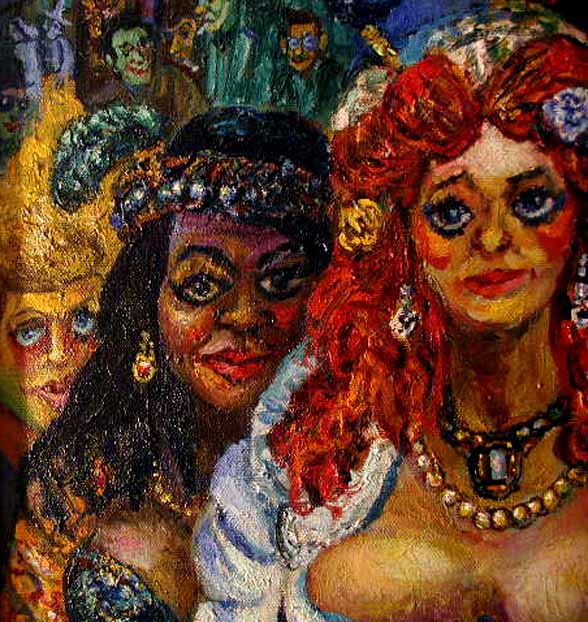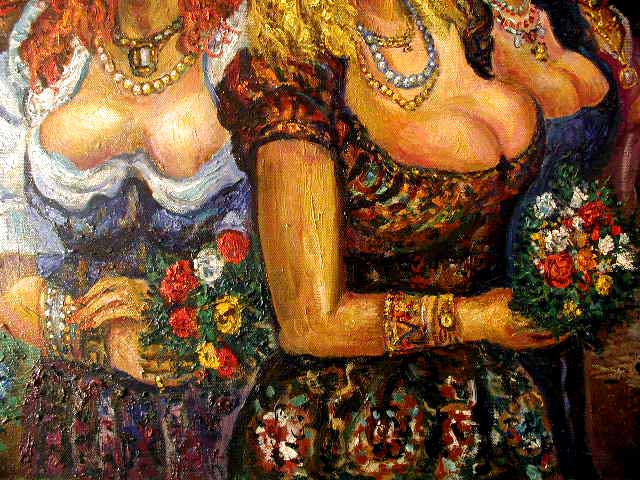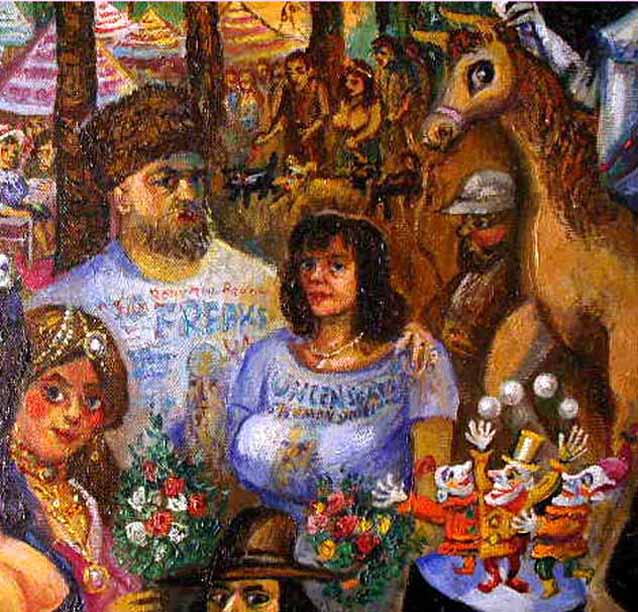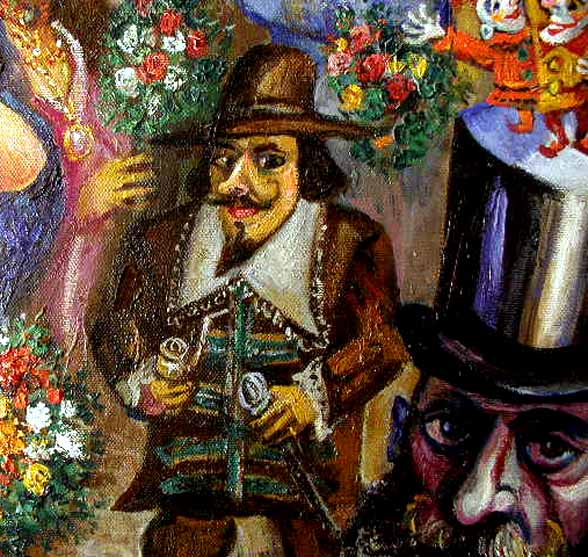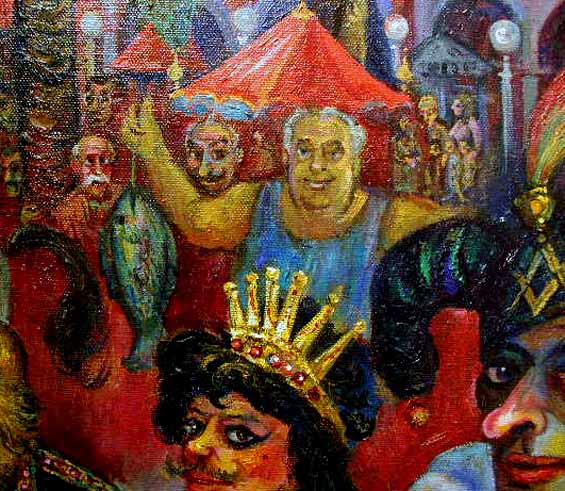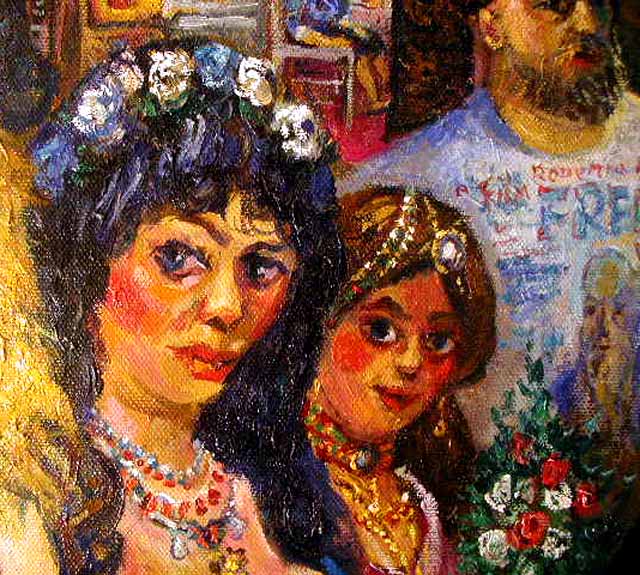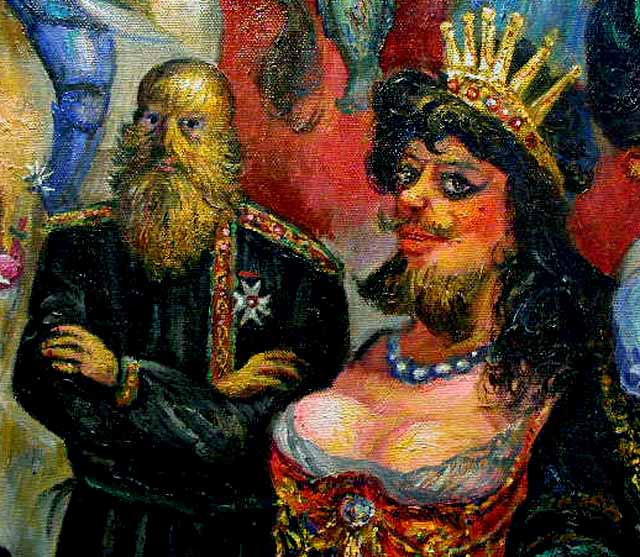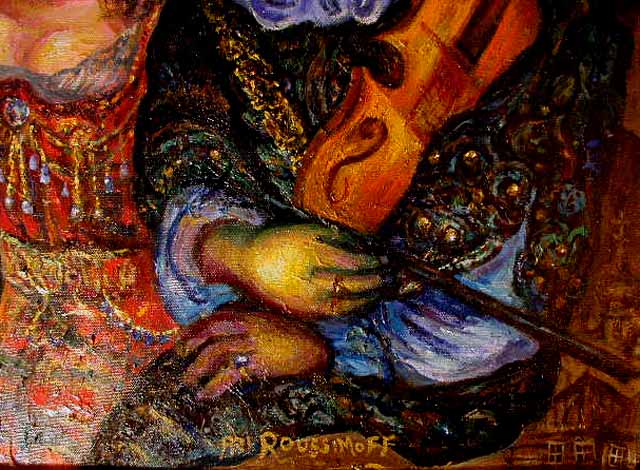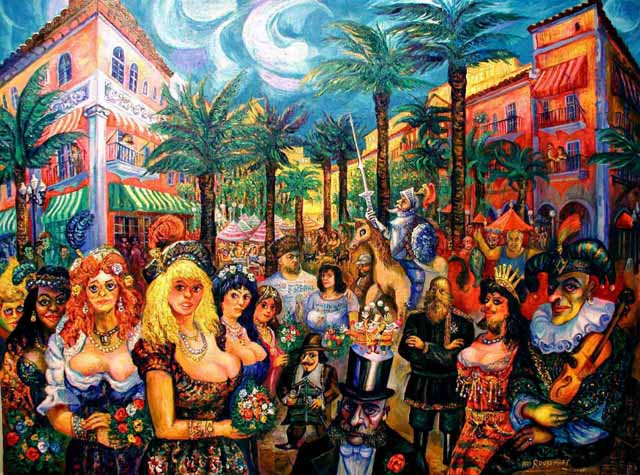 "CARNIVAL ESPANOLA IN MIAMI BEACH"
Oil on Canvas by Ari Roussimoff