As Festive as a Carnival! Exotic Sensuous Showgirls and Colourful Crowds at the Historic Coney Island Themed "Boardwalk Casino" in Las Vegas! Painted Shortly Before the Casino was Demolished!
An Exhilerating Evocation of Vegas Past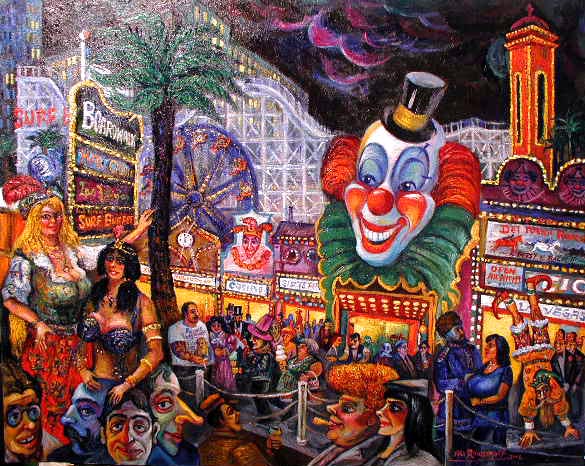 A BIT OF CONEY ISLAND IN VEGAS!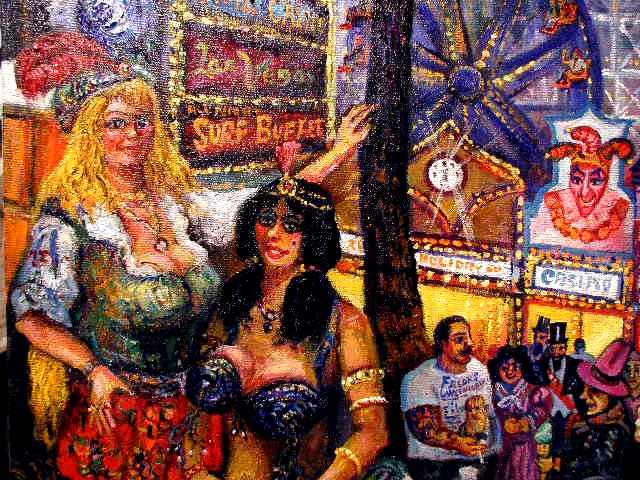 As seen through the eyes of artist Roussimoff "BOARDWALK CASINO LAS VEGAS" appears every bit as lively as a Mardi Gras celebration. Rendered in vivid colours, the spirit of fun is intoxicating. This Authentic Signed and Dated, Ari Roussimoff Oil on Canvas Painting is from the year 2006 and measures 24 x 30 inches. The work was painted shortly before the landmark Vegas Establishment was torn down. Now a memory, this Casino, uniquely patterned after historic Coney Island lives forever. Few who passed its merry facade can forget the larger then life Circus Clown smiling down at the bustling visitors. In this engaging composition there are sexy and exotic costumed showgirls. There are cowboys and acrobats. Masonic Shriners and bohemians. The big and the small. People are absorbed by all the fun activity. This is one of a series of paintings which the artist devoted his favorite American cities. Several of the pieces depict life in Vegas. A place he respects as being a complete and unique vision in and of itself. "BOARDWALK CASINO LAS VEGAS" will brighten up any collection. A perfect showpiece to display in either home or business!
This Painting of Las Vegas, rendered in dazzling, magical colours, is revealing of the exuberence that the artist displays when depicting some of his favourite pastimes. He is not just the painter here, but also an active participant. "BOARDWALK CASINO LAS VEGAS" is an extraordinary work of art. It is a great addition to any one's fine collection of Art. The purchaser will receive a certificate of authenticity.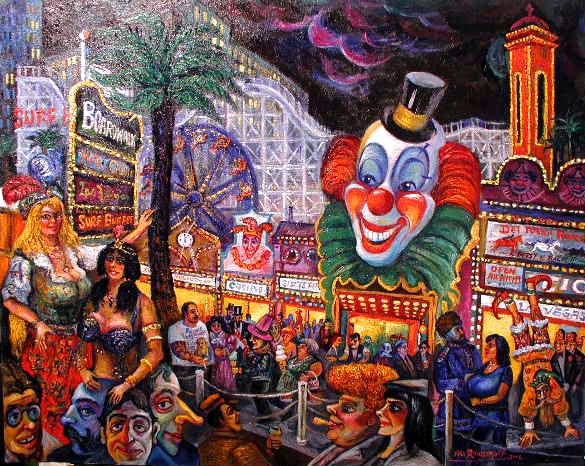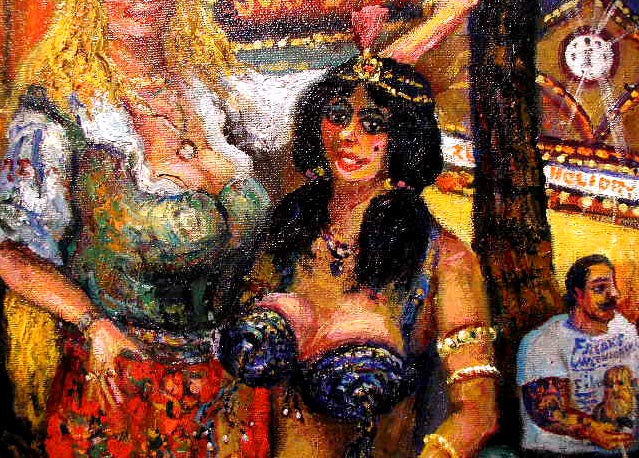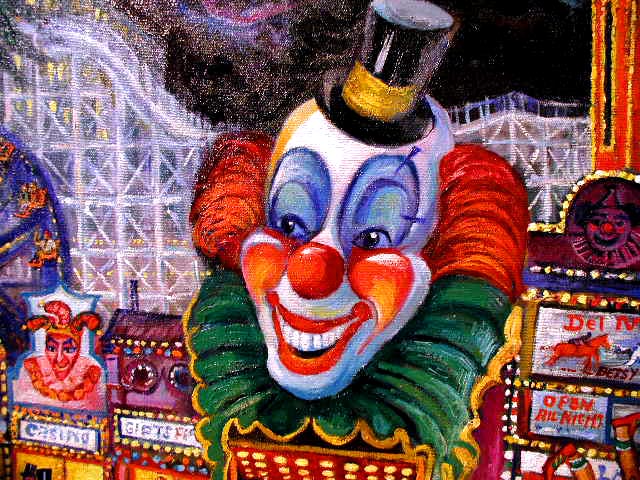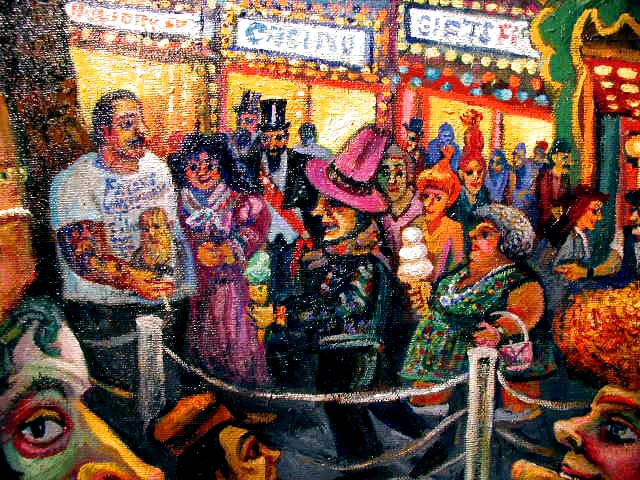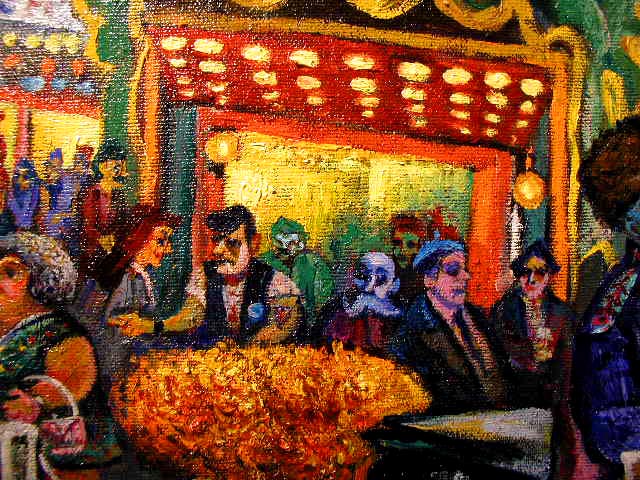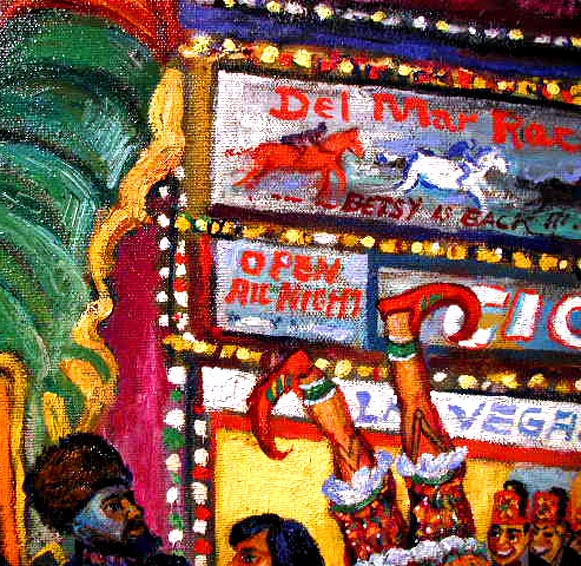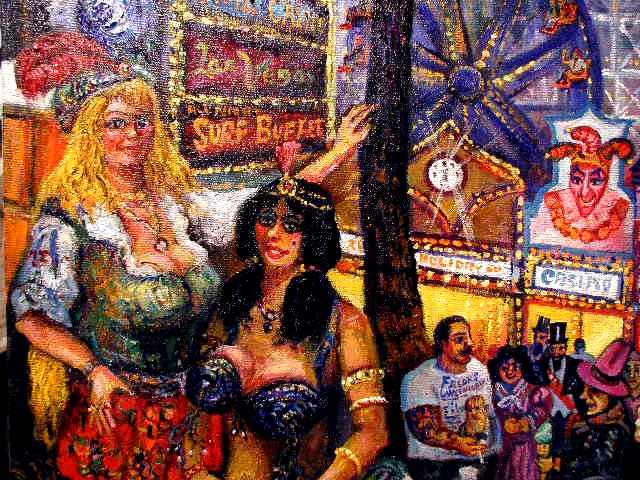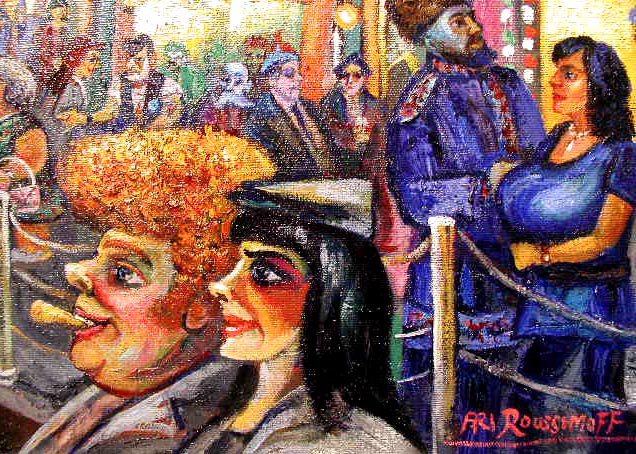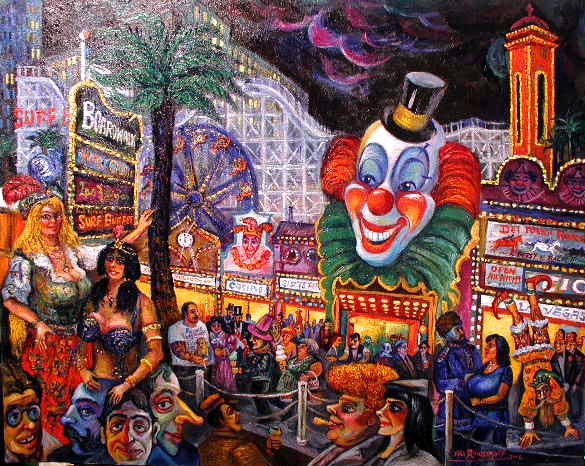 "BOARDWALK CASINO LAS VEGAS"
Oil on Canvas by Ari Roussimoff