Roussimoff Speaks About HIS Artwork
(Scroll Down To The Bottom Of The Page To Read An Interview With Ari Roussimoff.)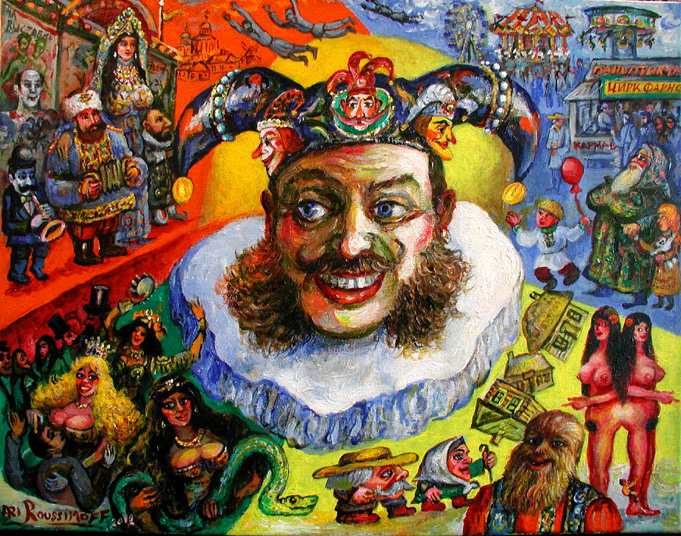 WORLD OF AMUSEMENTS (Carnival Freaks, Jo-Jo the Dog Faced Man, Dancers) 14 x 18 acrylic on canvas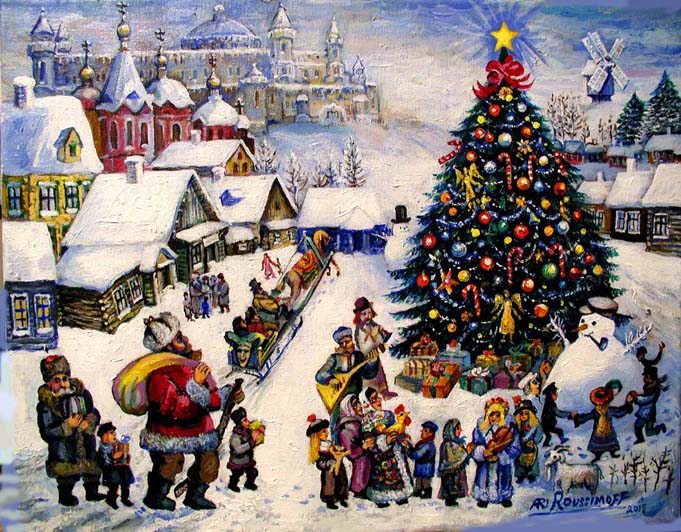 JOYS OF CHRISTMAS TIME 14 x 18 acrylic on canvas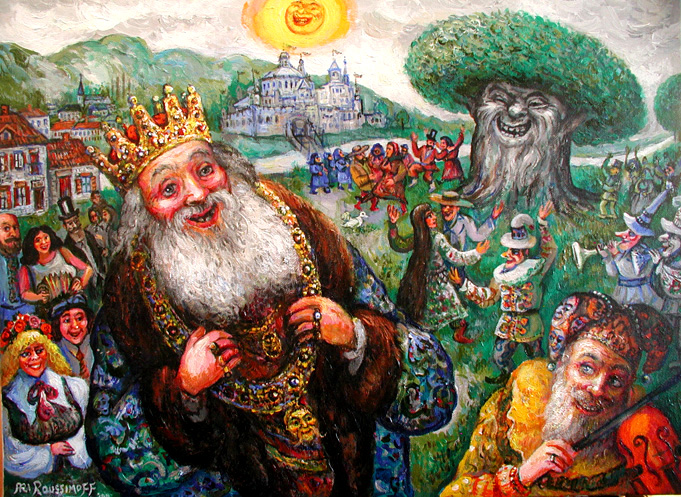 FAIRYTALE: THE LAUGHING TREE AND KING 18 x 24 acrylic on canvas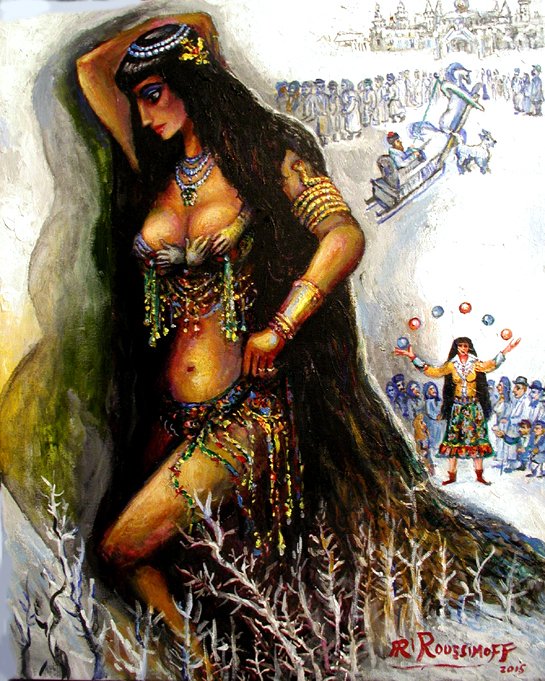 THE GODDESS AMBROSIA 16 x 20 acrylic on canvas
IN PRIVATE COLLECTION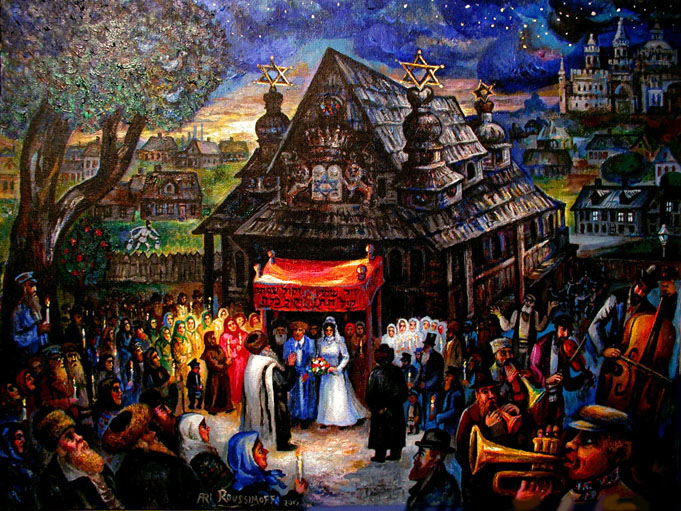 JEWISH WEDDING AT THE OLD WOODEN SYNAGOGUE
18 x 24 acrylic on canvas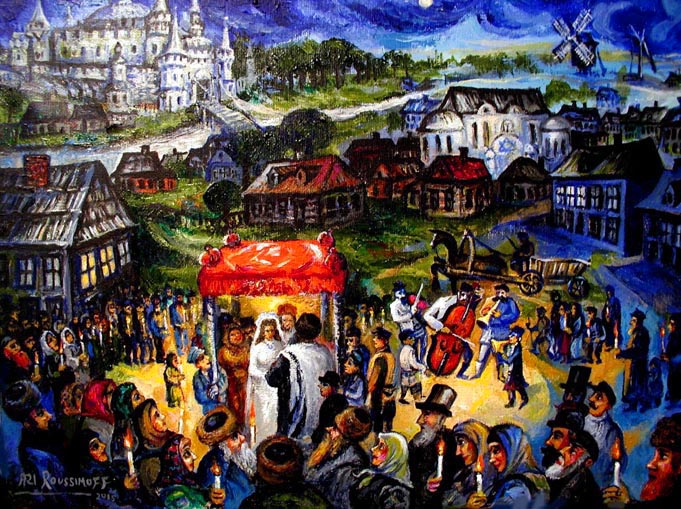 HASSIDIC JEWISH SHTETL WEDDING
12 x 16 acrylic on canvas
SOLD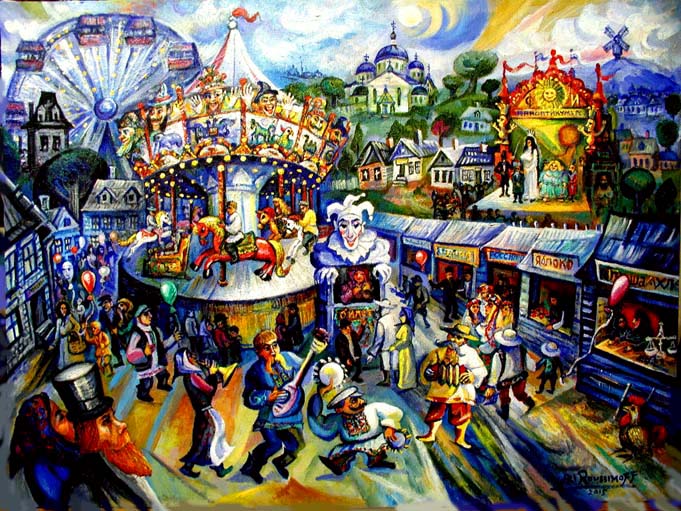 MUSICIANS AT THE RUSSIAN VILLAGE FAIR (Cubist painting)
18 x 24 acrylic on canvas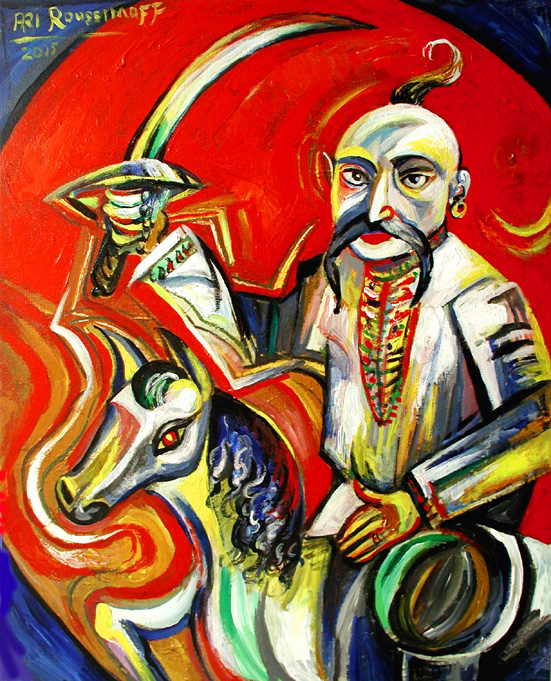 COSSACK ON HORSEBACK IN RED (Cubist painting)
16 x 20 acrylic on canvas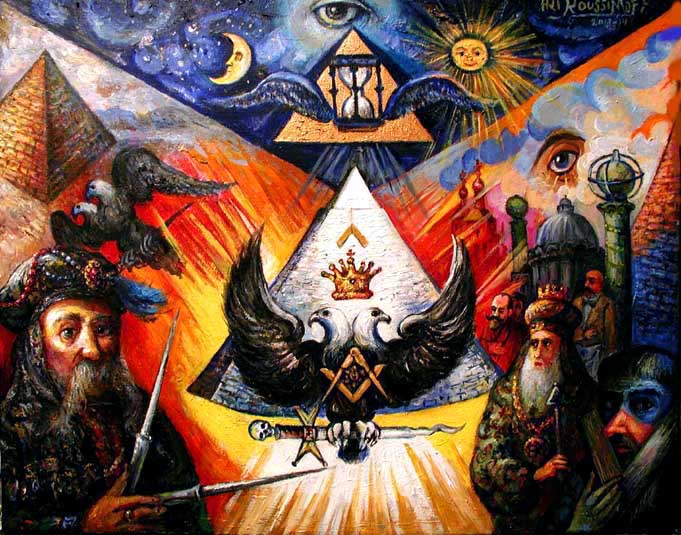 VALLEY OF MYSTICAL SECRETS: A MASONIC ALLEGORY 16 x 20 acrylic on canvas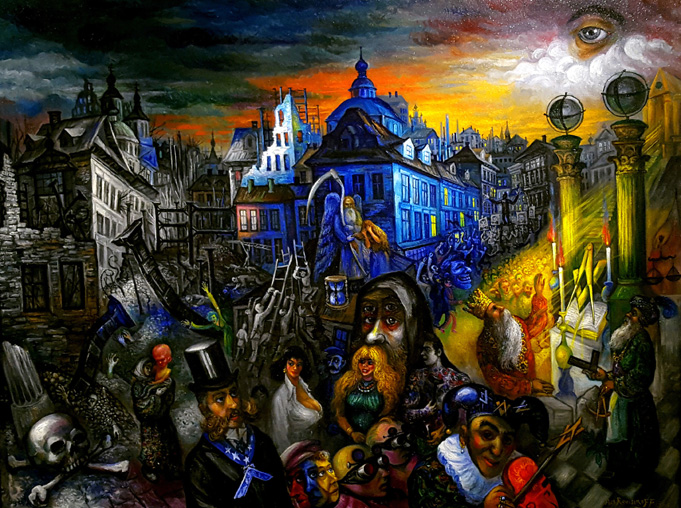 ECLIPSE (middle panel of Masonic triptych) 36 x 48 oil on canvas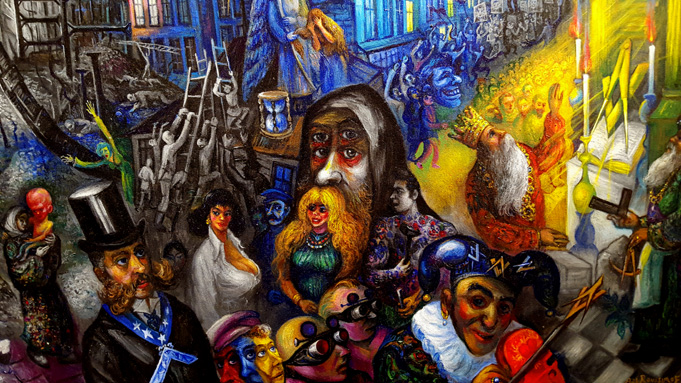 ECLIPSE (middle panel of Masonic triptych) 36 x 48 oil on canvas (Detail)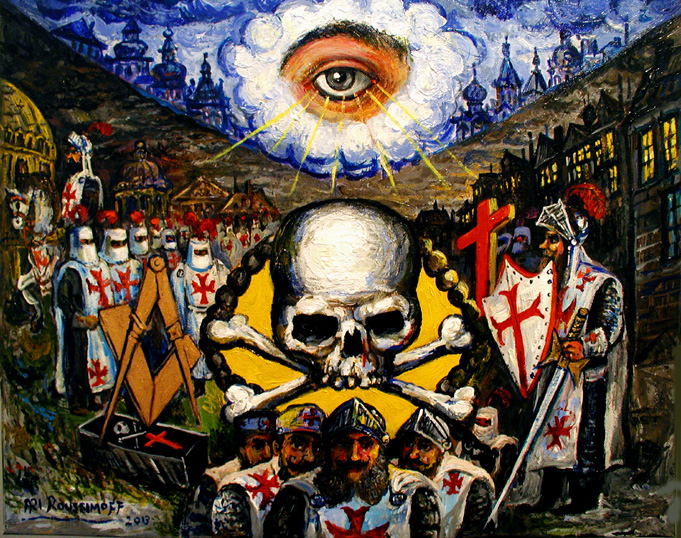 LEGEND OF KNIGHTS TEMPLAR: SKULL, BONES, MORTALITY 16 x 20 acrylic on canvas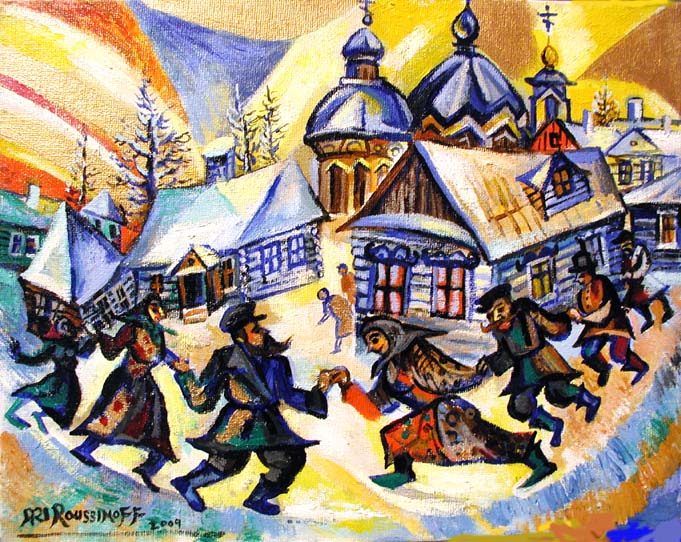 CELEBRATION NEAR THE CHURCH (Cubist painting) 11 x 14 acrylic on canvas-panel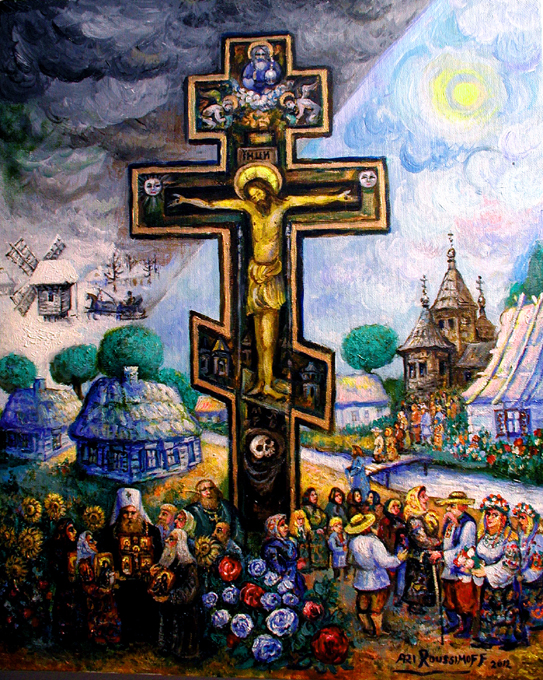 ILLUMINATION (CRUCIFIXION)
18 x 24 acrylic on canvas
SOLD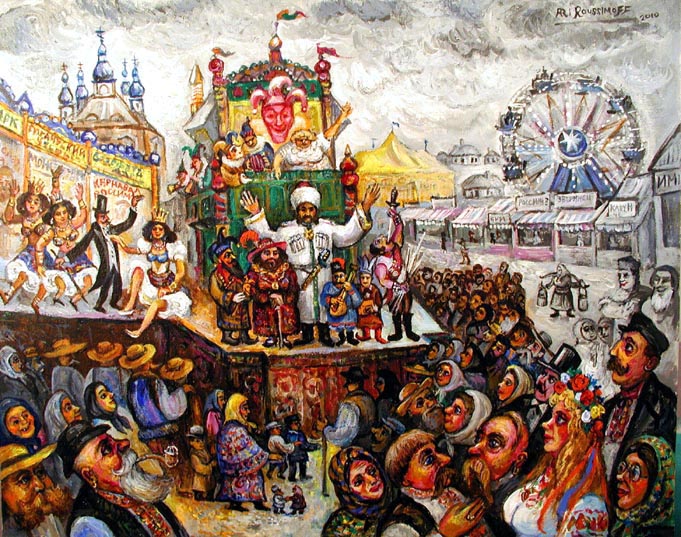 CARNIVAL IN A UKRAINIAN VILLAGE 16 x 20 acrylic on canvas-panel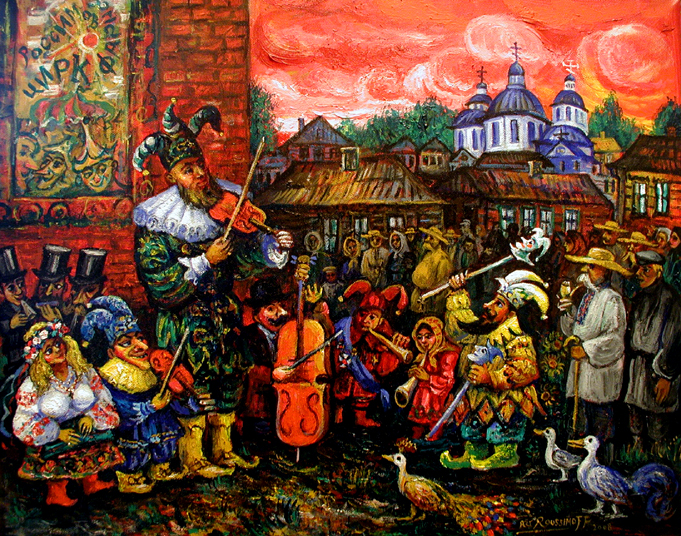 A CIRCUS IS IN TOWN 18 x 24 acrylic on canvas
MOONLIT RUSSIAN VILLAGE, TROIKA AT CHRISTMAS TIME 24 x 30 acrylic on canvas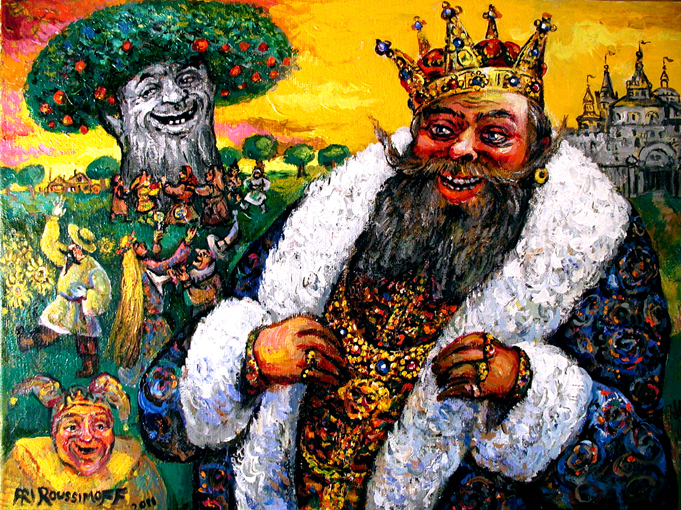 LAUGHING KING AND TREE: A FABLE 12 x 14 acrylic on canvas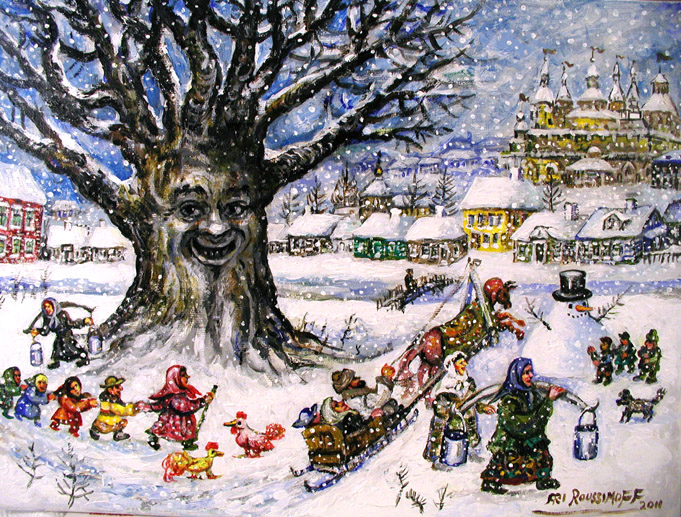 LAUGHING TREE IN WINTER: A FABLE 12 x 14 acrylic on canvas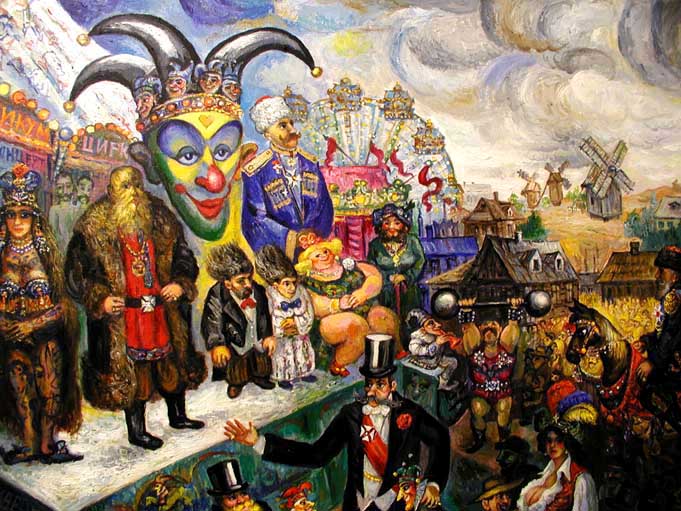 RUSSIAN CARNIVAL SIDESHOW (Freaks and Wonders) 36 x 48 (mixed medium) (detail)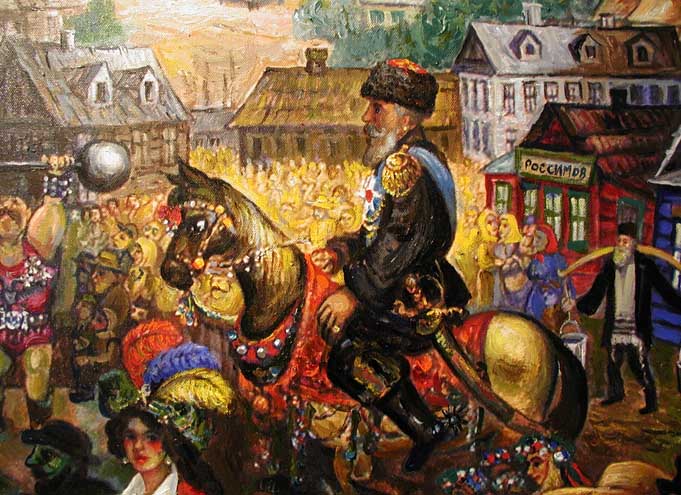 RUSSIAN CARNIVAL SIDESHOW 36 x 48 (mixed medium) (detail)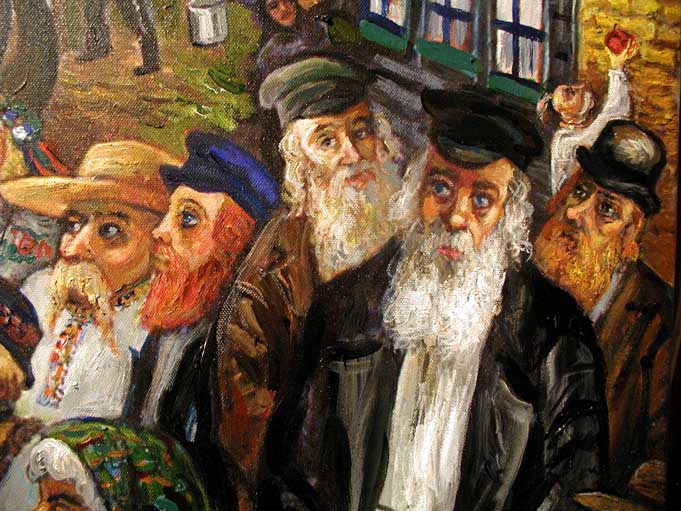 RUSSIAN CARNIVAL SIDESHOW 36 x 48 (detail)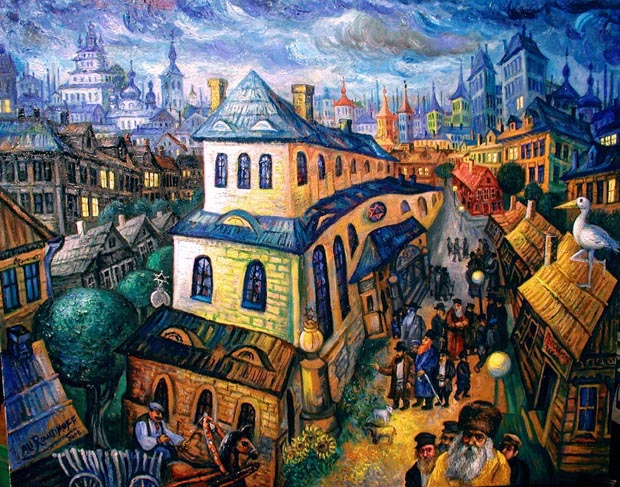 RETURNING HOME FROM THE SYNAGOGUE 24 x 30 oil on canvas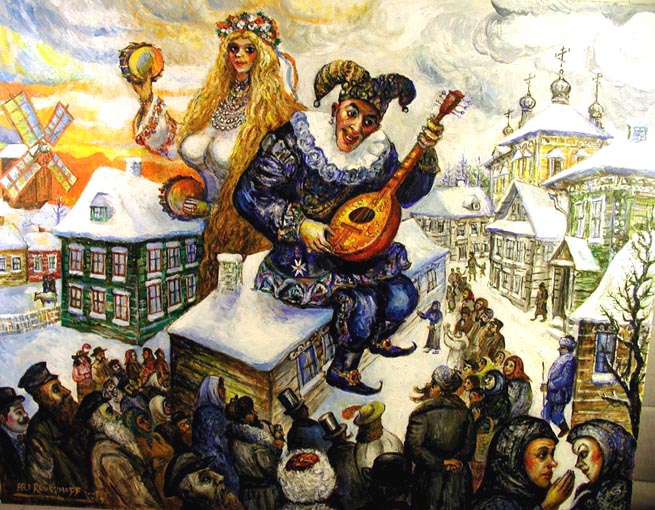 MUSICAL APPARITION 24 x 30 acrylic on canvas
The Ari Roussimoff artwork below is dedicated to the unification of the arts. It shows a festive celebration of film and music being held in Atlantic City. This painting was exhibited in "Caesars Atlantic City" and served as the poster art for one of the festivals held in that town. Be sure to look below to see selected details.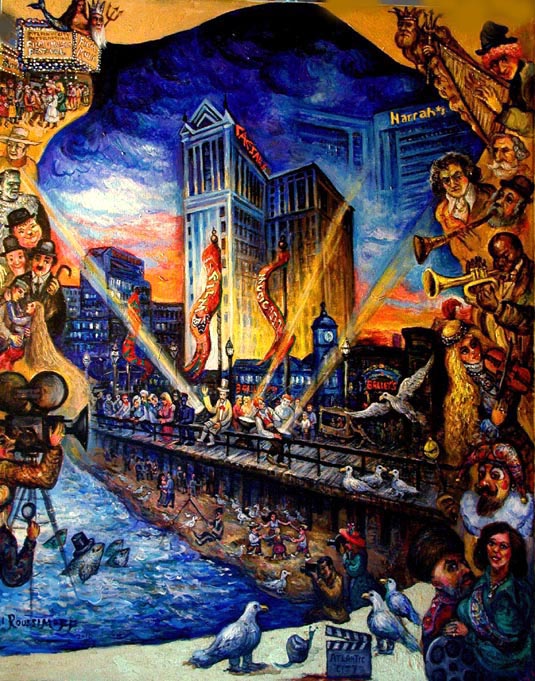 CELEBRATING FILM AND MUSIC IN ATLANTIC CITY 24 x 30 acrylic on canvas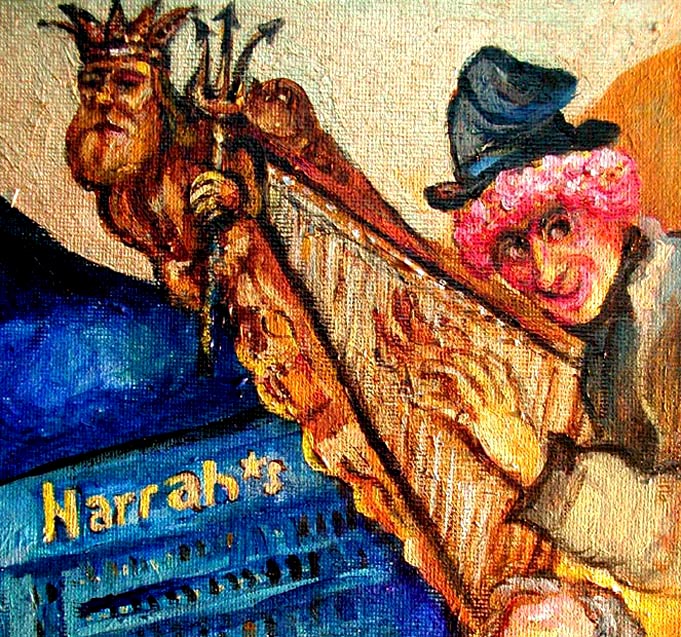 CELEBRATING FILM AND MUSIC IN ATLANTIC CITY (detail) Harpo Marx plays a unique King Neptune harp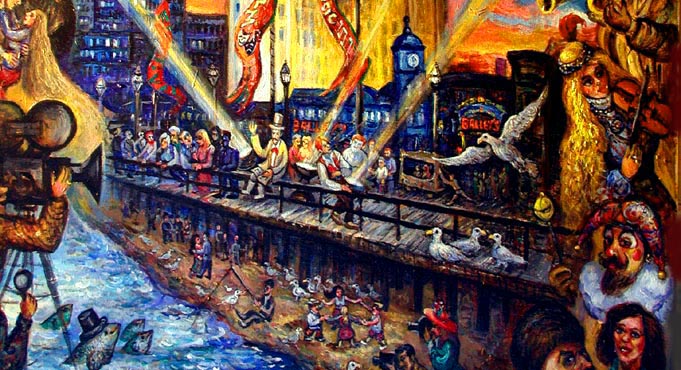 CELEBRATING FILM AND MUSIC IN ATLANTIC CITY (detail)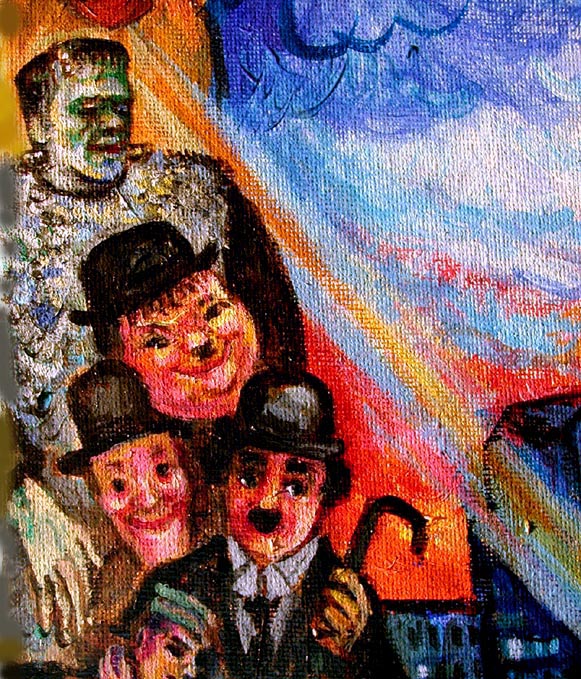 CELEBRATING FILM AND MUSIC IN ATLANTIC CITY (detail) Charlie Chaplin, Laurel & Hardy, Boris Karloff as Frankenstein's Monster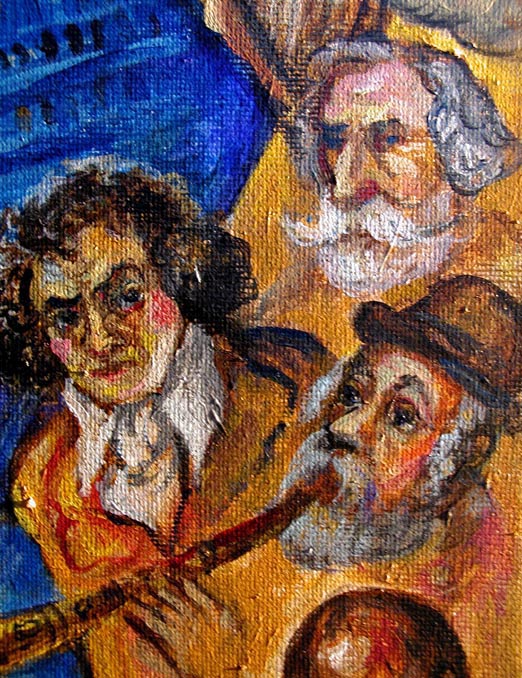 CELEBRATING FILM AND MUSIC IN ATLANTIC CITY (detail) Verdi, Beethoven and a Klezmer musician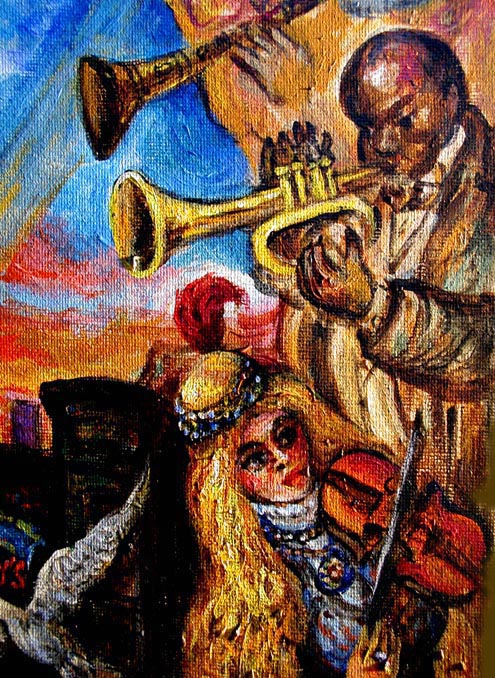 CELEBRATING FILM AND MUSIC IN ATLANTIC CITY (detail) Louis "Satchmo" Armstrong on the trumpet and a classical violinist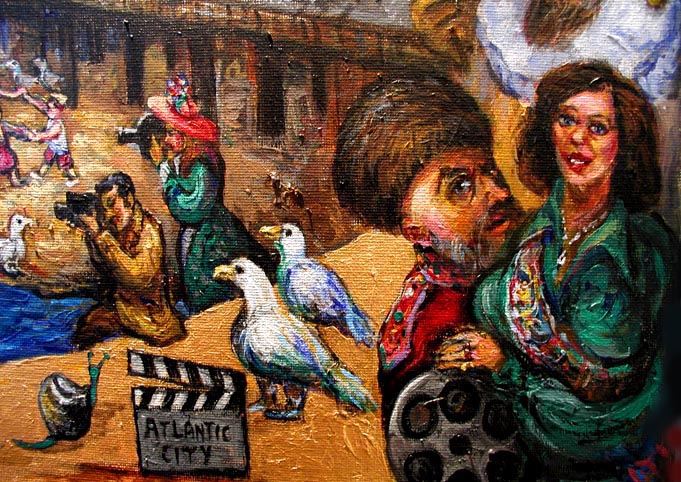 CELEBRATING FILM AND MUSIC IN ATLANTIC CITY (detail) All manner of artists participate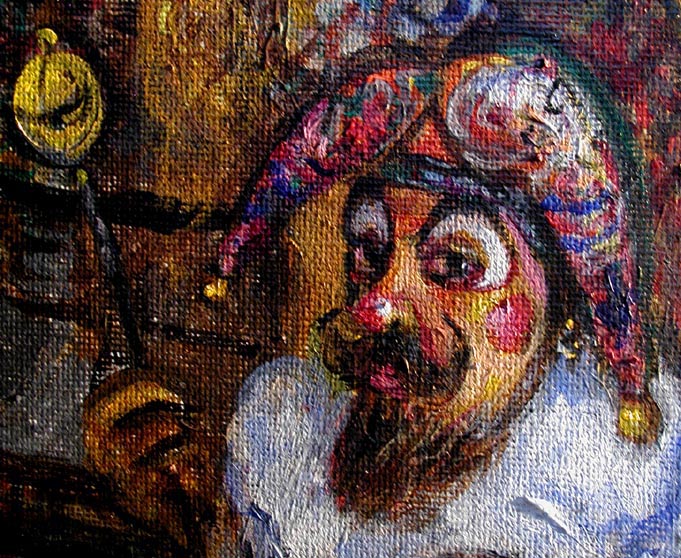 CELEBRATING FILM AND MUSIC IN ATLANTIC CITY (detail) Verdi's great opera: "Rigoletto", the Duke's Jester-Fool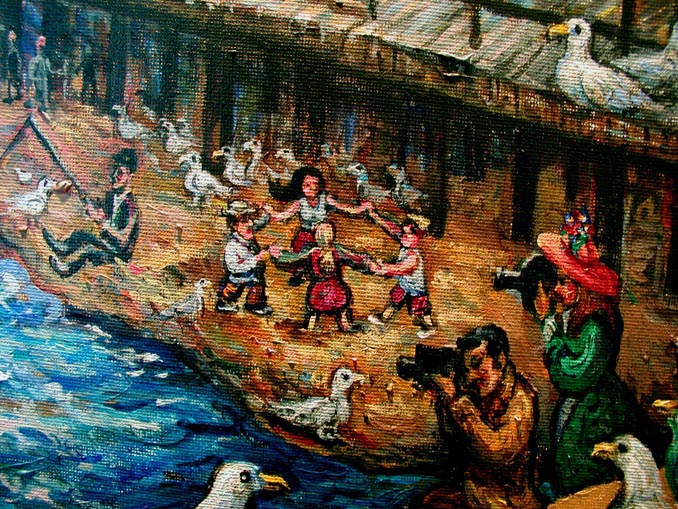 CELEBRATING FILM AND MUSIC IN ATLANTIC CITY (detail)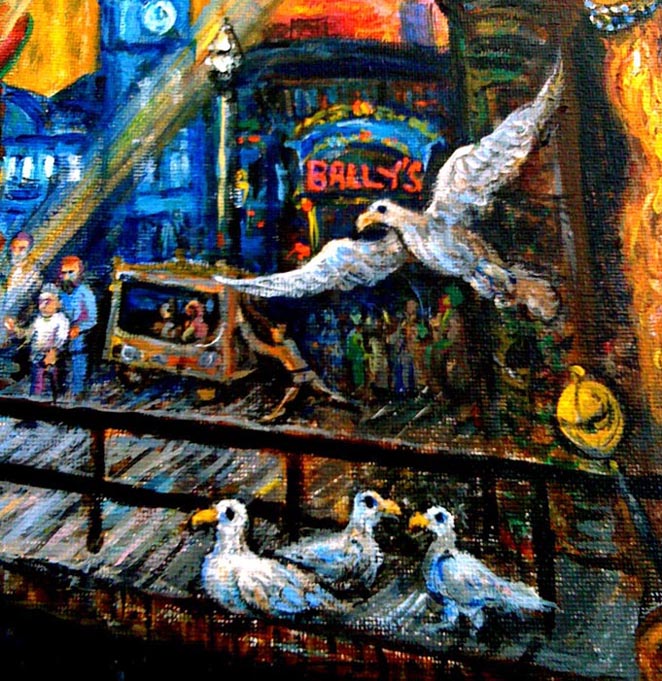 CELEBRATING FILM AND MUSIC IN ATLANTIC CITY (detail) The city's famous boardwalk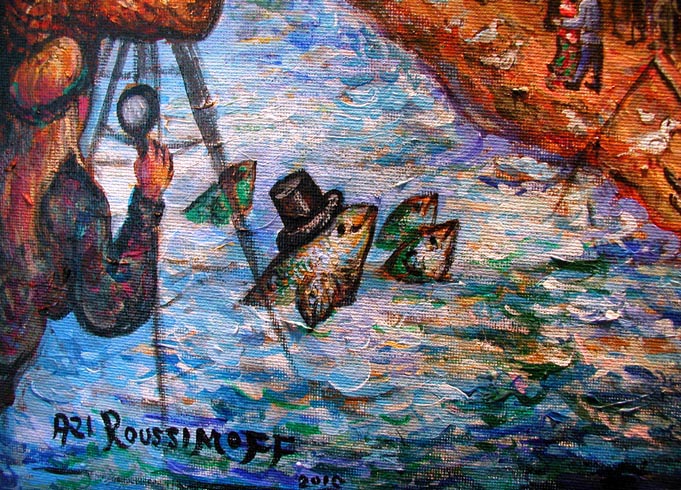 CELEBRATING FILM AND MUSIC IN ATLANTIC CITY (detail)
This title "A Russian Views America" was given to describe a series of works created over the past few years. Paintings in this genre are ongoing in my repertoire of themes. Creating these works has been most challenging and rewarding. For most of my life, I have been the consummate world traveler, having lived and worked in many lands. During recent years I broadened my horizons and was able to travel more extensively throughout America. And in the process, I discovered a new language. I, a European, became inspired to paint what I felt to be the uniquely lyrical and free spirit of America. Here now are a few examples of works from this series inspired by the great cities of America as well as more of my Russian and East European compositions.
MIAMI BEACH

, FLORIDA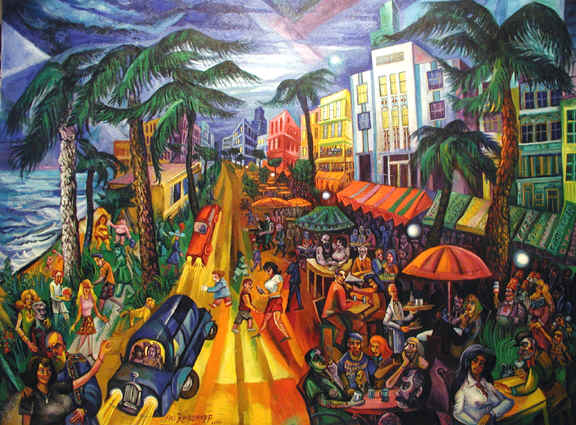 SOUTH BEACH CAFÉ LIFE
30inches x 40 inches Oil on Canvas
This was the very first work I had done in the series. I had been instantly enamoured with South Beach which reminded me of the great European Riviera. At the time, I had no idea I would be doing other works depicting my interpretations of American cities.
SPAIN IN MIAMI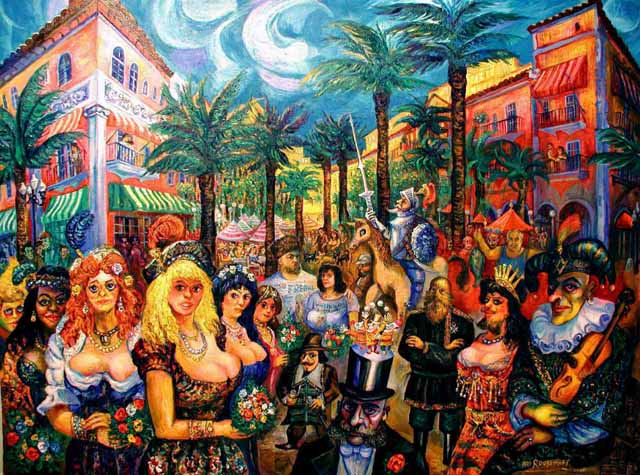 CARNIVAL IN MIAMI

36 inches x 48 inches Oil on Canvas

One of the most picturesque areas in Miami Beach is called Espanola Way. In this work I used the sensuous, almost exotic neighborhood setting as a backdrop for a Carnival, timeless in spirit. This area with its unique old-world Spanish architecture added much to what I see as Miami Beach's European aura. In this composition I placed a host of figures from the carnival, the circus and the sideshows. There are Jesters, dancing Pinheads, a Bearded Lady, Jo-Jo the Russian Dog Faced Man, a Magician as well as the great 17th century Spanish old master Velasquez, Don Quixote and Sancho Panza.

ATLANTIC CIT

Y

A great ever growing amusement center on the Eastern Coast of the USA . Second to Las Vegas in spirit, I have enjoyed many visits here over the recent times.

THE BOARDWALK OF ATLANTIC CITY

30 x 40 oil on canvas

With seagulls constantly flying overhead, one should never be surprised at unwelcome droppings. In the distance is American tycoon Donald Trump's ornate "Taj Mahal Hotel and Casino". This is a great looking building. With its onion-like domes it reminds me of classic Russian architecture. On the left side is the Hard Rock Café with its murals of Elvis Presley and its bustling outdoor café.

HOLLYWOOD, CALIFORNIA

One of my favourite cities. The ultimate testimonial to creativity and art in America. Having made films myself, I am passionate about cinema. And the history of Hollywood Cinema is something I have lived with since childhood. To this day, it is the classic films which continually stimulate and inspire me.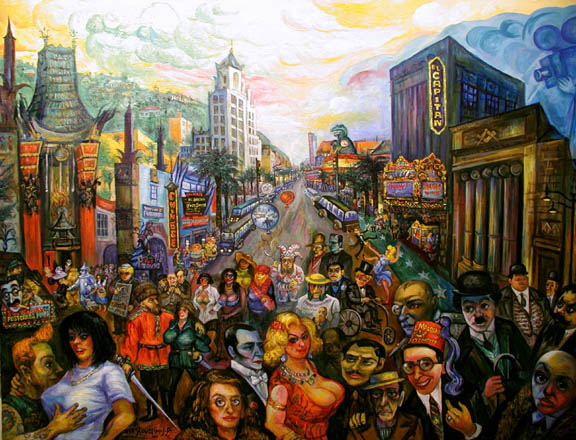 HOLLYWOOD ETERNAL

36 x 48 oil on canvas

That which is truly great is eternal. Here I wanted to pay homage to Hollywood at its finest. Although certainly many more great artists warranted inclusion, choices had to me made. In my first tribute to Hollywood I have included Charlie Chaplin, Buster Keaton, Harold Lloyd, Bette Davis, Peter Lorre, Clark Gable, Erich Von Stroheim, Laurel & Hardy, Edward G. Robinson, Rudolph Valentino, Mae West, Eric Campbell, The Three Stooges, The Marx Brothers, Lon Chaney Sr. (as the Phantom of the Opera), John Wayne, Boris Karloff (as Frankenstein's Monster), Gibson Gowland, Fred Astaire, Ginger Rogers, the Wizard of Oz stars (Judy Garland, Ray Bolger, Jack Haley, Bert Lahr & Toto). I also included a small portrayal of mystical Guru George Ivanovitch Gurdjieff as a news vendor. This was done because of the heavy influence of mysticism in Hollywood circles at the time. Also within the group is the dwarf performer, Major Noble George Washington Winner who was with Ringling Brothers Barnum and Bailey Circus. Incidentally, Harold Lloyd appears wearing the official Fez of the "Al Malaika" Shriners Temple , of which he served as Imperial Potentate. On the right side of the composition once can see the old Hollywood Masonic Temple. This building now serves as the studio of the "Jimmy Kimmel Live" television program.

LAS VEGAS, NEVADA

While Coney Island may once have been known as America 's playground, I find that today the moniker belongs hands down to Las Vegas. Gaudy and Kitsch though it may be, I love the place. A brilliant vision that stands on its own as an icon of the times.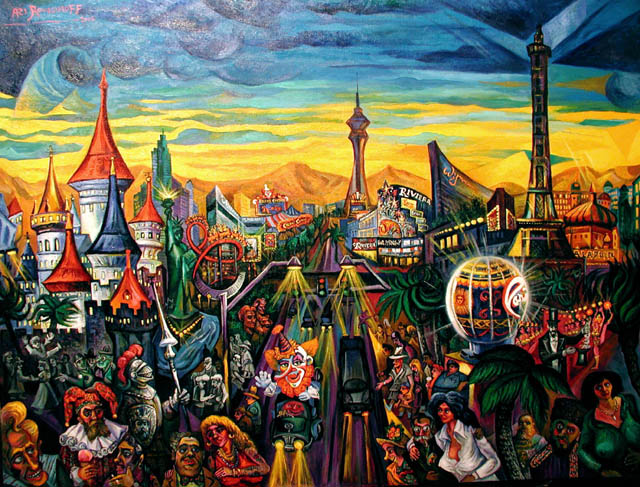 LAS VEGAS RAZAMATAZ

30 x 40 Oil on canvas

Las Vegas Boulevard is huge beyond belief. With artistic license I condensed the scene to include certain landmarks. The hotel casinos Riviera, Wynn, Paris, Mirage and New York, New York. I even depicted the landmark sculpture of magicians Siegfied and Roy.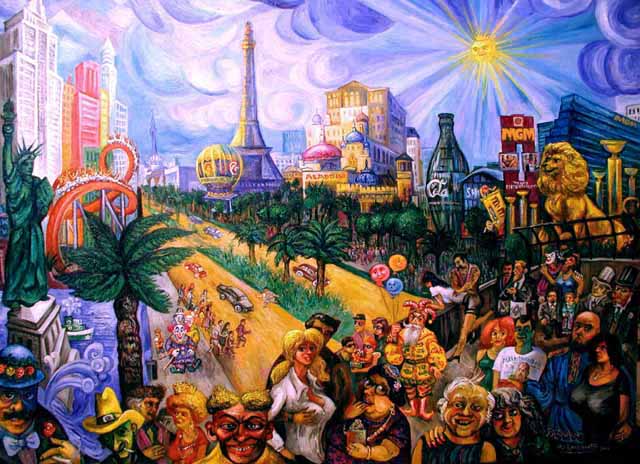 SUN OVER LAS VEGAS

30 x 40 Oil on canvas

The Casinos, the Circus, the sexy visitors on the bridge. The sun smiles down over a panorama which stretches from the MGM Casino to the Paris. Circus charechters are wonderful to paint. So similar to what I painted in Miami Beach, here too are clowns, a Bearded Lady, Magicians and a Jester carrying balloons. There is the famed P. T. Barnum discovery, the "midget" General Tom Thumb alongside his wife Lavinia Warren. Also on the bridge are two Freemasons wearing their ritual aprons.

(Below are details from "Sun Over Las Vegas")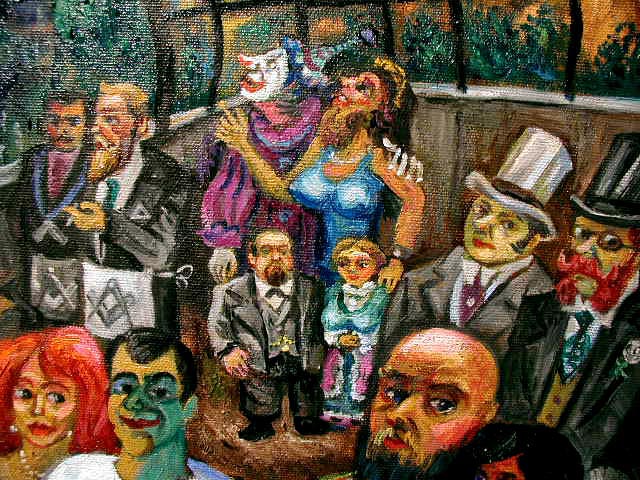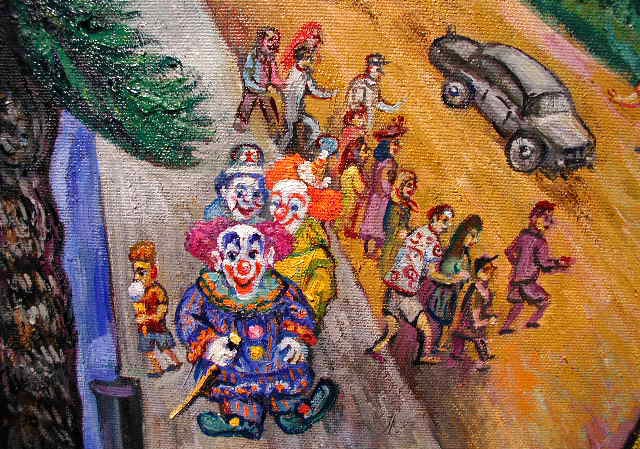 SUN OVER LAS VEGAS
There is a distinctly carnival-like atmosphere to Vegas that isn't really like anyplace else. Below is a painting of Las Vegas where I allowed the spirit of merriment and amusement to guide my brush.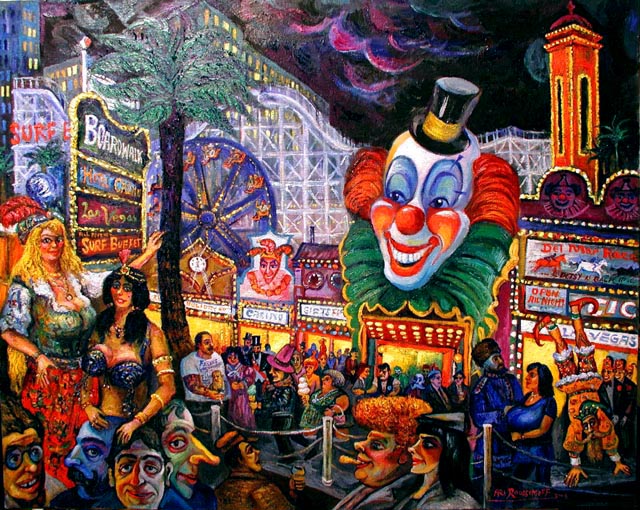 BOARDWALK CASINO, LAS VEGAS
24 x 30 Oil on canvas
This particular Casino, quite literally belongs to history. With its "Surf Buffet", it was patterned to symbolize old-time Coney Island . The Casino was recently demolished.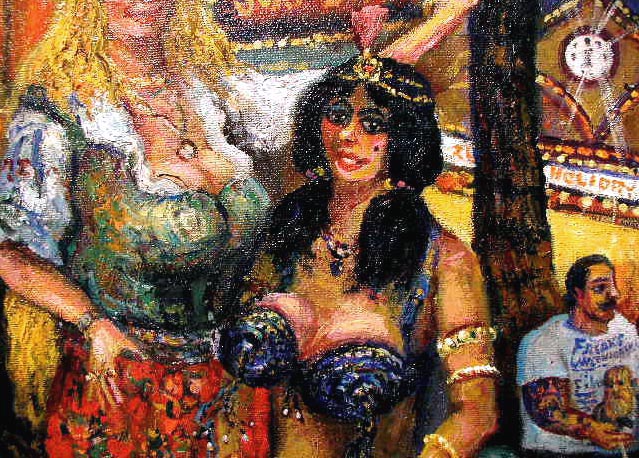 OTHER RECENT PAINTINGS

CARNIVALS, CIRCUS, RUSSIA, UKRAINE, JUDAICA:

In old Ukrainia, Russia, Belorussia or Poland it was a big day when the carnival came to town. The tents and attractions were usually set up in a part of the largest Market Place which usually was located in proximity of a Church. The townsfolk all came by to see the wonders. Some came with the intent of partaking of every single ride and amusement while others came out of mere curiosity, to only get a brief glimpse of the colourful festivities. Talk about ethnic and cultural diversity! Everyone came together at the sideshows and the markets. Peasants and gentry alike. In any given Ukrainian town, the ethnic mix would include local Ukrainian, Hassidic Jewish, (sometimes Polish and Russian residents, Czarist Police officers and Cossack Hetmans. Its funny how in today's politics they enjoy throwing around the word "diverse"as if it is something recently discovered. That may be propaganda, but it is not reality.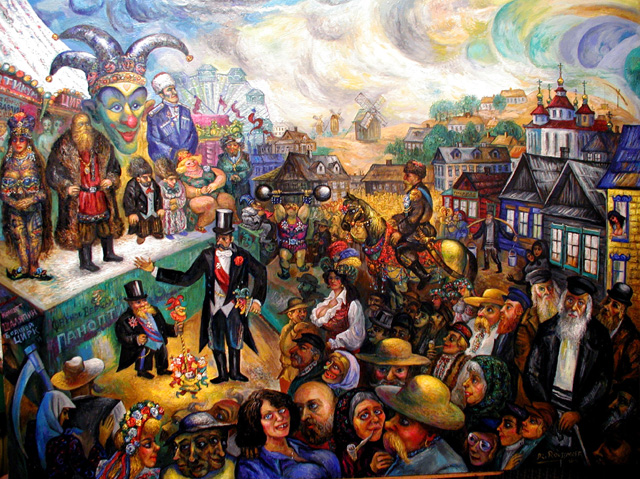 CARNIVAL SIDESHOW

36 x 48 oil on canvas

(details below)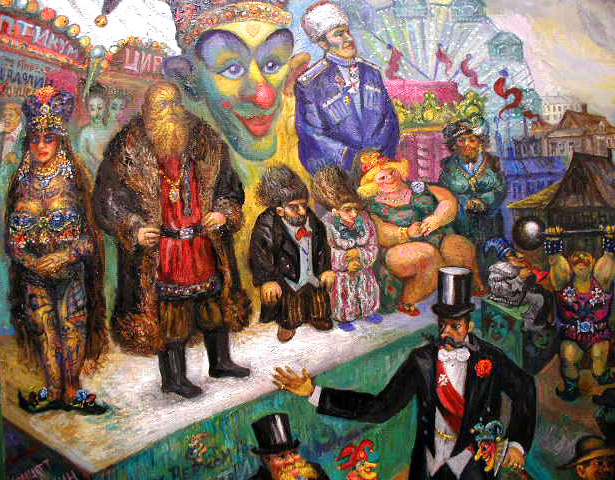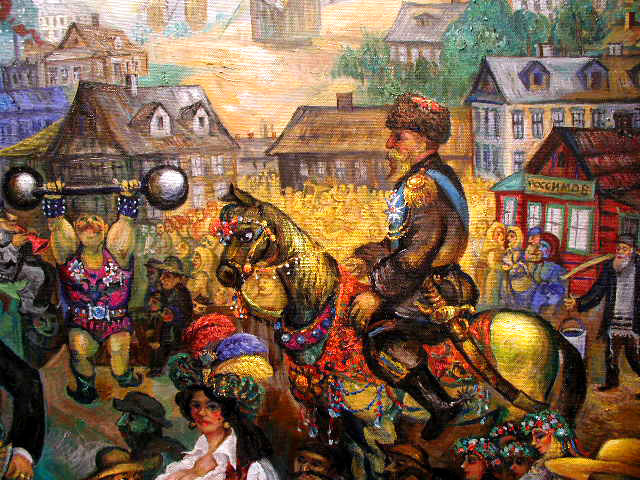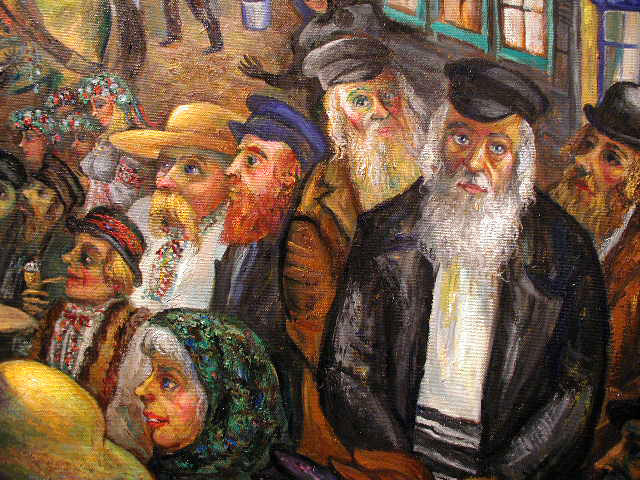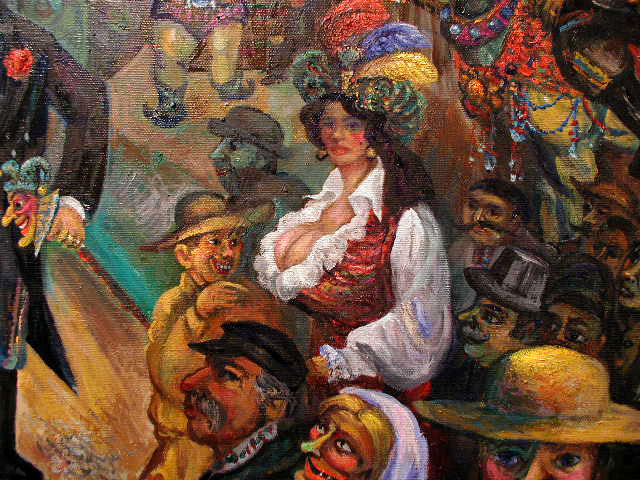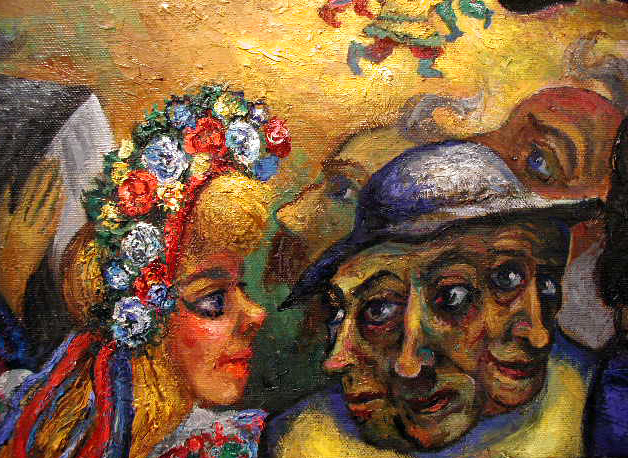 CARNIVAL SIDESHOW
Next (below) is another recently completed work dealing with the theme of a sideshow in old Ukraine.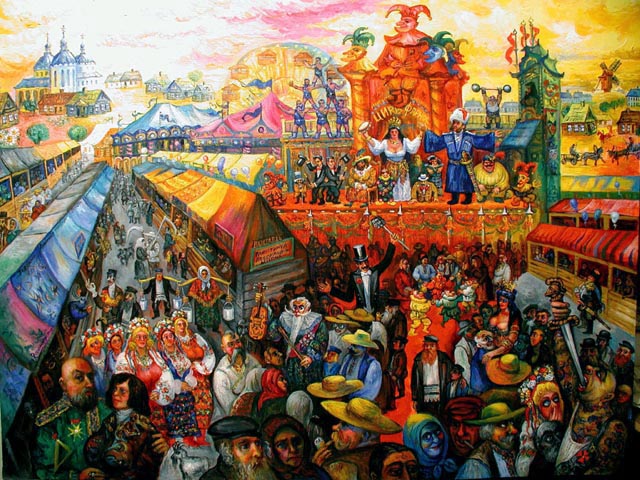 CARNIVAL FESTIVITIES

36 x 48 oil on canvas

(details below)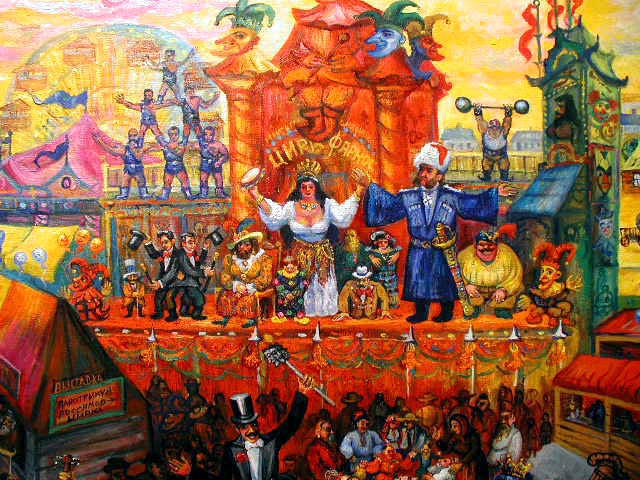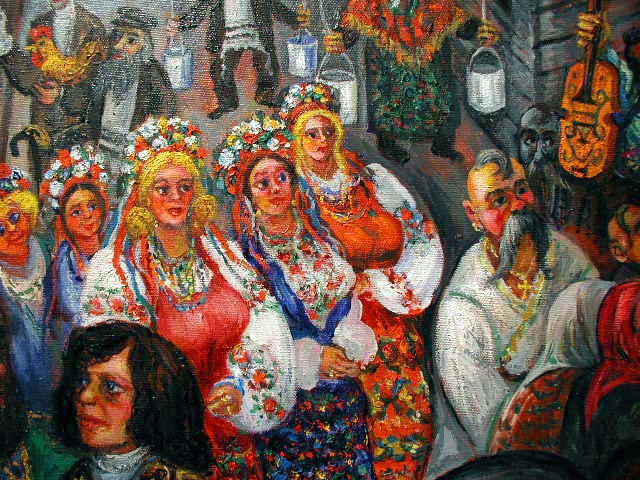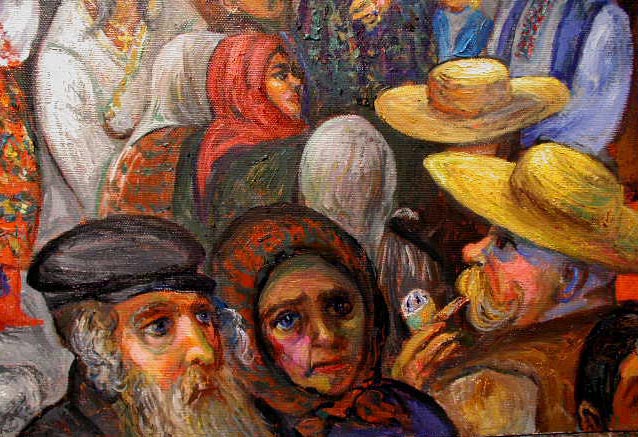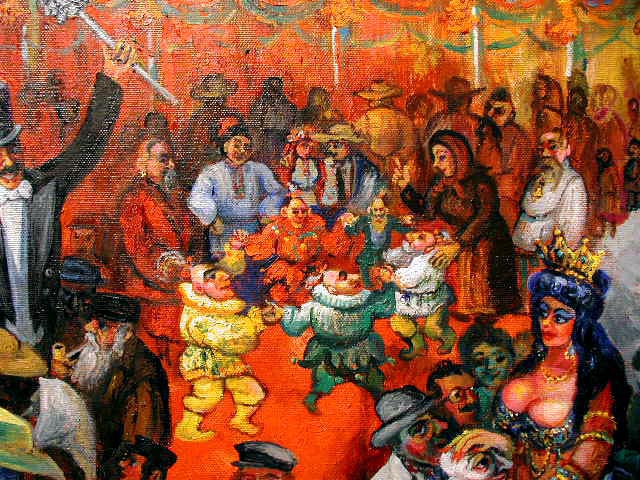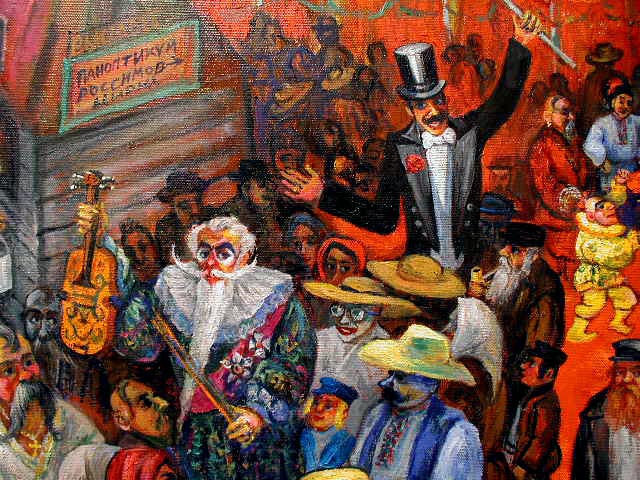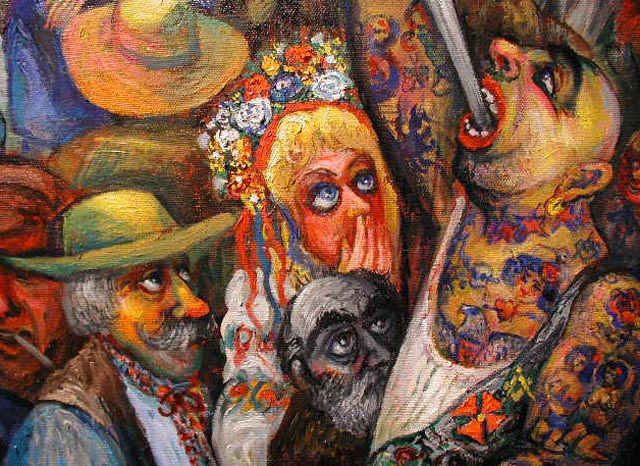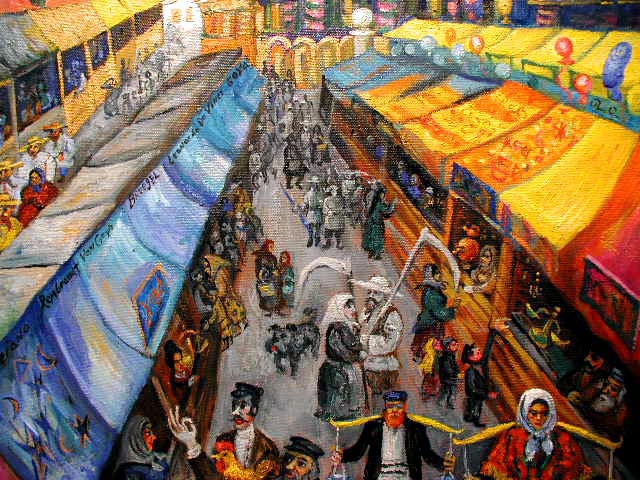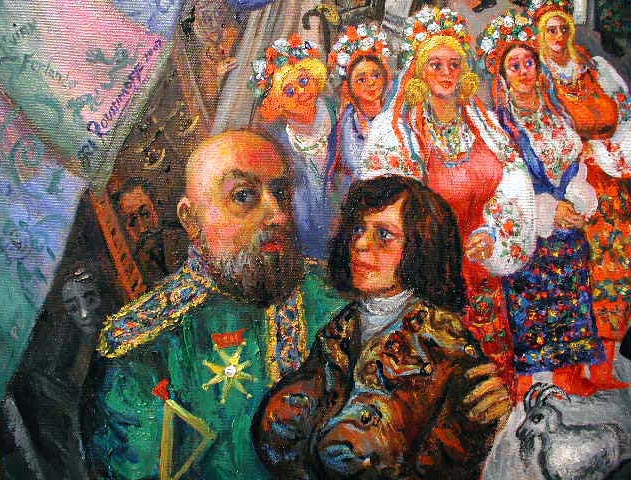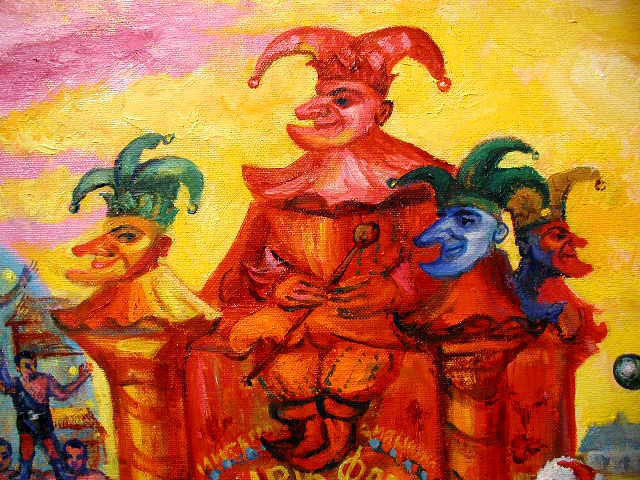 CARNIVAL FESTIVITIES
RUSSIAN CLOWN 24 x 30 oil on canvas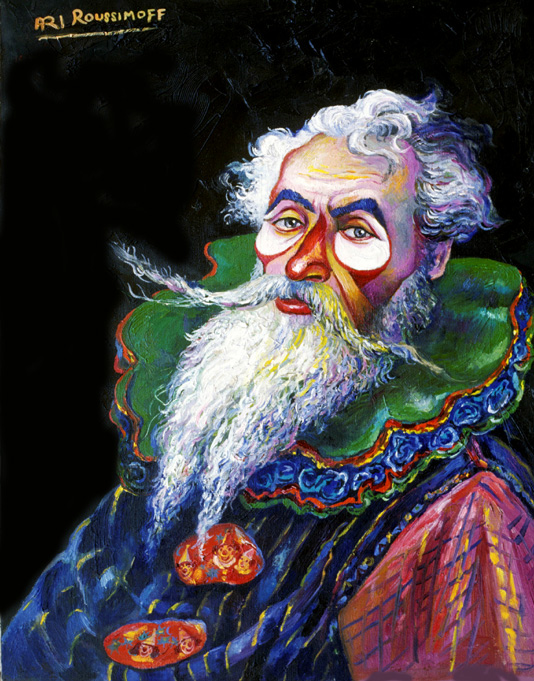 Below is a relatively recent portrait of a celebrated Russian circus personality of the 19th century.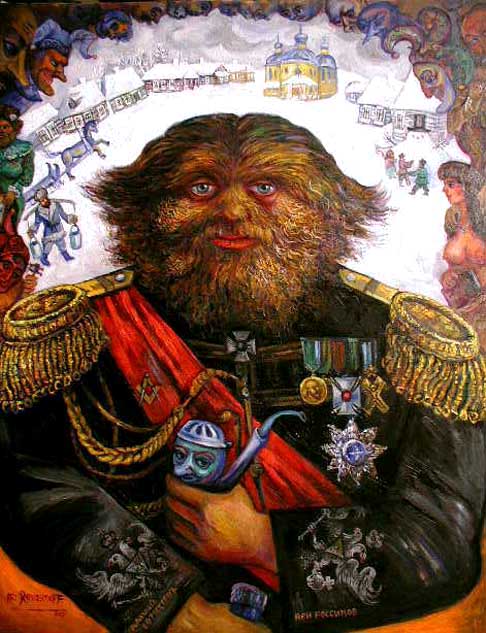 "THE RUSSIAN DOG FACED MAN" 24 x 30 oil on canvas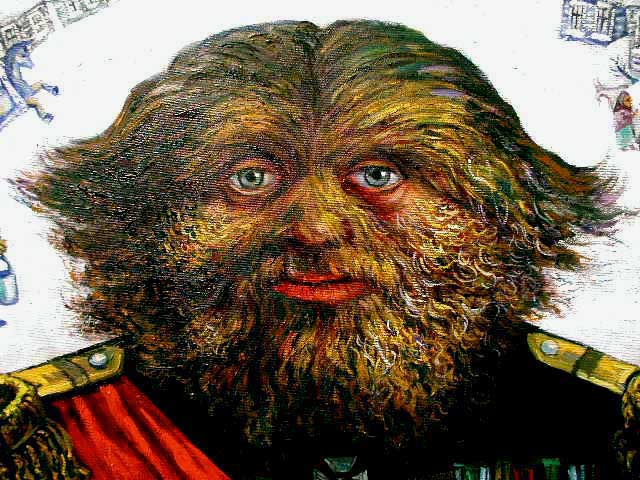 The above work represents a man named Adrian Jeftichew who was afflicted by a condition of excessive hairiness called Hypertrichosis. A circus personality for much of his life, Jeftichew's fame was eclipsed by his equally hairy son who was known professionally as "Jo-Jo the Dog Faced Boy". With the collapse of the Soviet Union , by luck I recently was able to acquire transcripts from a series of interviews conducted in the 1920's by Soviet researchers with surviving members of the extended Jefticheff family. The information I gathered debunks virtually every morsel of information about these people that has been floating around for ages (both the promotional & the researched). I plan on eventually putting this rare material to use, Perhaps in another film. In any event, what impresses me most in the hairy so-called "Freaks" like Adrian or Jo-Jo is that these individuals convey a unique dignity. They seem less like freaks and more like people who should really be no other way.

MY WORLD OF LOVE

The spirit of the old Slavic and Jewish traditions have been my closest language of expression. And I enjoy continuing to work in this very inspirational venue. Here are some paintings recently completed.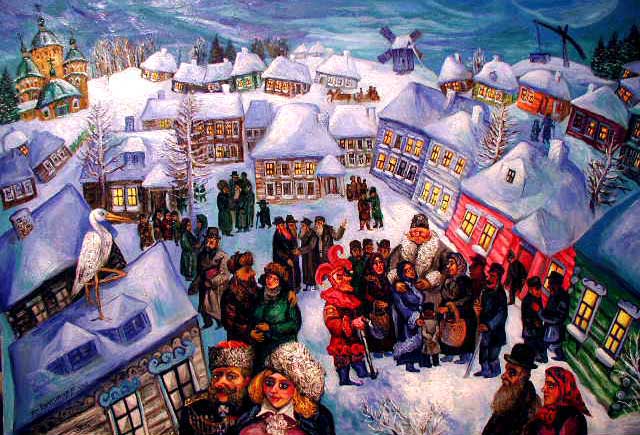 "WINTER EVENING" 24 x 36 oil on canvas

(details below)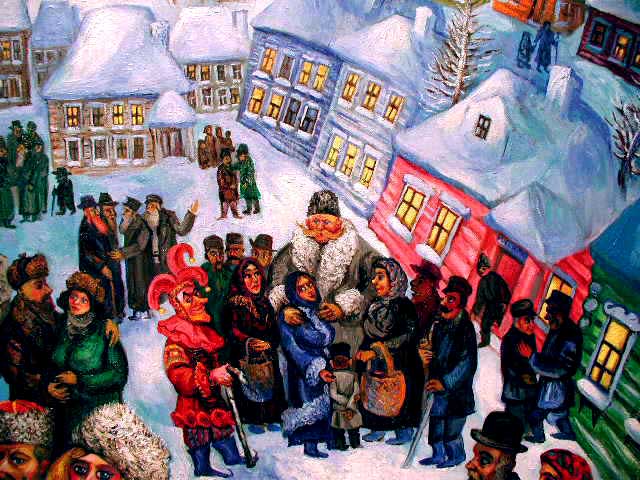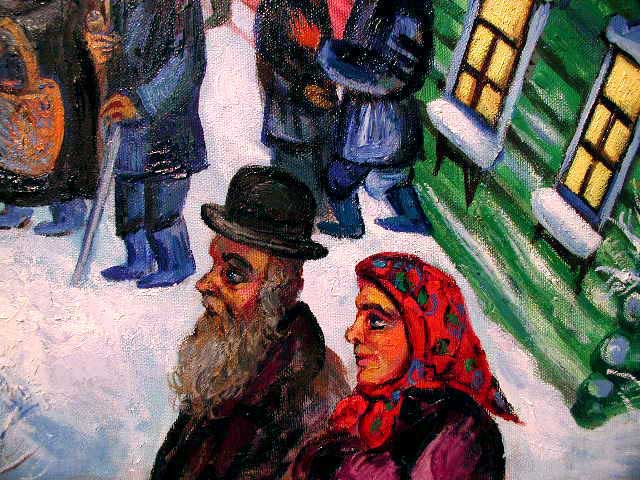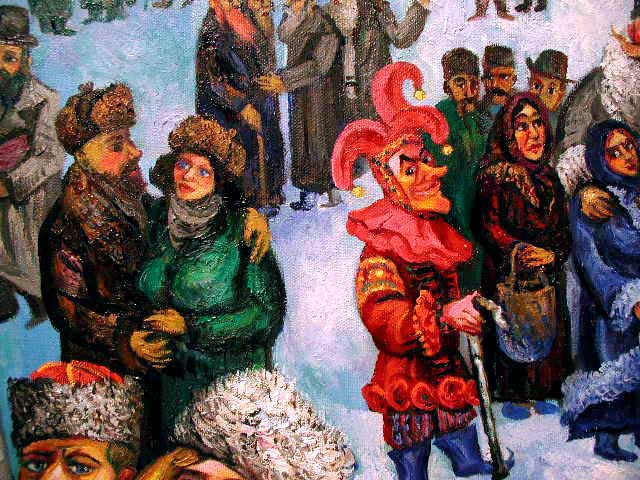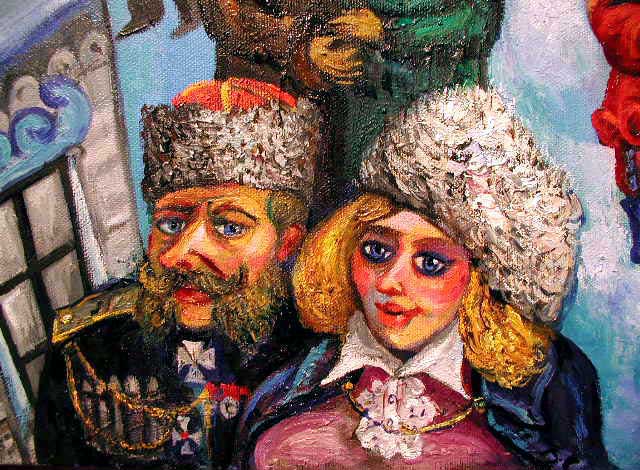 "WINTER EVENING"
The quaint, rustic villages of Russia and Ukrainia are deeply embedded within my soul.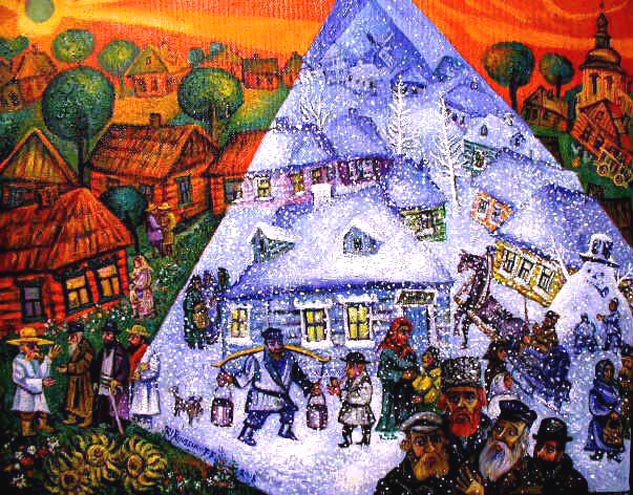 "CHANGING SEASONS" 16 x 20 oil on canvas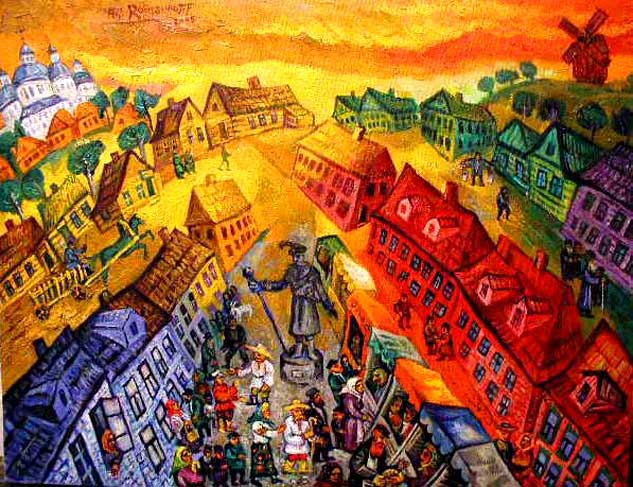 "MARKET SQUARE" 14 x 18 oil on canvas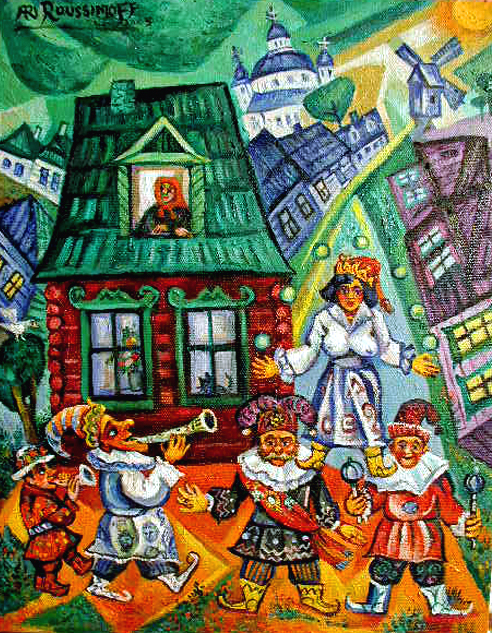 "VILLAGE ACROBATS" 11 x 14 oil on canvas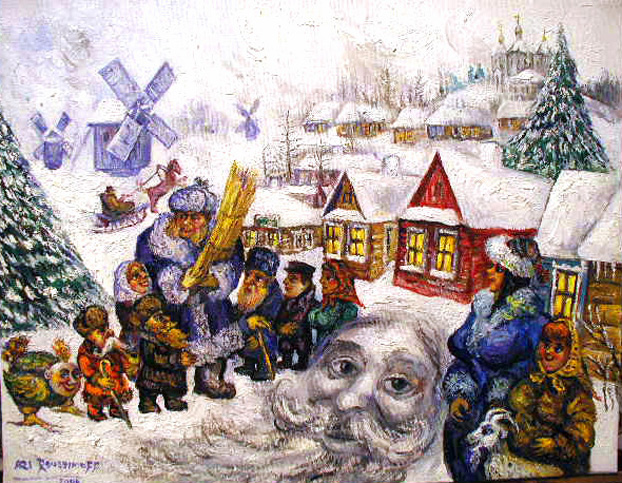 "BEFORE CHRISTMAS" 14 x 18 oil on canvas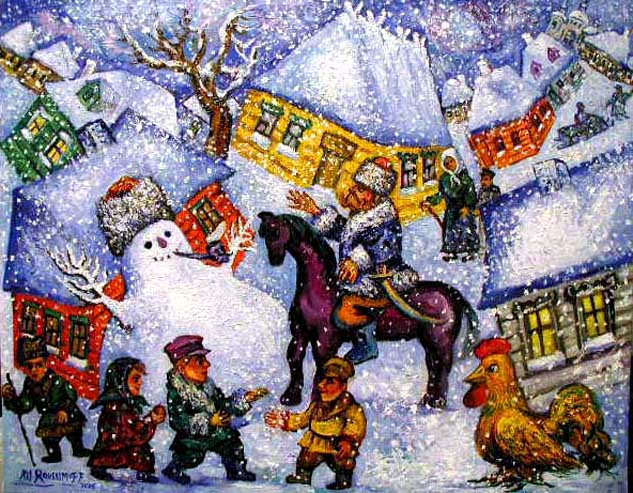 "SNOWFLAKES" 16 x 20 oil on canvas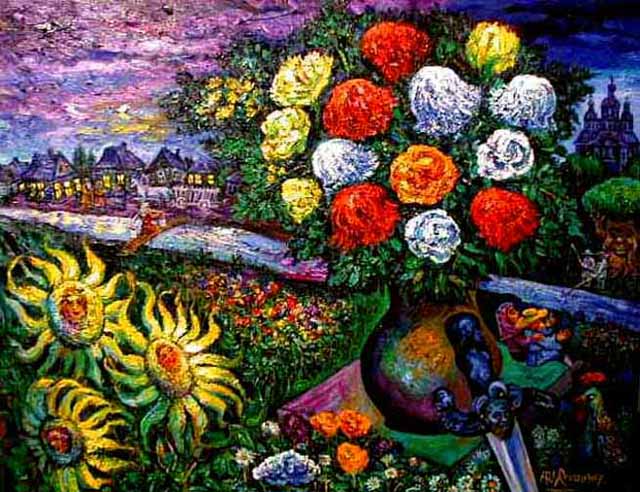 "MAGICAL SUMMER FLOWERS" 24 x 30 oil on canvas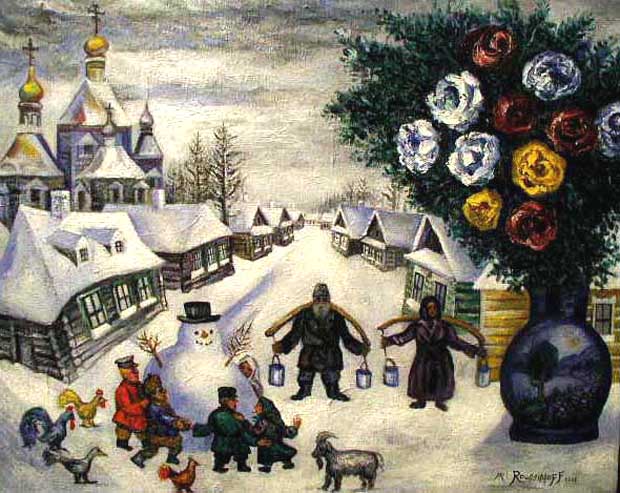 "ARRIVAL OF WINTER" 24 x 30 oil on canvas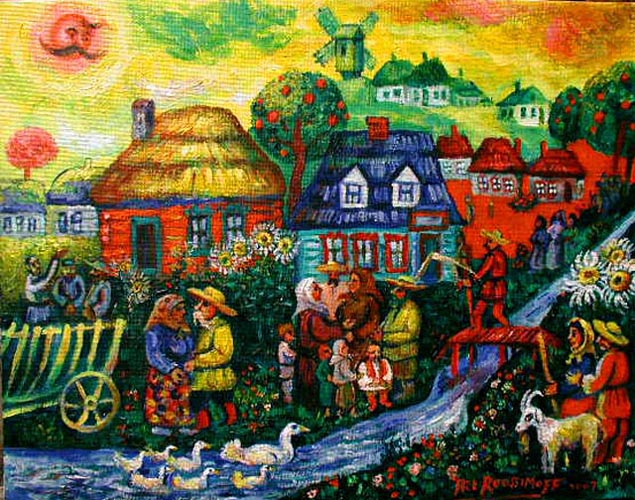 "UKRAINIAN VILLAGE SUMMER EVENING" 11 x 14 acrylic on canvas-panel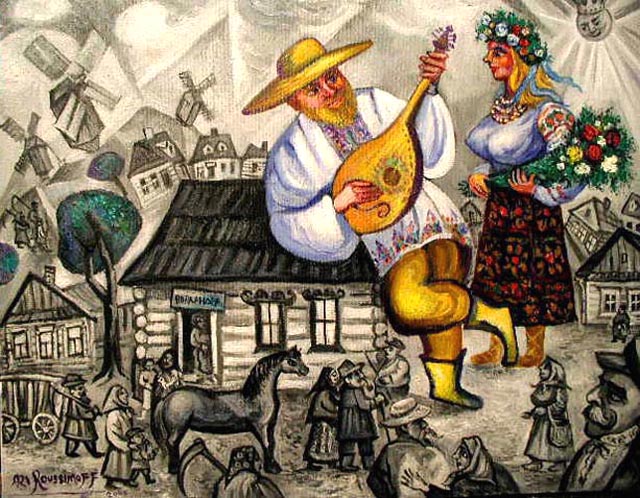 "SERENADE: A UKRAINIAN LOVE SONG" 16 x 20 oil on canvas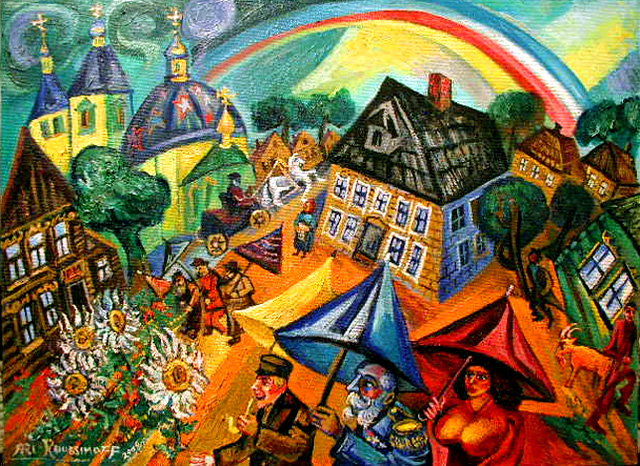 "MAGIC RAINBOW" 12 x 16 oil on canvas

SPIRITUALITY

In the pre war world of Eastern Europe, there once were many Synagogue buildings built entirely from wood. These were truly amazing in their intricacy of architecture. Artistically speaking, these sacred buildings provide nourishment for creativity. Here I painted one such exquisite house of worship. The setting is a Ukrainian village or the outskirts of town. It is a Sabbath or holiday afternoon and worshipers have gone outside during an intermission in services. Since women were separated from men, we see a group of female attendees standing in the distance at the left. The Jewish clothing is accurate historically. The large round fur hat is known as a "Spodik". The shorter one is the "Shtreiml".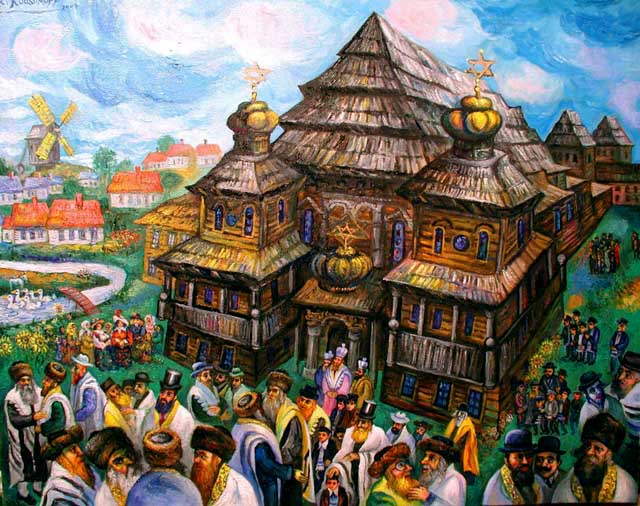 "ANCIENT WOODEN SYNAGOGUE" 24 x 30 oil on canvas

(details below)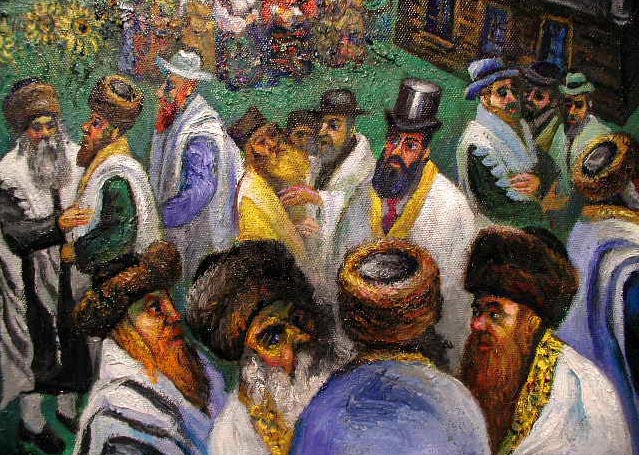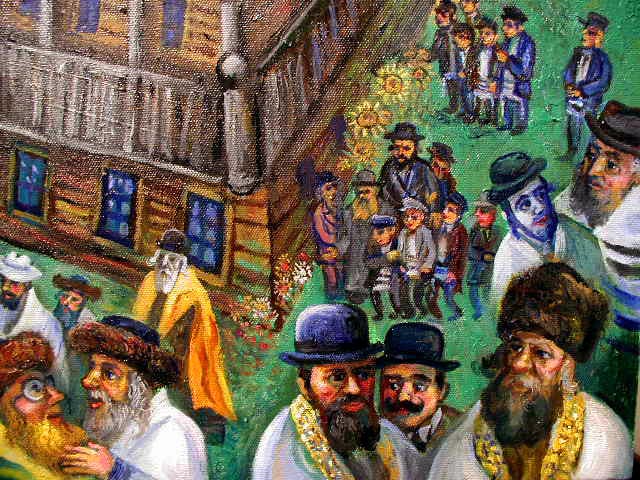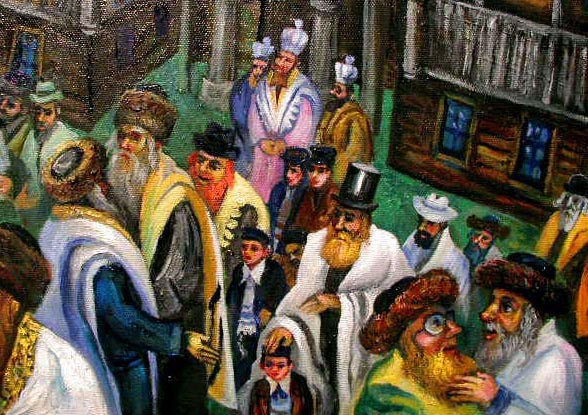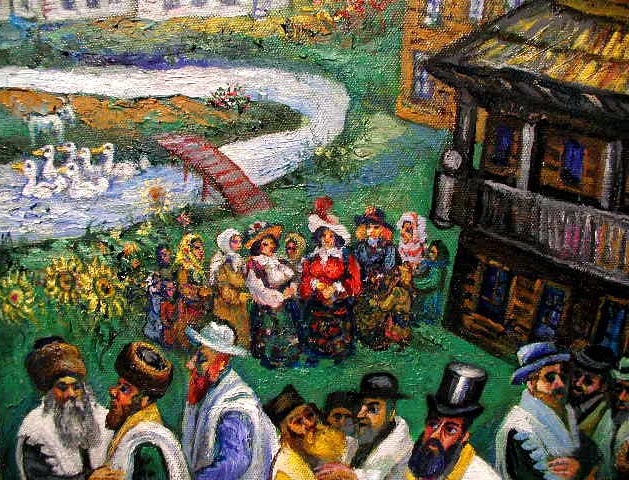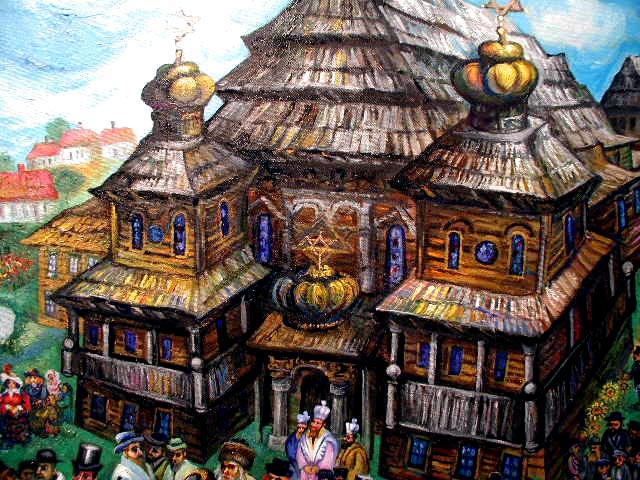 "ANCIENT WOODEN SYNAGOGUE"
Below is my vision of an old Synagogue located in a larger city.
"THE GREAT SYNAGOGUE" 24 x 30 oil on canvas

(details below)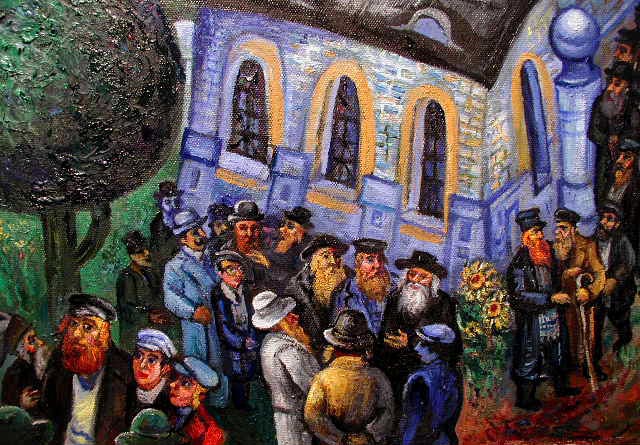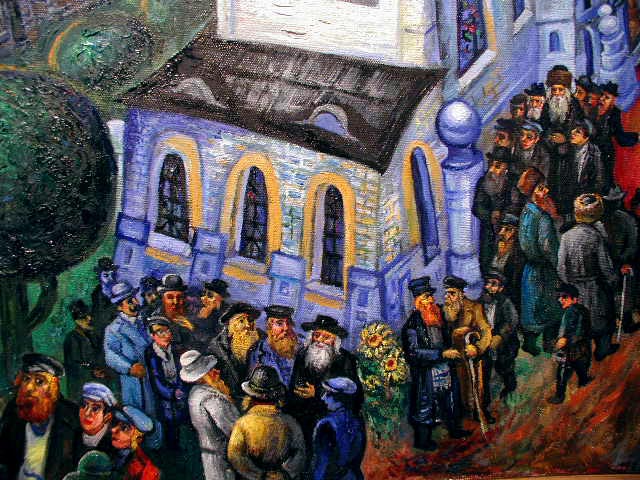 "THE GREAT SYNAGOGUE"
Since childhood I felt an immediacy and sense of timelessness when reading the Holy Bible. Each biblical personality was a complex study not only in ethics and morality but also in psychology. The ongoing saga of humanity is mirrored in each biblical episode. Below is one of my Old Testament canvases.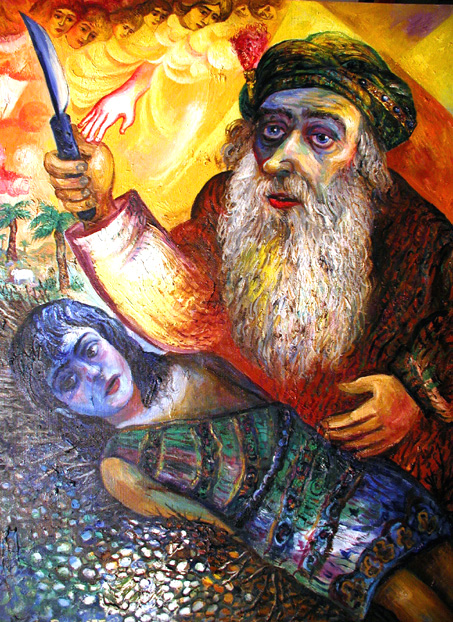 "ABRAHAM SACRIFICING ISAAC" 30 x 40 oil on canvas

This theme from the Bible I find to be highly relevant in our turbulent times. It is a great saga about love, devotion and truth. This painting was actually begun in 1973 and for some reason I never finished it. Recently I looked at the incomplete work and with a fresh sense of inspiration I went to work and completed it. My belief has always been that civilization is a revolving ball. Much progress, though both impressive and frightening does not break this revolving process. Therefore whatever happens within the human experience in our day, I can find its analogy in the Bible. And within a broader scope, in a way this is can be comforting.

-Roussimoff

January 2008

MORE ABOUT THE SOUTH BEACH PAINTING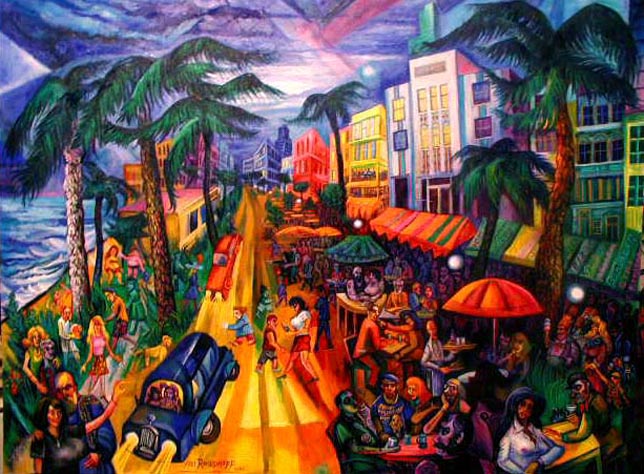 Straight from the artist's frequent travels comes the wonderfully entertaining "OCEAN BEACH CAFE NIGHTLIFE", a picture with a distinctly international flavour. This is an Authentic Signed and Dated, Ari Roussimoff Oil on Canvas Painting from the year 2004. Painted in Miami's legendary, "Ocean Beach"! This sparkling gem measures an almost monumental 30 x 40 inches. A very large and captivating painting with much intricate high-detail work. Rendered in strikingly Expressionist colours and playful Cubist shapes, this fabulous work is painted with a sense of joy that genuinely hypnotizes the viewer. "OCEAN BEACH CAFE NIGHTLIFE" depicts the lively and energetic experiance of being at that almost European-like atmosphere of the Ocean Beach Florida cafes as seen through the eyes of Roussimoff, a frequent traveler throughout the world. This painting presents a delightful invocation of the colourful crowds experiencing the almost mystical effect of a carnival-like night, rich in colour and excitement. The blue ocean and beach are on the left with a bevy of cafes and restaurant on the right. People are exhilarated to be in this great exotic tropical landscape. The scene is bathed completely in the passionate lights of both the local environment as well as the moon. The classic Art Deco architecture of the hotels and structures are beautifully melded with a wide array of very interesting looking people. Poets, Tattooed Bikers, Couples, Singles, Voluptuous and Sensual Women share the space with Energetic Children, Friendly Dogs, Beach Bums, a Group of Masons dressed in their distinctive Red "Shriner" Fez hats and even a Circus "Bearded Lady" with her two Rambunctuos Little Kids. Roussimoff, who is not only an esteemed painter, but a director of movies as well, makes reference to the favorite of his movies, "Freaks Uncensored", which he has painted on a T-Shirt worn by a man in the front. This whimsical and engaging work makes for a nice complimentary contrast to the artist's many depictions of "Old Mother Russia". With warmhearted wit and a good natured lustiness, Roussimoff brings us this radiant, jewel-like painting. Guaranteed to brighten up any room and collection!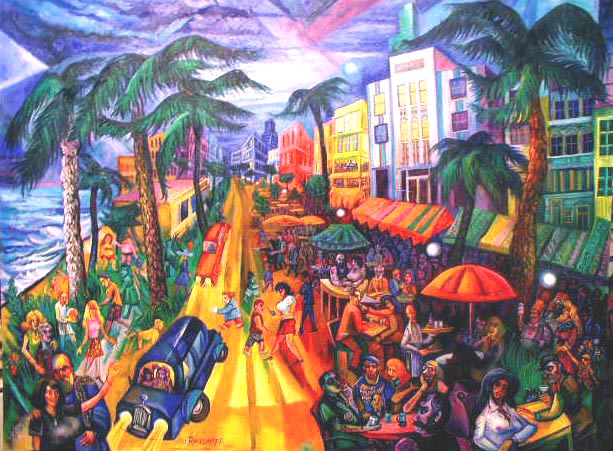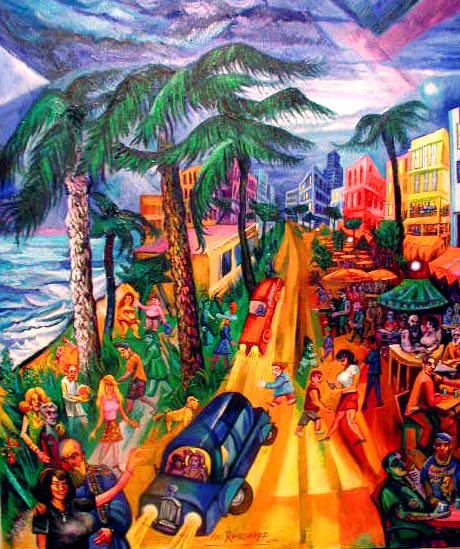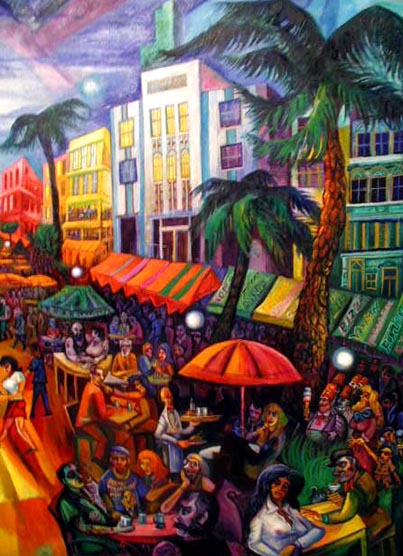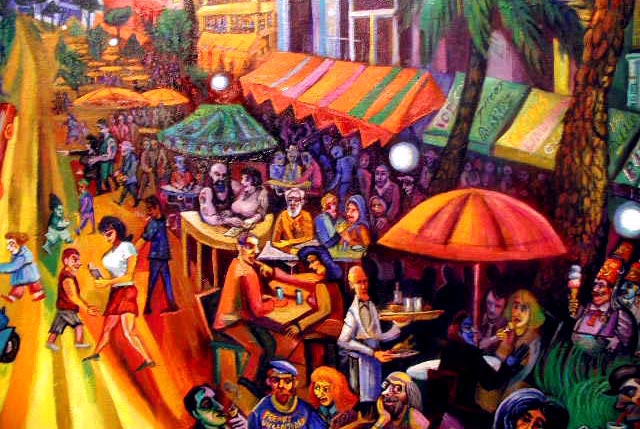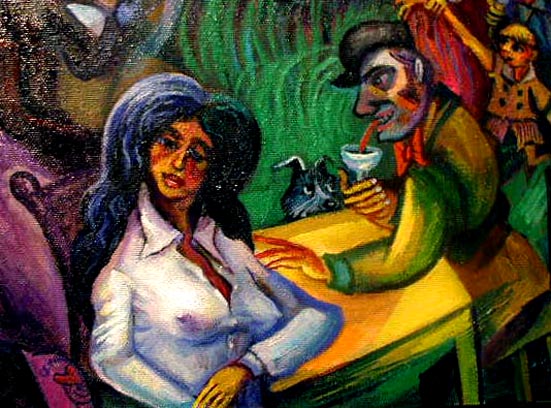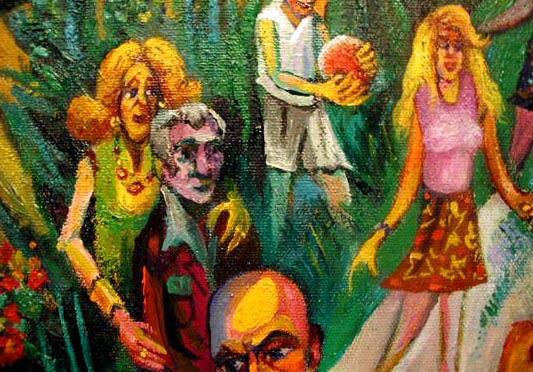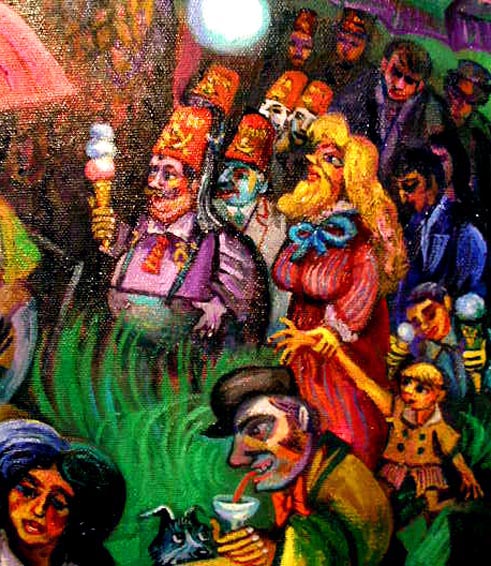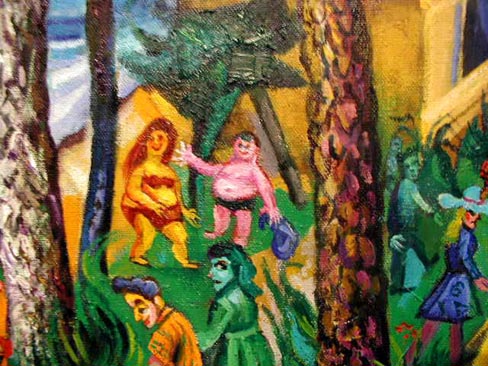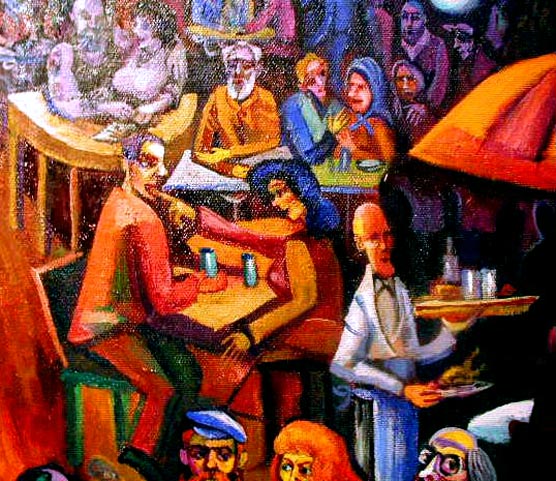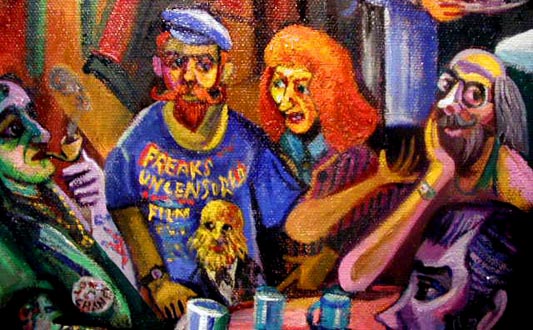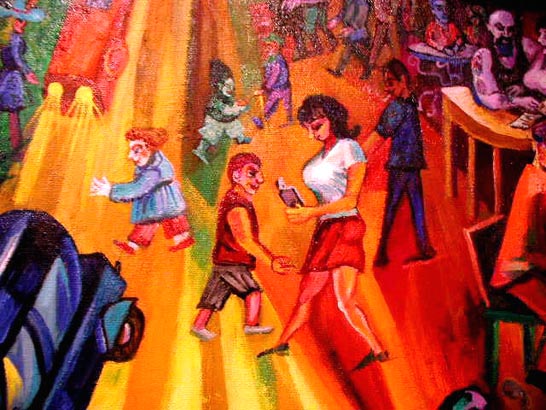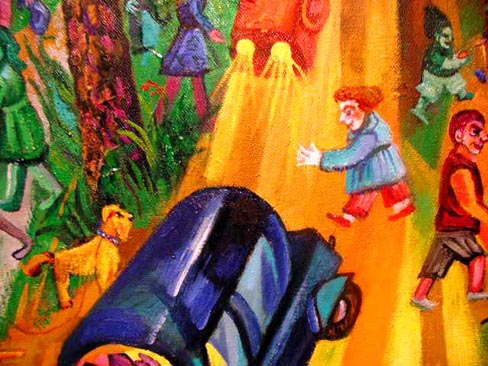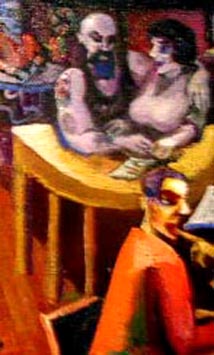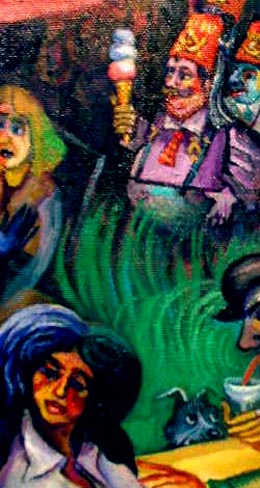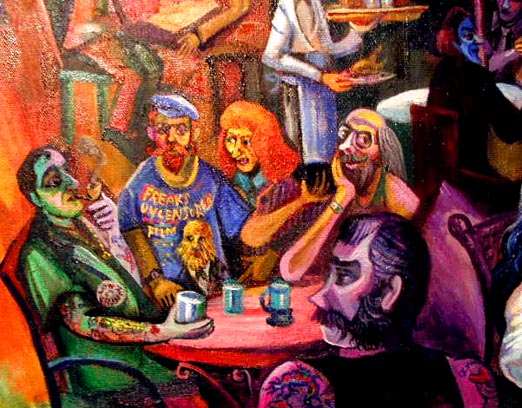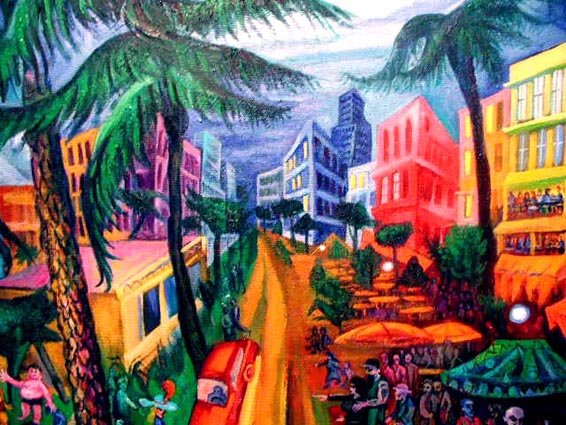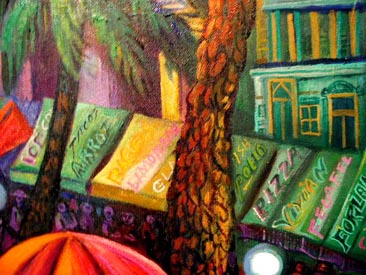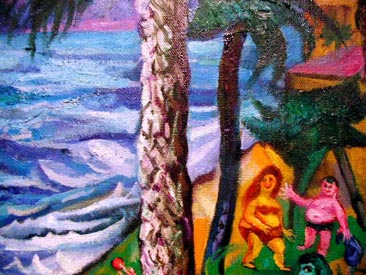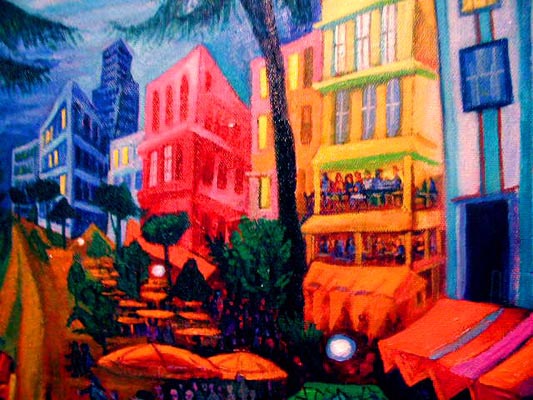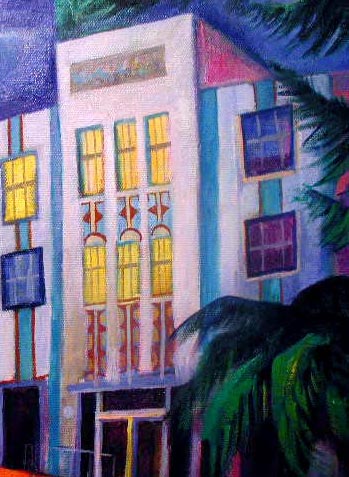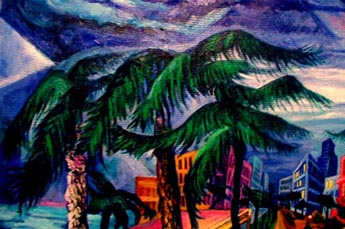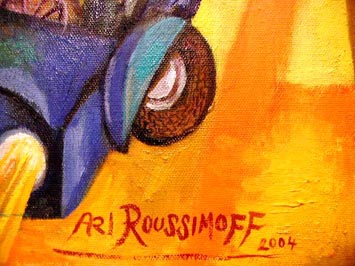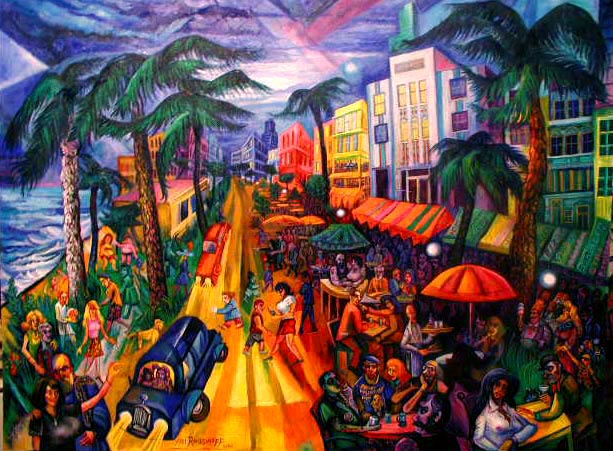 "OCEAN BEACH CAFE NIGHTLIFE"
Oil on Canvas by Ari Roussimoff
ARI ROUSSIMOFF INTERVIEWED: ART, FILM, LIFE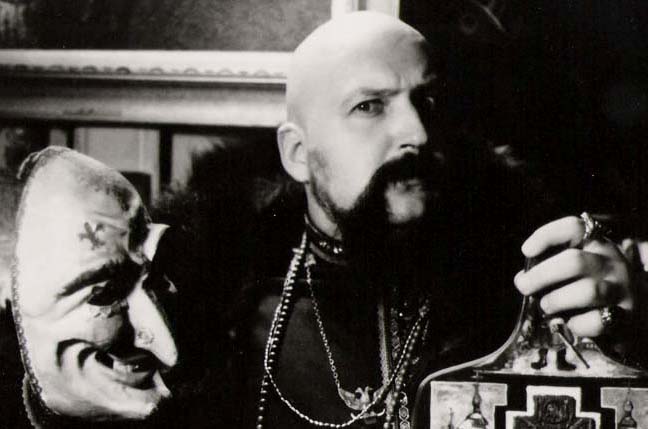 Q: What does art and being an artist meant to you?
AR: Art is a God given language. All art forms. It is a very spiritual experience. And I love that language. It is part of the human soul. It is a way to communicates to others, reaching out to their innermost spirit.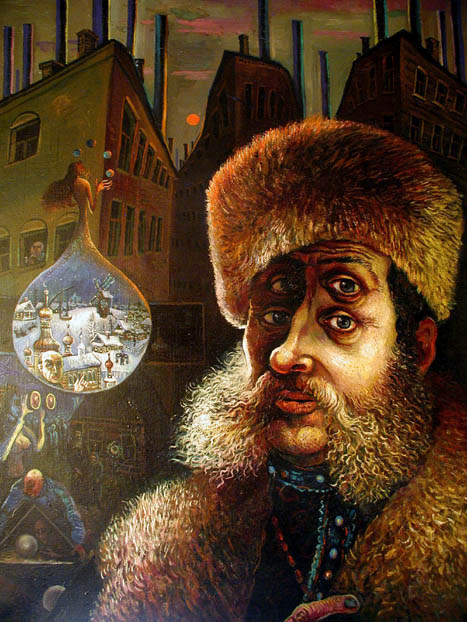 Q: What projects give you the most joy.
AR: Basically painting anything that I can put my heart into. And I love artistic challenges. Most recently I have been collaborating with Vivian Forlander on an illustrated children's book she is writing. That is a really fun project to work on. It has a strong fairytale flavor. Doing this book is extremely enjoyable. Something I've always wanted to do. Vivian's story is a very inspiring one. It will be a wonderfully optimistic fantasy for children, young adults and for anyone who appreciates a positive outlook on life. In our much too turbulent day and age especially, it is so important to present uplifting works. Last year I painted the official poster for the Atlantic City International Festival of Film & Music. It was a chance to create a symbolic composition where I could incorporate the likes of Beethoven, Verdi, Louis Armstrong, Harpo Marx, Boris Karloff and others that I've admired all my life. Recently, I have also been busy with portrait commissions and am now embarking on doing a form of collage portraiture which combines the photographic element with the painted image. It is something different.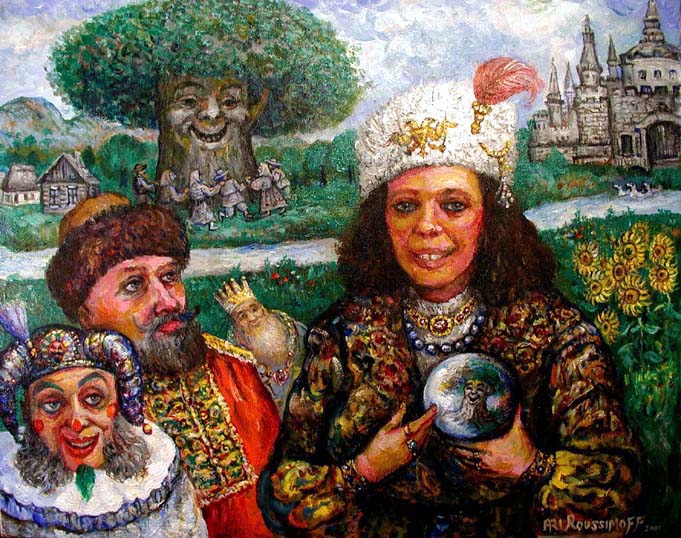 Q: You have been painting since early childhood and are immensely prolific. Your paintings are exhibited in galleries, museums and cultural institutions. You have directed several movies. You have created stage sets, designed costumes and also painted murals for theatrical productions. You have been an actor and even performed with the Metropolitan Opera. Are you a renaissance man?
AR: While I love working in film and the other mediums, painting is and always will be closest to my heart.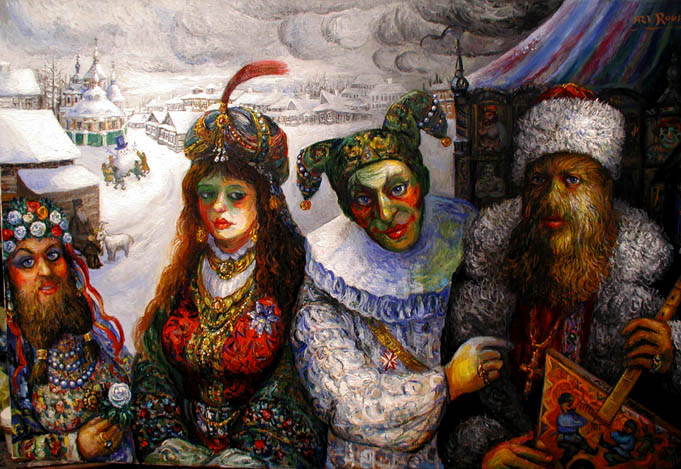 OLD RUSSIA AND CIRCUS FREAKS THEMES
Q: Much of your work centers around Eastern European, Russian and Jewish themes. You also have many portrayals of circuses, sideshows and carnivals. Your jesters, acrobats and freaks seem to connect you to the works of Picasso and Toulouse-Lautrec. Do you see that connection?
AR: Naturally I love Toulouse-Lautrec and Picasso, but I never compare myself to giants like that. The circus has fascinated me since childhood. As to those people known in sideshow lingo as freaks, I see them as normal, if perhaps surreal. Everything on this earth was put here by God. And God is the greatest surrealist of all. To me, someone like Jo Jo the Dog Faced Man was a rather noble figure. The way he was, that was the way God wanted him to be. I have painted him many times. I've even painted the equally hairy Adrian Jeftichew, the man who pretended to be Jo-Jo's father. By the way, one of my circus compositions, "CARNIVAL FESTIVITIES" will be the cover for the upcoming music cd "CARNIVALIA" by the great Rock band "Viza".
A RUSSIAN VIEWS AMERICA
Q: How did your series "A Russian Views America" come about?
AR: For much of my life, I have been living and traveling between Europe and America. And occasionally I'd paint local scenes for practice. In Switzerland and Italy I dabbled in landscapes. And visiting Israel, the land of the Bible, I naturally was compelled to paint the holy sites. But I never was and still am not a journalistic painter. My works come basically from within. Its a metaphysical process. The series "A Russian Views America" came about in an interesting way. During the last fifteen years, I have had the privilege of traveling and getting to know and experience the real America. In earlier times, I was mostly familiar with New York which never stimulated me. And therefore I could not properly appreciate the United States as the great and wonderful country that it is. But traveling and residing in places like Florida, California, Boston, Las Vegas and other captivating places really opened up my eyes. The country has so impressed me that I developed a passion to paint the scene. The United States is landmark history. America's founders encouraged individualism. And in this series of paintings, I try to emphasize the unique American individualism by depicting people from many walks of life. After painting my first American picture, a composition showing Miami Beach, I needed to do more. I love all these places, but Miami Beach is one of my all time favorites. It is exotic and quite painterly. "A Russian Views America" is a name given to the series by a collector. It is an ongoing series.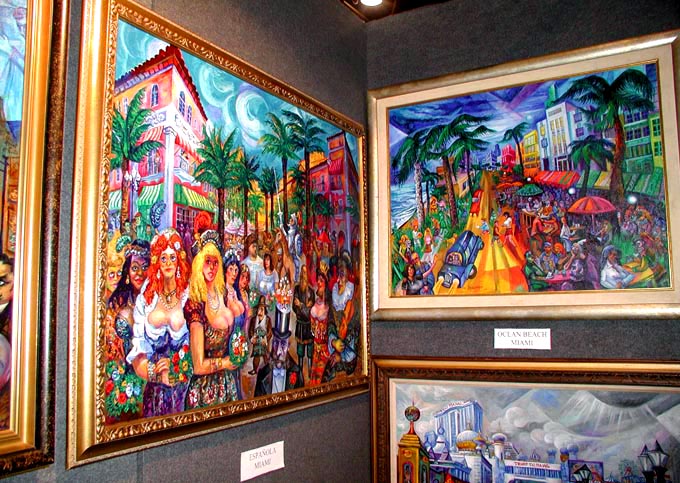 Q: Your painting "Carnival in Miami" compliments your Russian carnival pictures.
AR: Yes it does. The locale for this scene is the district called "Espanola Way" in Miami Beach. I populated it with all manner of celebrants and circus performers.
.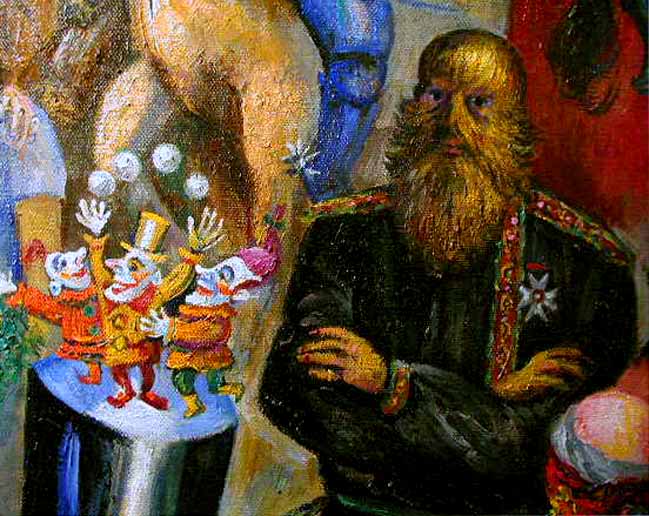 Q: There you have the bearded lady and Jo Jo the Dog faced Boy.
AR: True. Jo Jo the Russian Dog Faced Man can't be missed. There also are elements relating to medieval Spain. I included a representation of the great master Velazquez. There is Don Quixote with Sancho Panza. Did you know that Don Quixote was one of the favorite roles of the Russian operatic bass Feodor Chaliapin? I have a fur trimmed Boyar coat that I've worn in some photos. It been worn by Chaliapin as Ivan the Terrible in an Opera in Paris.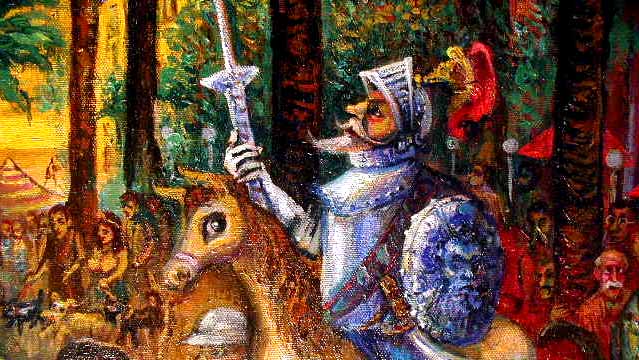 LUNCH WITH SALVADOR DALI
Q: Your biography mentions Chagall and Kokoschka. Dif you ever meet them?
AR: Unfortunately not. Since I started painting as a child, my work was noticed and began getting displayed at a very early age. When I was fourteen years old, my paintings were managed by a man who worked at Shorewood Art Publishers as a representative. He traveled the world arranging lithographic commissions with important artists. Being on very good terms with several, he would show them photos of my paintings to see their reactions. Interestingly enough, Marc Chagall was a man with few compliments for other artists. Surprisingly, Chagall liked my pictures. He was amazed that I was only fourteen years old. Chagall relayed encouraging words to me. Oskar Kokoschka said some really nice things as well. Kokoschka suggested that I shouldn't ever depart from where my heart leads me. It is too bad that I never met them personally. But I did get to meet Salvador Dali.
Q: Really? What was it like meeting Dali?
AR: This is an experience of a lifetime for me. It was arranged that I be taken to lunch with Salvador Dali and his wife Gala at the St. Regis Hotel in New York City where he lived, dividing his time between Europe and America. Being only fourteen, I was very nervous at the prospect of meeting a genuine acclaimed Master like Salvador Dali. Since I was expecting a genius and total madman, my legs were almost shaking. But soon after being introduced to the great master, my nerves gradually settled down.
Q: So what was Dali like?
AR: It became clear to me that Dali's so called madness was a put on, which I had suspected all along. Dali was actually rather quiet and reserved. Maybe even sullen. He was a stylish dresser. He had this great cane with a fancy top. There were five of us at the table. Dali, Gala, my father, my agent and me. Gala was not the friendliest sort. Of Russian origins she would occasionally interject sentences to Dali in French and Spanish. Dali spoke to us in accented English. The interesting thing is that Dali spoke more about his interest in films then about painting. He said he enjoyed the old movies. He considered the new ones mostly worthless. This was in 1968. In the late 1920's and early 30's Dali had collaborated with Luis Buñuel on two of the most important avant garde films in history and in the 1940's he worked with Alfred Hitchcock in Hollywood. Dali claimed he was planning another movie. From what I now know of his life, that was a fantasy on his part. At one point toward the end of our lunch, an unexpected thing happened. A diner at a nearby table recognized Dali and approached requesting an autograph. As if on automatic cue, Dali changed personality, instantly becoming the eccentric madman much like Larry Talbot changed into the wolfman. After obliging with an autograph, the man returned to his table. At this point an obviously irritated Gala began berating Dali in front of us for complying and thus creating a spectacle. She seemed jealous and petty. It was an embarrassing scene. After Gala's scolding, a resigned Dali just sat there saying little. Upon departing, Dali presented me with a rolled up artist's proof lithograph. I have this piece framed. It is a surrealist nude from his Marquis De Sade series.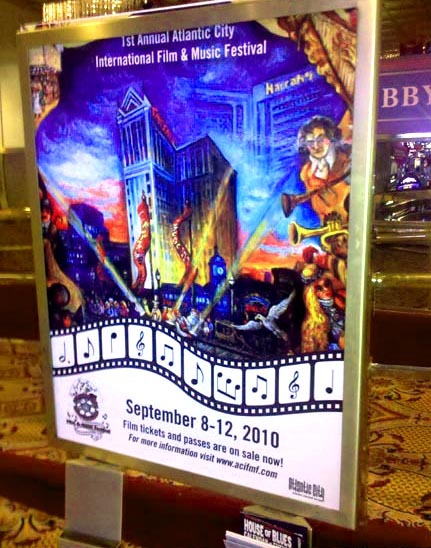 ARTISTIC INSPIRATION & HISTORY
Q: Which artists inspire you?
AR: The Old Masters are my greatest teachers. I've also been highly inspired by the arts of Byzantium. Russian and Greek Icons have had a strong effect on me. As does various folk arts. History has so many wonderful artists. Too many to name. Rembrandt however is at the top of the list. His work is extremely religious, in both human and spiritual terms. Contrary to what most academics today say, if one cannot feel the soul embedded within a Rembrandt work, one can never fully understand nor experience his greatness. Some may consider this viewpoint sentimental, but I stand by it. Scientific analysis is a certainty. But beyond that, much efforts at attribution are conjecture. A hit and miss guessing game by members of a mutual admiration club. In future times, quite a few of the conclusions arrived at by many of today's so called experts or teams of experts on the paintings of Rembrandt and other Old Masters will no doubt be similarly regarded as the often irrelevant and outright ridiculous conclusions made by yesteryear's once highly regarded academics. We should never forget Abraham Bredius' enthusiastic acclaim of those horrendous fake "Vermeers". Nor should we ignore that more then a few of Bernard Berenson's authentications are today held in question. Remember, in their day, the judgments of those men were almost law.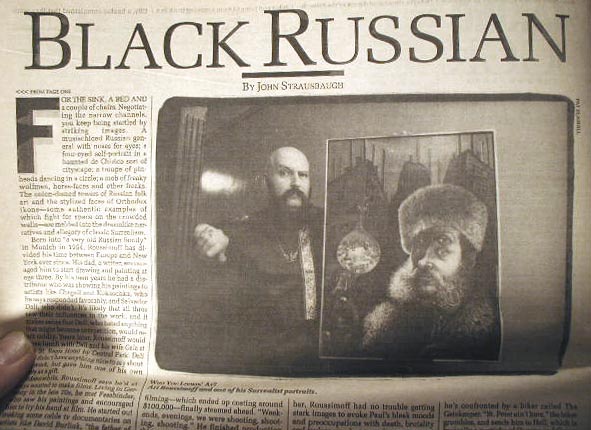 Q: What other artists or personalities do you like?
AR: Tolstoy has always fascinated me. Curiously, I have never been a Tolstoyan, nor do I accept much of his personal philosophy of life as my own. Nonetheless, he is a very inspiring figure. Tolstoy was greatly spiritual. His passion was unequalled. One cannot help but be swayed by that. When conducting research for "War and Peace", Tolstoy made it a priority to correspond with scholars in Germany, Italy and throughout Europe. Tolstoy spent months pouring through the pages of ancient volumes in esoteric libraries in St. Petersburg. Nowadays, writers hire out someone to go do their research for them. Tolstoy were he alive today, would never, ever consider something like that. That was the spirit of a great man.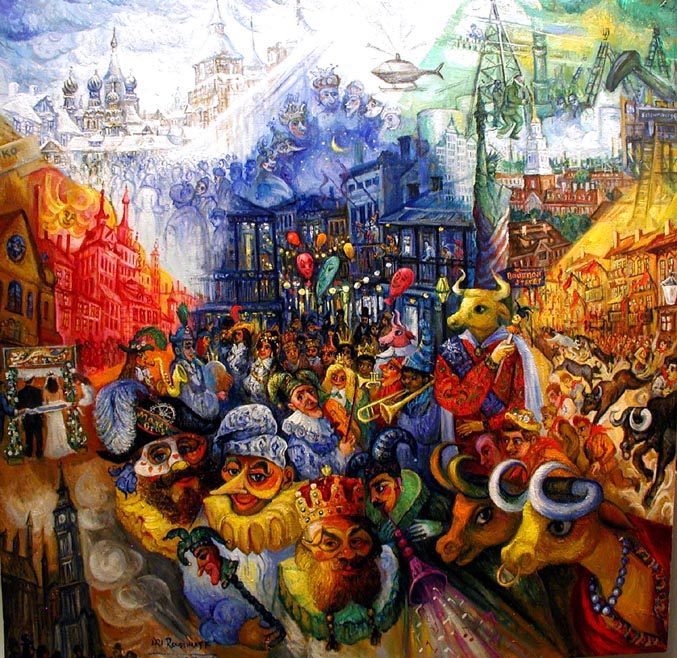 FILM DIRECTOR, ACTOR PERFORMANCE
Q: You make movies. You've also been a performance artist and actor?
AR: First, let me get the performance thing out of the way. Some years back, we had a performance group. And I was the main performer. We filled up New York's Limelight Disco and toured throughout Europe. But it was primarily as a tour promotion for an early film I did. My character was tongue in cheek. Based on pro-wrestling stereotypes, sometimes I'd appear jovial, other times I'd come off as villainous and crazed. It was really silly, but it was fun.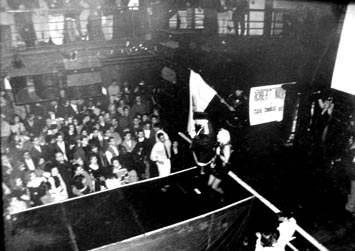 Q: Your debut as film director was "Shadows In The City". It had an all star underground cast.
AR: Actually I did some art documentaries prior to making that movie. "Shadows In The City". was my first feature film. It was a learning experience. There is a lot that I like about it, but today, I would do much of it quite differently. Being an admirer of classic cinema, shooting in black and white was something I always hoped to do. So I finally did it. The cast was great. We had quite a few luminaries of the avant guarde. Some were Andy Warhol super stars. We featured legends such as Jack Smith and Emile De Antonio. The last performances of these two greats was in "Shadows In The City". Then there was Taylor Mead, Bruce Byron, Annie Sprinkle, and scream queen Brinke Stevens. I should tell you that originally slated to star was Joe Spinell. We got so far together that Joe even scouted locations with me. Joe and I and a few others went to Coney Island where locals recognized him from his low budget horror movie "Maniac" rather then for his appearances in "Rocky" or "The Godfather". It isn't generally known that Joe was also a painter. He'd been friendly with Larry Rivers and had hung around the New York art scene. So we had art in common. Joe had misgivings about my interpretation of the story for "Shadows In The City". But he hadn't seen my paintings yet. One night, Spinell called me after seeing my paintings on a television show. He said to me in a definitive tone, "Now I understand you". We spoke semi regularly on the phone for a while. Joe was always saying we should get together to paint. I like to work alone, so I kept putting Joe off. He sort of envisioned a Van Gogh and Gauguin like scenario happening with us. After Joe Spinell died, I got to miss his unique middle of the night phone calls. In retrospect, in doing "Shadows In The City", I really did enjoy capturing images of Coney Island and 42nd Street back in its sleazy heyday. Its too bad we we did not have Joe Spinell in it.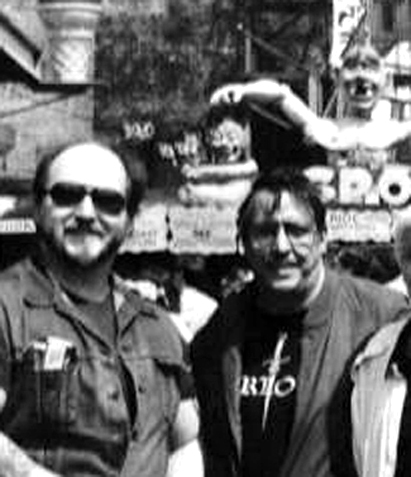 Q: How did the movie get financed and how did you assemble that cast?
AR: The financing was piecemeal. We began shooting in 1984, stopped until 1989 and finished in 1990. It's a long story, but at one point, the great Federico Fellini who had seen a rough cut of several of the scenes, was instrumental in getting someone to invest in the movie. As to the cast, a number of people were friends and acquaintances from the art world, performance and the opera. The artist and videographer Clayton Patterson was our art director. Clayton had previously documented and known Jack Smith, Emile De Antonio and Taylor Mead. These were people I knew only from seeing and admiring their work and reading about them. Clayton managed to secure their talents and others to appear in the film. And I was truly privileged to have worked with these important artists.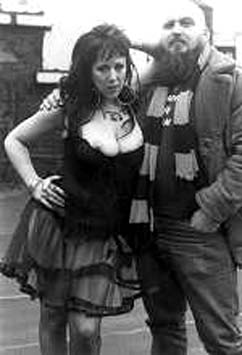 Q: Is "Freaks Uncensored" your most recent film?
AR: After completing "Freaks Uncensored" I did one short subject documentary film about a historic library. But "Freaks Uncensored! A Human Sideshow" was my last feature length movie. It is by far, my favorite and I feel my best work in film. The movie is a collaboration with Vivian Forlander. We worked with me setting up a basic format or look and doing much of the research and writing down scenarios. These lengthy notes were then edited down by Vivian who created the script out of these materials.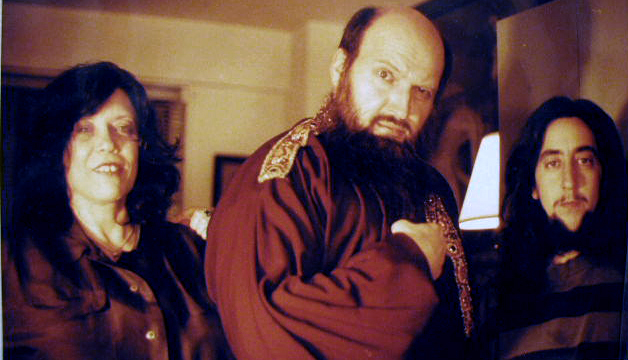 Q: The film had some really great interviews with freaks.
AR: Luckily we were still able to interview the famous Jeannie Tommani, last of the Ringling Bros' "half-girls". Jeannie was wonderful. A regular trouper. This was her final film appearance. We also had the wonderful bearded lady performance artist Jennifer Miller. A very philosophic lady.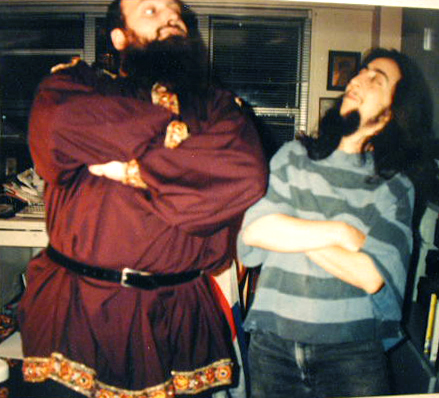 Q: Any unusual experiences in making "Freaks Uncensored?
AR: It was the most fun I ever had doing a film. We traveled a lot, visiting various historical and scientific archives and meeting fascinating people. The late David F. Friedman was a dream to interview and get to know. Extremely generous with his time. A true gentleman. He produced all these sleazy horror films, yet Friedman was a man of culture, an opera aficionado and walking encyclopedia of cinema history.
Q: Did David F. Friedman see the completed film?
AR: Oh yes. He even offered to do personal promotions for us if we did conventions like Chiller Theater band such. We received a nice letter from Friedman telling us how much he liked "Freaks Uncensored". Subsequently I spoke to him several times over the phone about a variety of subjects. It pains me that I didn't get the chance to really get to know him. David F. Friedman was great.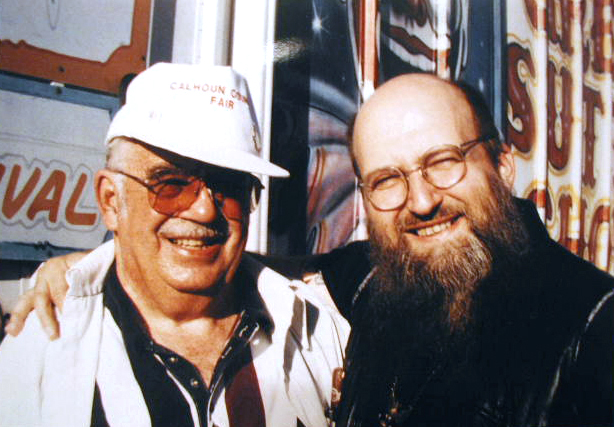 Q: Friedman was friends with Russ Meyer, wasn't he?
AR: Actually, I once met Russ Meyer in Las Vegas while we were promoting "Freaks Uncensored". Lots of people complain about Russ being disagreeable. But we had a nice little conversation.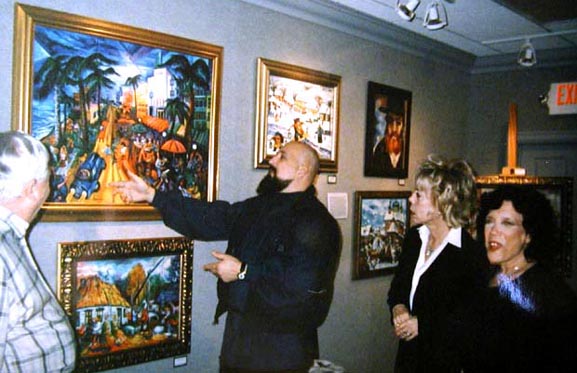 Q: You also acted in movies and performed in Opera?
AR. That was primarily for recreation and experience. I had several non-singing roles at the Metropolitan Opera House in New York. In the first season production of Strauss' operetta "Die Fledermaus", I played a somewhat expanded interpretation of Ivan the Major Domo. As directed by Otto Schenk, I was made to play the role as a stereotypical intoxicated Russian. Watching director Franco Zeffirelli at work was educational. My times at the Met were very rewarding. I met many fabulous people. A particularly memorable experience was at a Christmas party where I was congratulated on my performance as Ivan by none other then the one and only Vladimir Horowitz. He even introduced me to his wife, who was the daughter of the legendary Arturo Toscanini. That was something. This all had a strong impact on my painting.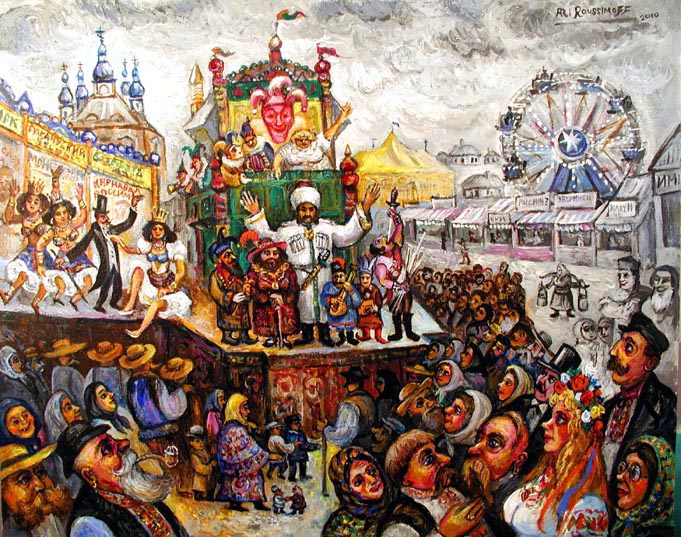 Q: What other acting did you do?
AR: Oh, I had a brief three episode television program on MTV. It was me being a Russian V-J, all dressed up in ethnic costume as I often do. There were movies, but often the roles were cut. Often drastically. There is a film I had a day's work in which starred Meryl Streep and Jack Nicholson. Virtually everything I did there was cut. You barely see me. We worked on a small closed set. Meryl Streep was a real lady. High class all the way. Most of the day on a set has you just sitting around. So I sat drawing. This caught the attention of the cinematographer Nestor Almendros. Talking to Nestor much of the time was great. It was the behind the camera artistry that interested me. Nestor Almendros was very famous. Although I had known that in his younger days he had done experimental films, I thought it best not to mention it. He was very good to talk to. I worked for Frank Hennenlotter in two movies. He's very talented director. While I was making "Shadows In The City", since I was a novice, I would often phone Frank seeking advice on this or that aspect of filmmaking. Henenlotter was always generous with time and advice. Terrific person.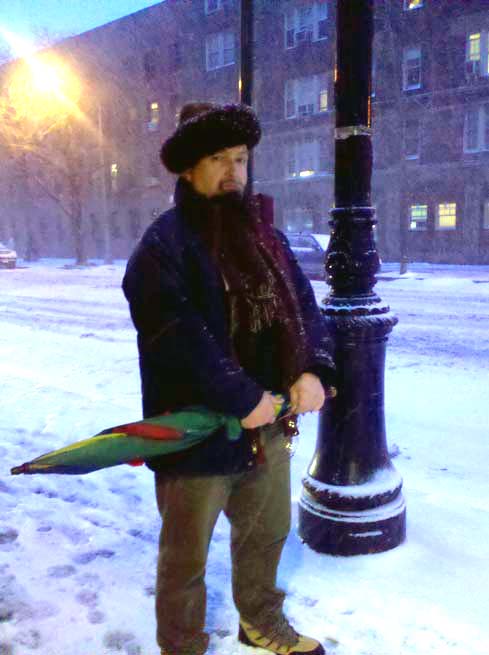 Q: On a final note, you enjoy looking like your paintings.
AR: Why not. After all, the paintings are an extension of me. Perhaps I should say that I am an extension of them. An artist's paintings should be as vital as any other organ is to them. Everything I see, I look at first as a composition of color and form. The spirit reveals itself through this. It is not really an abstraction of life. The experience is something spiritual. Almost mystical. So therefore it is a natural thing for me to look like my artwork.