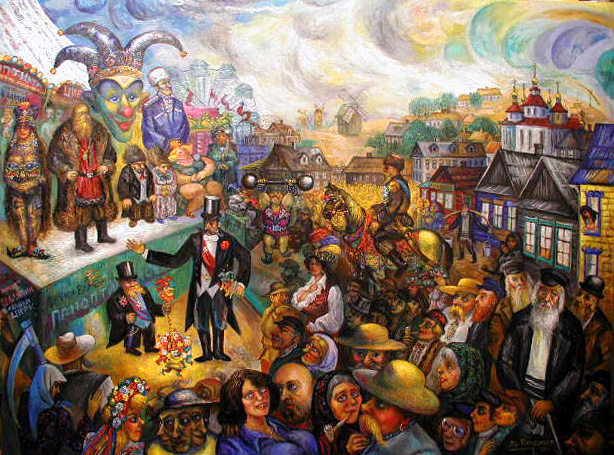 "CARNIVAL SIDESHOW"
2007 Oil on Canvas 36 x 48
PAINTED BY THE MAN WHO DIRECTED THE AWARD WINNING FILM, "FREAKS UNCENSORED! A HUMAN SIDESHOW!"
Here is the Old World as it Really Was! Ukrainian Farmers, Russian Cossack Officers and Hassidic Jews All Come Together at the Carnival Sideshow. On Stage are a Colorful Assortment of Unique Performers and Historic Circus Freaks.
"CARNIVAL SIDESHOW" is a Genuine Signed And Dated Ari Roussimoff Oil on Canvas Painting, measuring a very large sized 36 x 48 inches and painted in 2007. In this almost monumental work, the artist imaginatively re-creates a true to life carnival as it actually looked in a rustic old town in Ukraine or Russia. This is exactly as it once was. And no one has ever captured this colourful event the way Roussimoff has. Everyone was curious to see the show. The whole town came by or passed through when the carnival set up in town. Here are the local peasants, the Czarist Officers, rural bureaucrats and dignitaries, voluptuous maidens, the Jewish masses, men, women and children of all ages. In the background are the amusements and rides. The "Panoptikum" (Menagerie) featured Freaks and Working Acts such as the Strong Man. Those familiar with the world of sideshows may recognize some familiar personalities. On stage, standing proud in furs like the Czar himself is Jo-Jo the Russian Dog Faced Man. Near him is Maximo and Bertola the legendary Aztec Children and Giant Machnov. There is also a Tattooed Exotic, a Bearded Lady, several Midgets, and a Weight Lifter. On the street level are a group of Pinheads (microcephalics) dancing merrily. Incidentally, in the year 1978, Roussimoff painted a unique scene depicting a group of Pinheads Dancing that was exhibited in numerous museum and gallery shows before getting stolen (it was miraculously recovered years later). In this current painting he recalls the ritual-like dance of the pinhead group that served as subject of his earlier painting. The Jester is a reference to "Farnos", a whymsical charachter from Russian Folklore based on the classic Italian Pucinello. The posters on the walls are also interesting from a historic perspective. Beside an advertisement for a pair of Siamese Twins there are announcements for a upcoming concert by the great Operatic Bass Feodor Chaliapin. It is a fact that early in his career, Chaliapin entertained in carnival shows much like this one. The world of Wonders as promoted by P. T. Barnum is seen here as it once was in eastern Europe.
This Beautiful Oil Painting will make a great addition to anyone's fine collection of Modern Impressionist and Expressionist Art. The purchaser will receive a certificate of authenticity. This is a large painting. International buyers should first contact us to find out about exact charges and conditions. Thank You.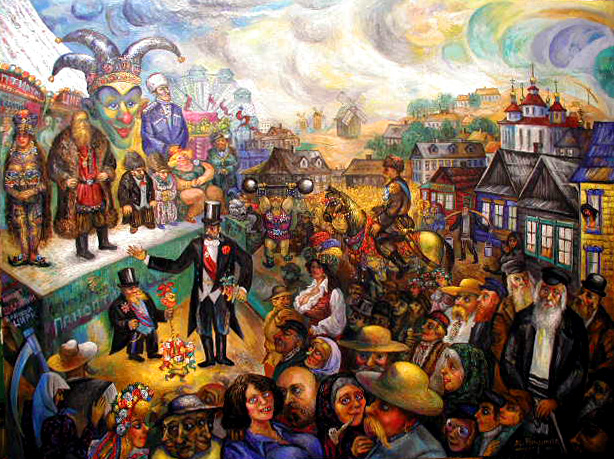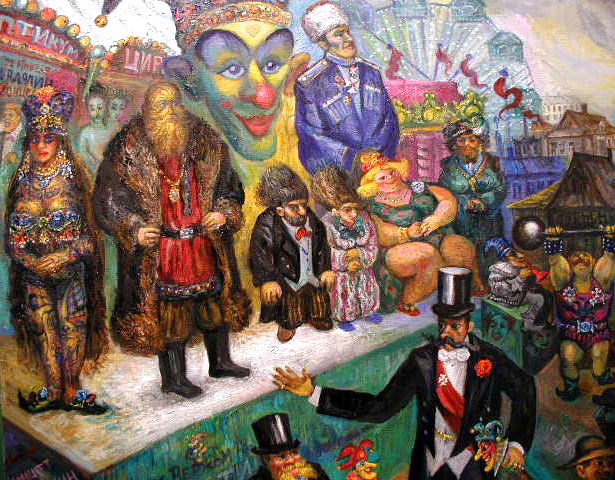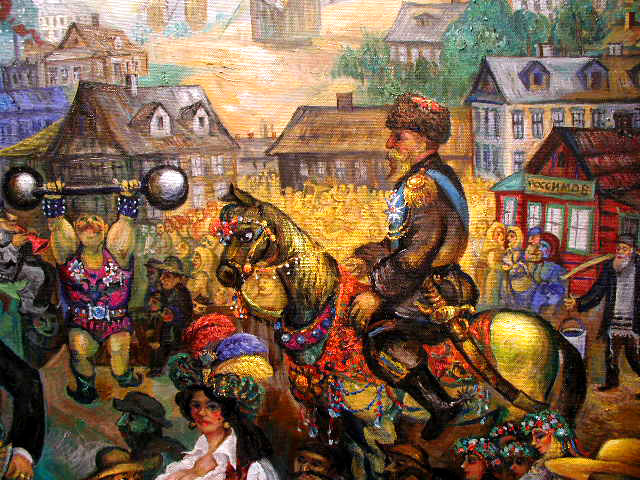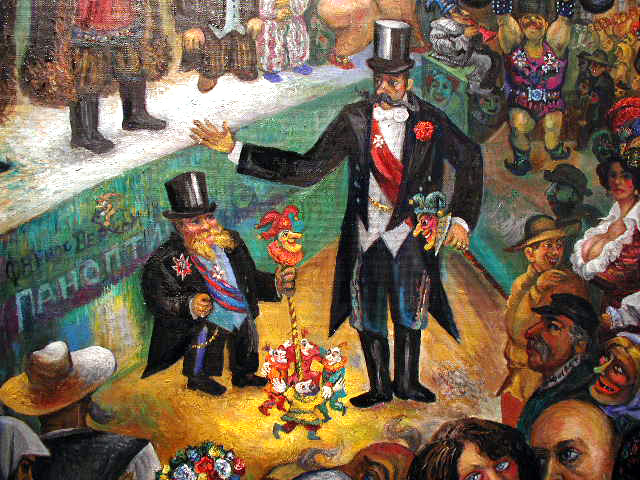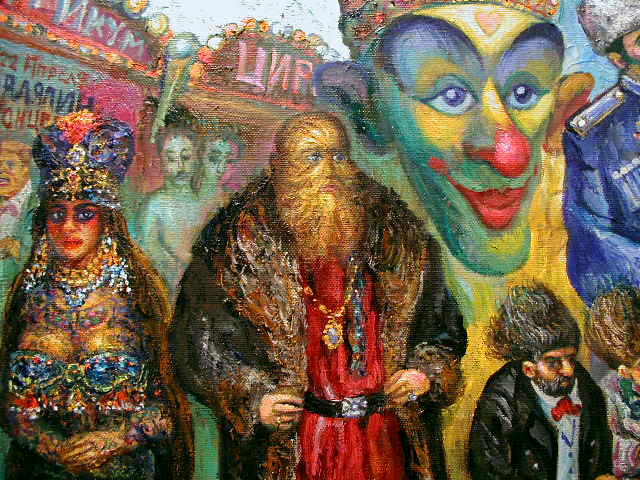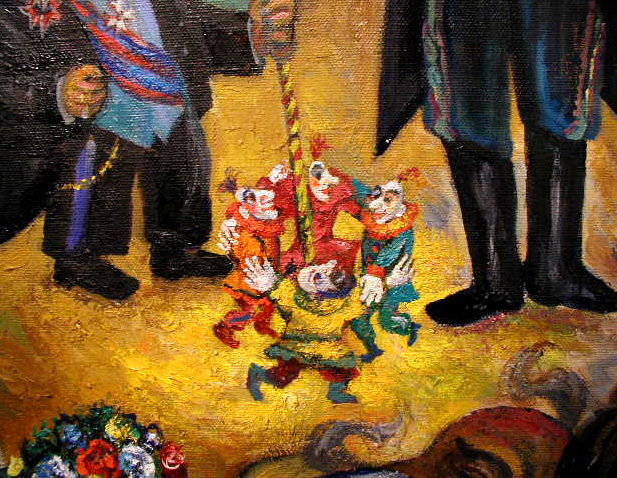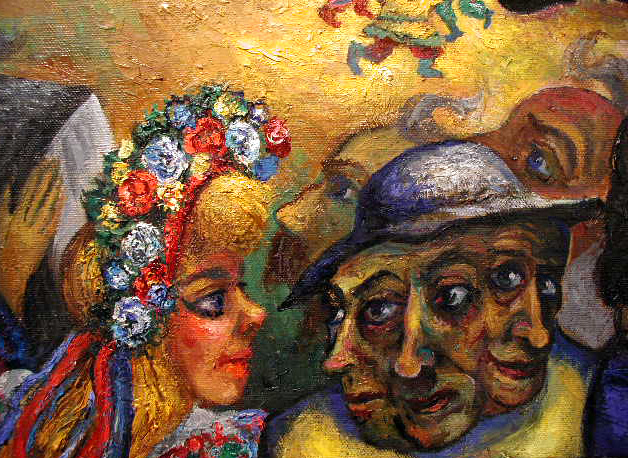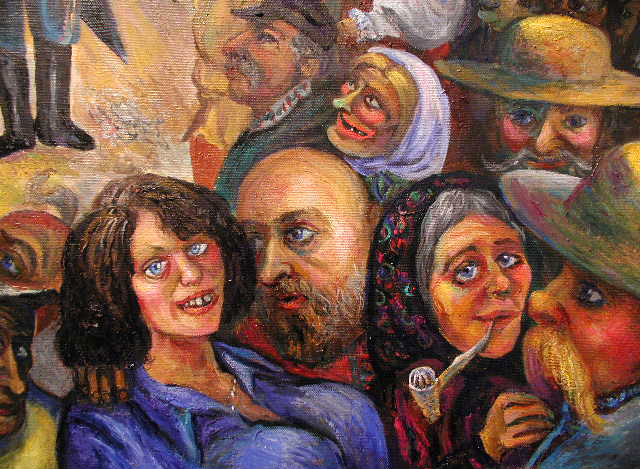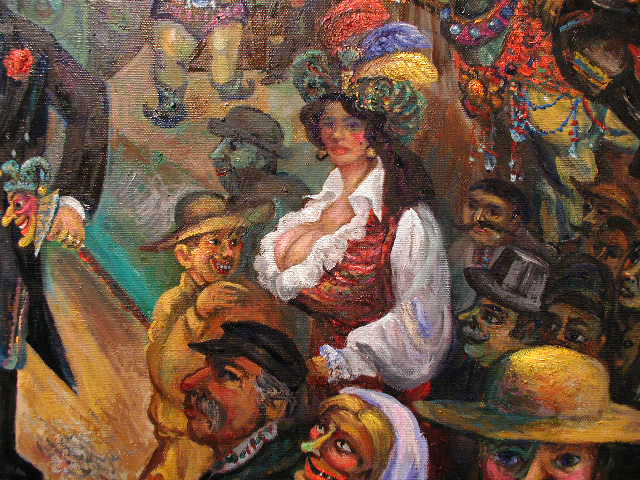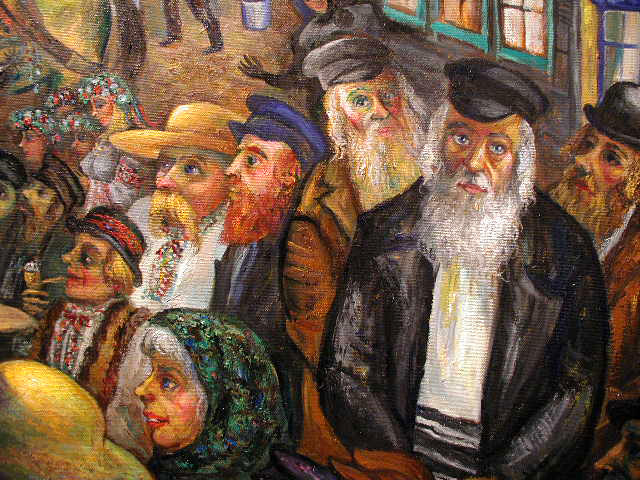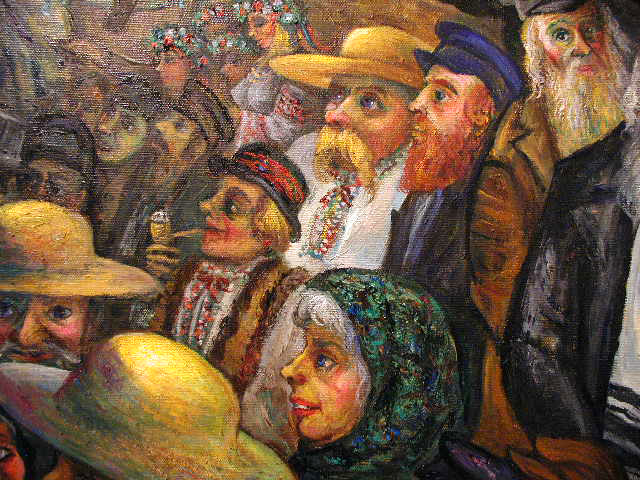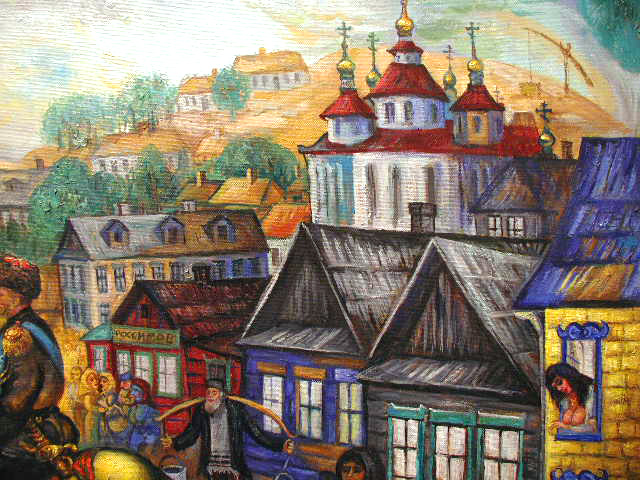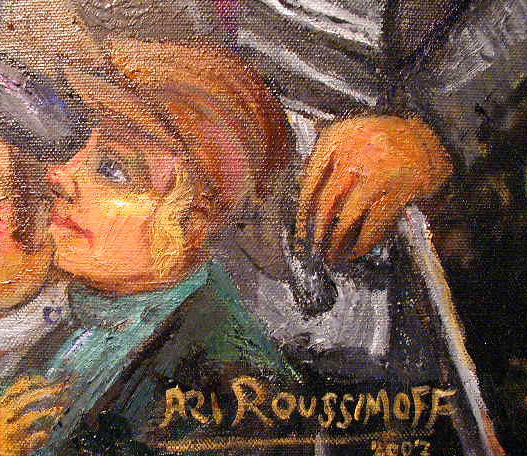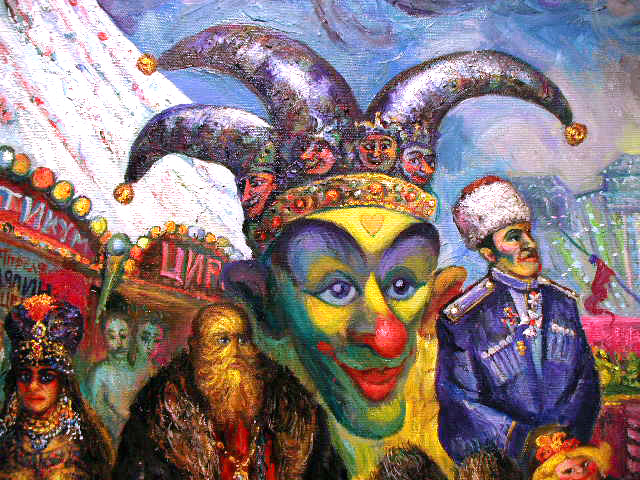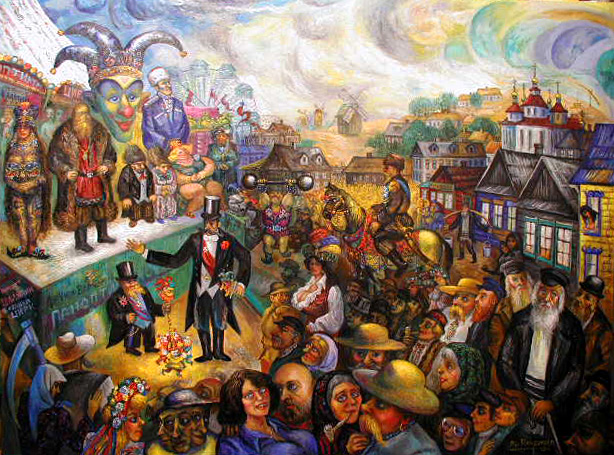 "CARNIVAL SIDESHOW"
Oil on Canvas by Ari Roussimoff