UNIQUE PAINTED MASONIC APRON: MEMENTO MORI
Here is One of the Most Unique, Most Original and Genuine Hand Painted Masonic Symbolic Aprons! A Fine Artwork by One of the Most Noteworthy Contemporary Masonic Artists.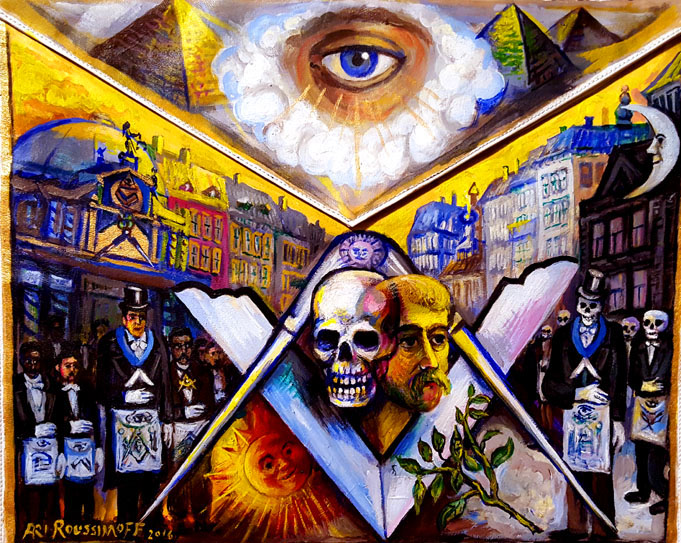 Presenting an Exceptionally Beautiful and Unique Masonic Hand Painted Ceremonial Apron by Internationally Acclaimed Russian-European Painter and Film Director Ari Roussimoff.
THIS APRON IS AN ORIGINAL ARTWORK. IT IS NOT A COPY. THIS IS A MODERN ARTIST'S CONCEPT BASED ON ANCIENT TRADITIONS.
MEMENTO MORI: WE ARE ALL MORTAL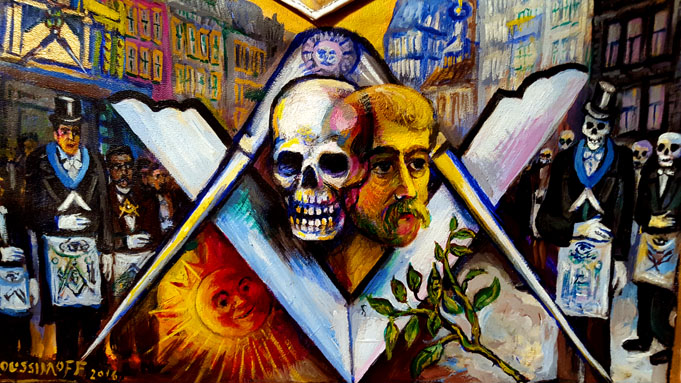 ALL SEEING EYE OF ALMIGHTY GOD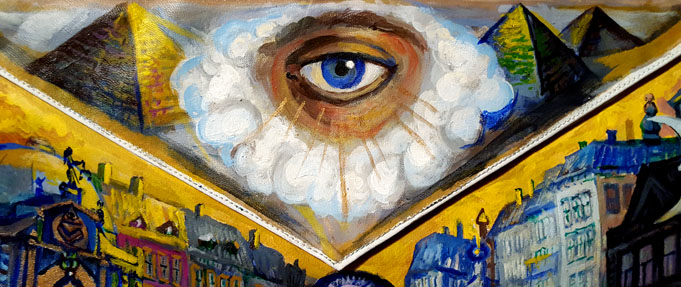 PHILOSOPHIES OF LIFE, MORTALITY AND HEREAFTER
MAN AND SKULL, A BORN DUALITY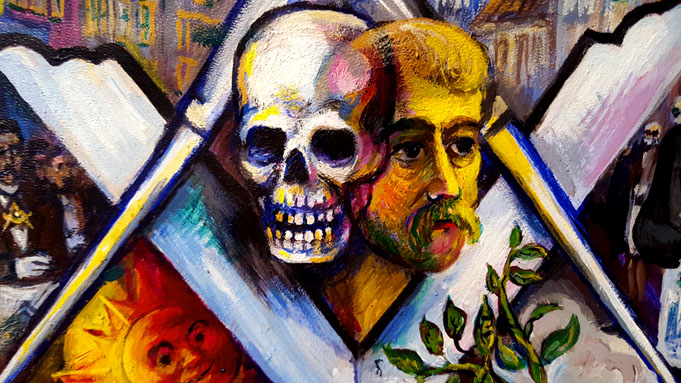 DEVOTED FREEMASONS OF DIFFERENT ETHNICITIES AND RANK, THIS IS A MASONIC LODGE.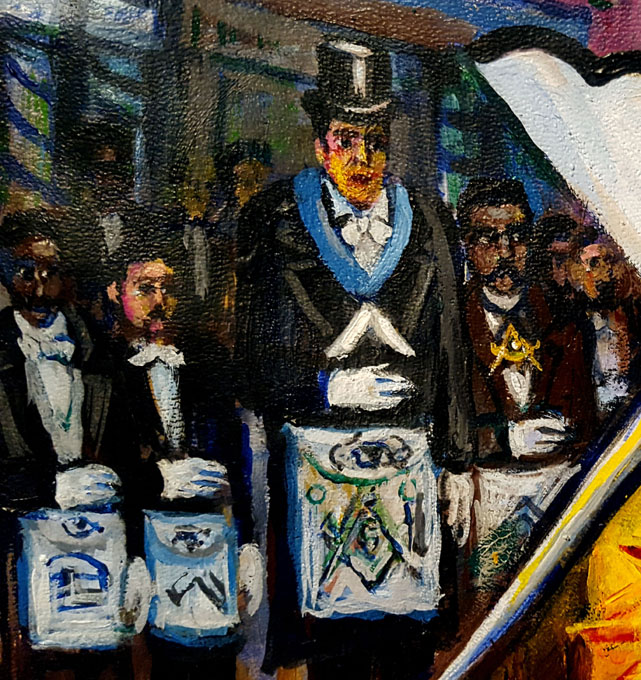 THE SAME FREEMASONS AS THEY APPEAR IN THE HEREAFTER. THERE ARE NO DIFFERENCES.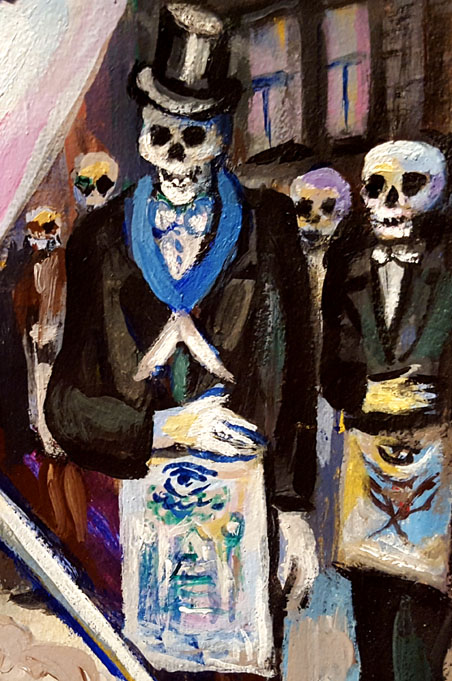 A SYMBOLIC TWIG OF ACACIA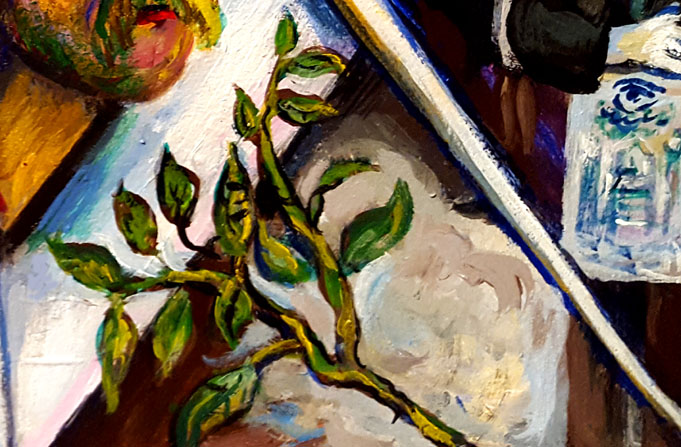 ANCIENT MASONIC TEMPLE WITH GLOWING GOLD
SQUARE AND COMPASS: A MORAL GUIDE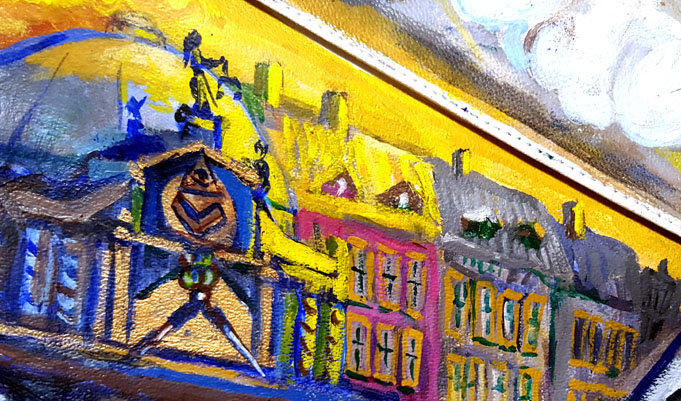 THE SUN GETS READY TO REVEAL ILLUMINATION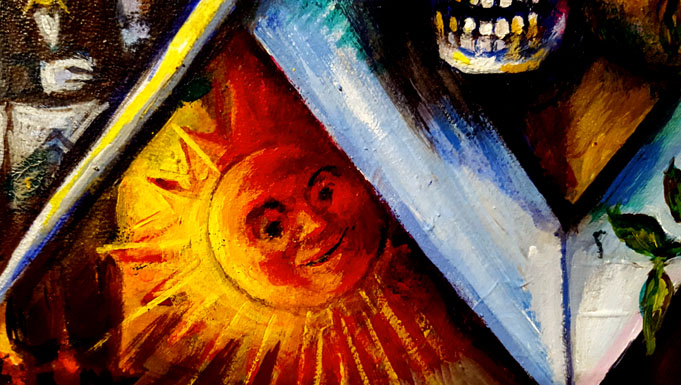 THE MOON AWAITS REPLACEMENT BY THE SUN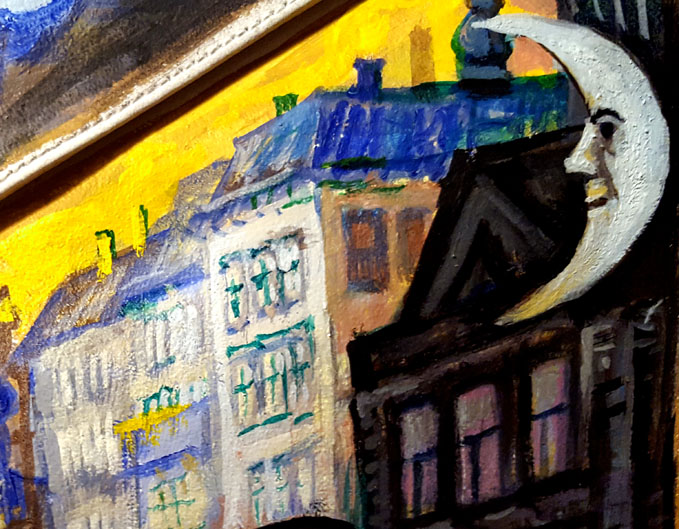 A MYSTICAL LEGACY INSPIRED BY THE HOLY BIBLE
A SKULL REMINDS US OF HOW MORTAL WE ARE

A DEEPLY HEARTFELT WORK. SIGNED AND DATED
A NEW DIMENSION IN MASONIC APRONS, ROUSSIMOFF'S PAINTED APRONS ARE HIGHLY COLLECTIBLE ART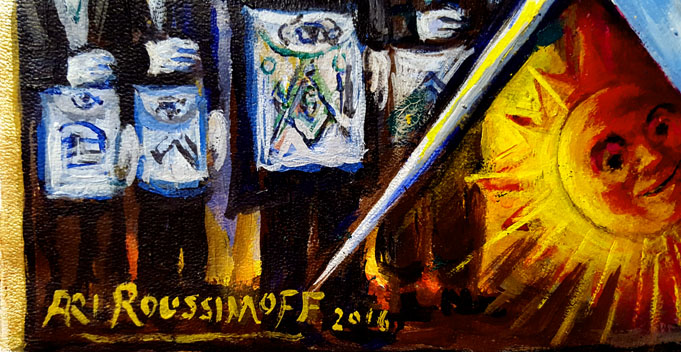 ROUSSIMOFF RENDERS HISTORIC MASONIC SYMBOLS IN HIS OWN UNIQUE STYLE.
A SURREALIST MAGICAL COMPOSITION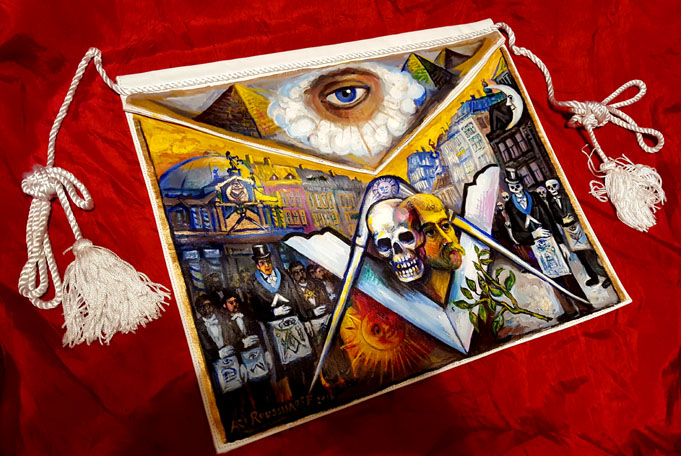 BE SURE TO SEE THE SAMPLING OF DIFFERENT MASONIC THEME ARTWORKS BY ROUSSIMOFF PRESENTED AT THE BOTTOM OF THIS AD IN THE ROUSSIMOFF PHOTO GALLERY SECTION.
THE APRON HAS TRADITIONAL CORDS FOR WEARING. ALTHOUGH IF FRAMED AND DISPLAYED, IT MAKES AN OUTSTANDING SHOWPIECE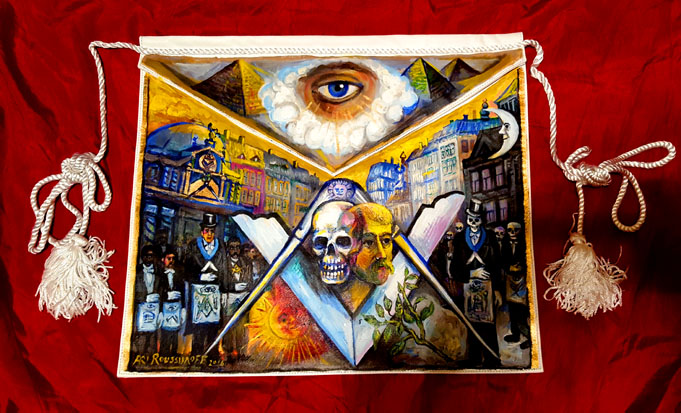 AN EXCEPTIONAL PAINTED APRON BY ARI ROUSSIMOFF.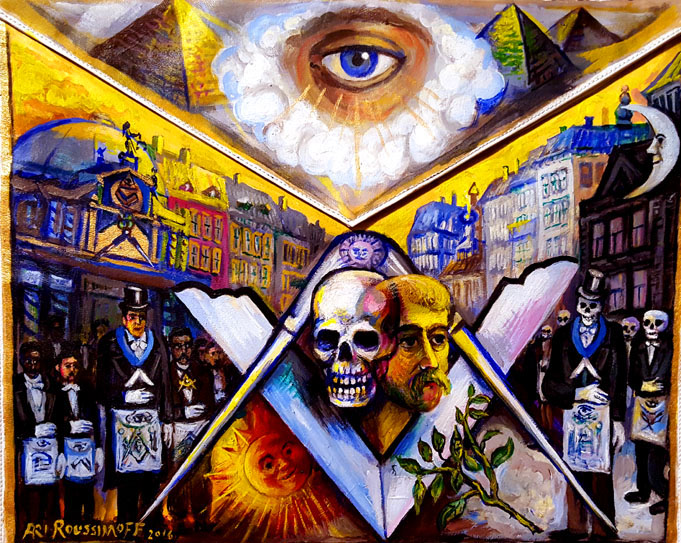 The "MEMENTO MORI: WE ARE ALL MORTAL" Apron is a unique symbolic work of contemporary Masonic art. It is an exceptional hand painted and one of a kind, all original ceremonial apron by noted international artist Ari Roussimoff. A new dimension in Masonic regalia! Rich in details and with wonderful colors, this visionary work was painted in 2016 with acrylic paints on a strong sytnthetic leather-like surface to insure a solid and long lasting existance. An outstanding composition in vivid Impressionist colours, this work is a statement about the common mortality of all human beings. The duality of life and the hereafter is represented by the overlapping double portraits of man and skull. On the left side are Freemasons of different races and ethnicities. Their inner selves (their souls) are mirrored by the skeletons on the right side. All are equal. This painted apron is Roussimoff's interpretation of an essential philosophy of Freemasonry. A very beautiful artwork, the apron measures 15 x 13 inches. It would make a superb centerpiece and a great addition to anyone's fine collection of Art and/or Masonic Cultural Documentaria. The purchaser will receive a certificate of authenticity. FREE S/H (USA). Payment is expected within 5 days of auction close. Foreign bidders should contact us to find out about exact charges and conditions. Thank You.
Freemasonry is an ages old institution which has included among its distinguished luminaries, the likes of : Mozart, Franz Liszt, Voltaire, Goethe, Lessing, George Washington, Benjamin Franklin, Garibaldi, Casanova, Pushkin, Grand Duke Nicholas of Russia, Simon Bolivar, Chagall, Houdini, Kaiser Wilhelm I, King George of England, Al Jolson, Kerenski, Duke Ellington and many others of note.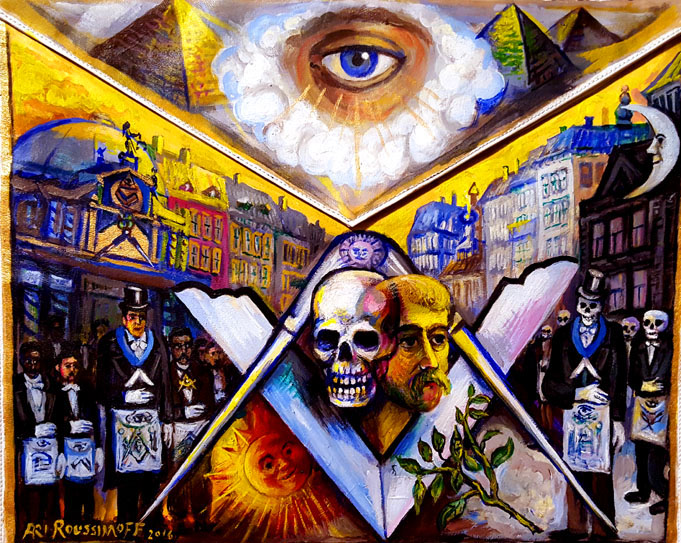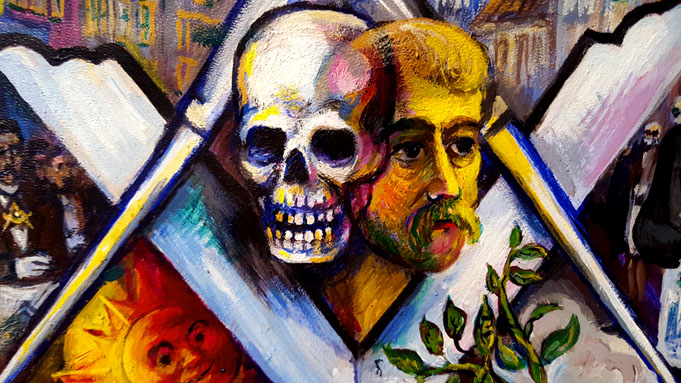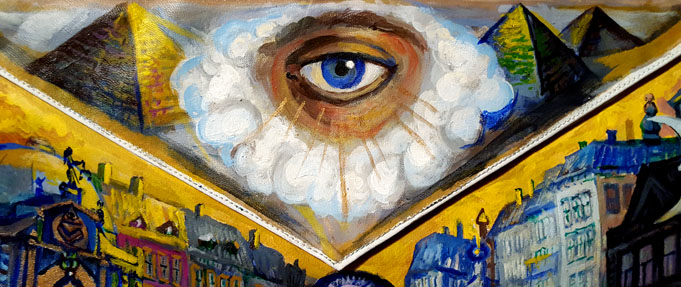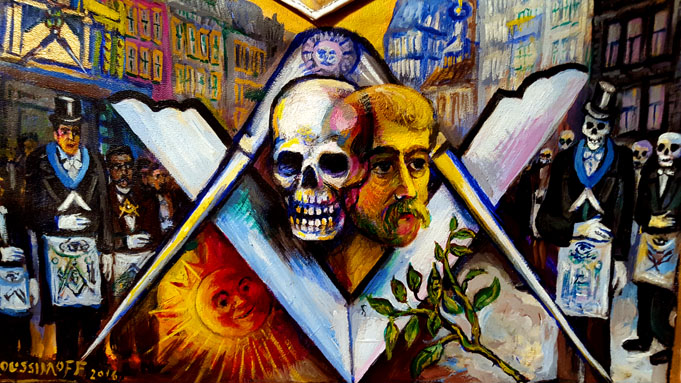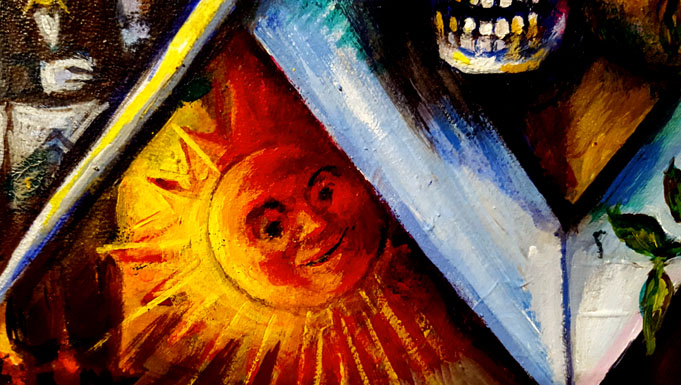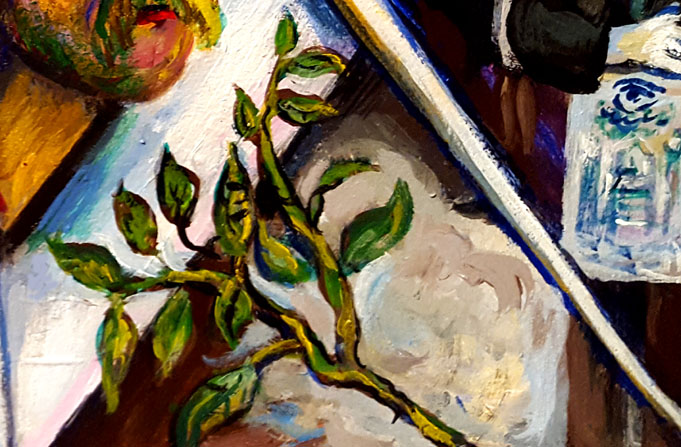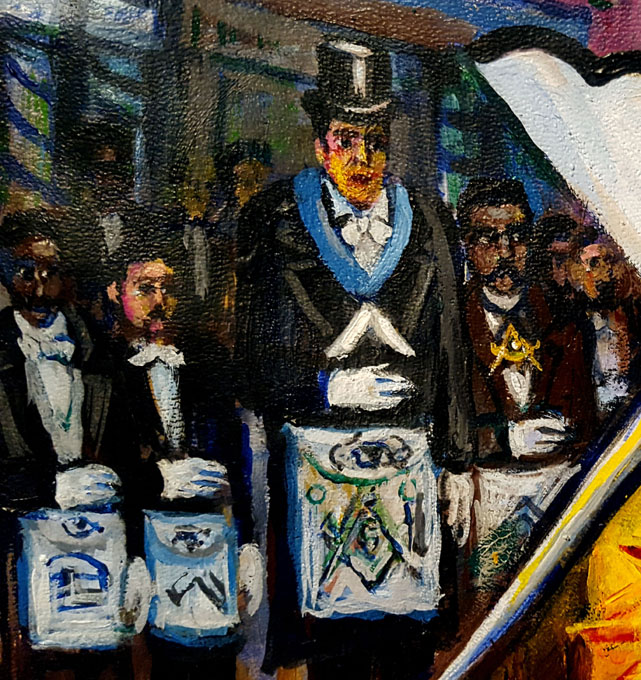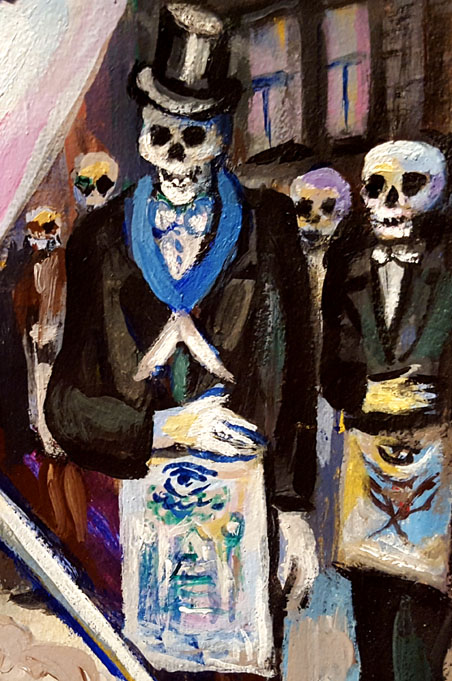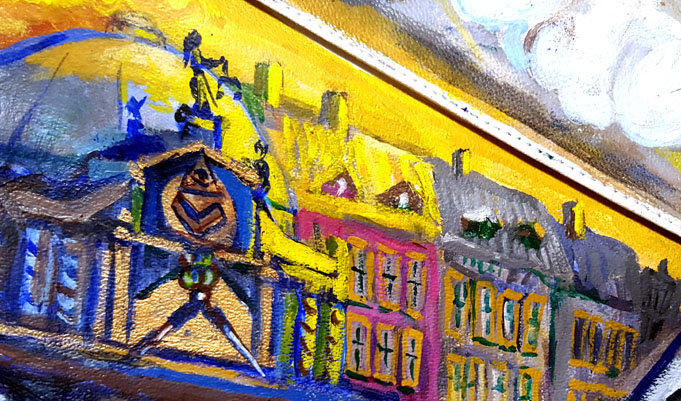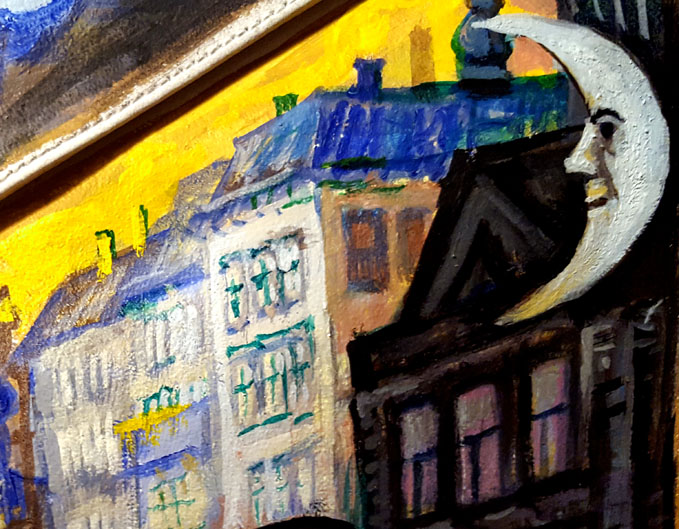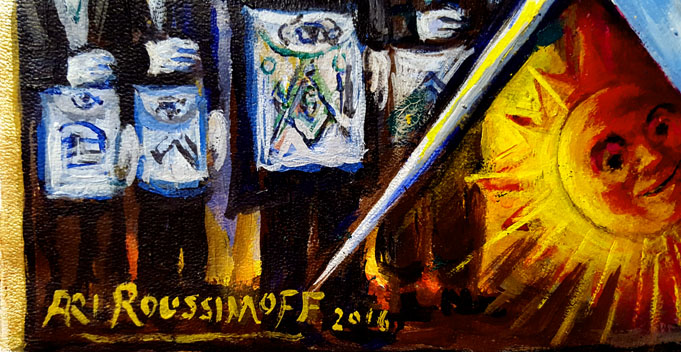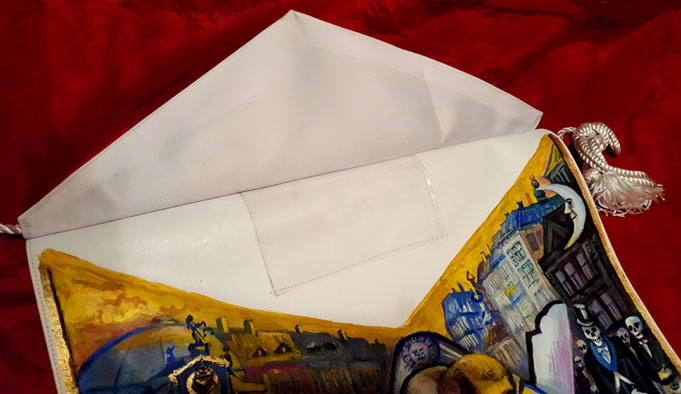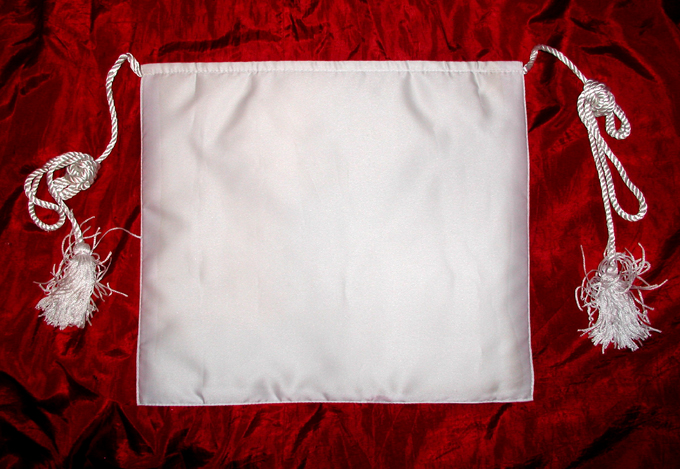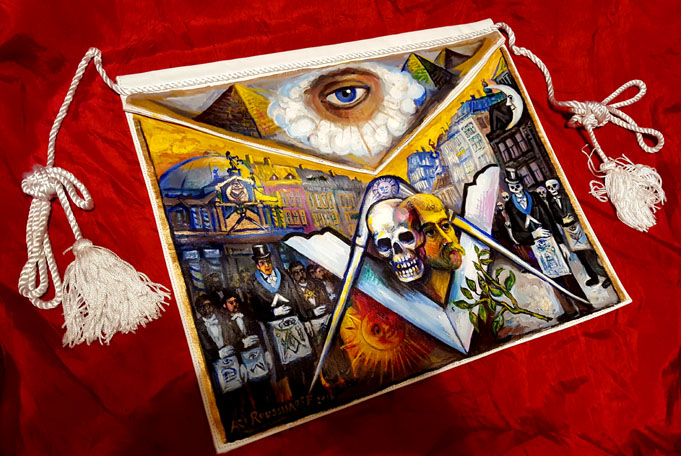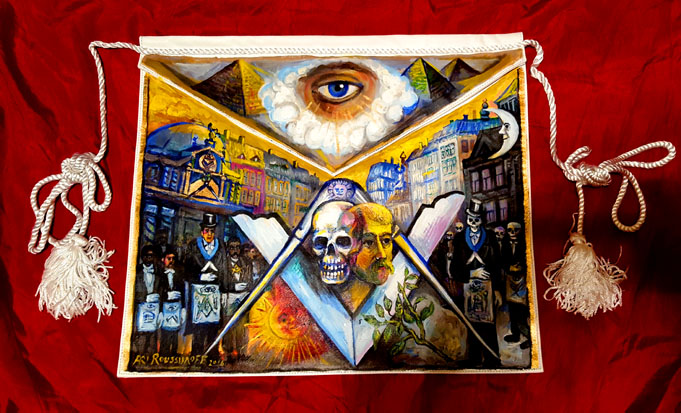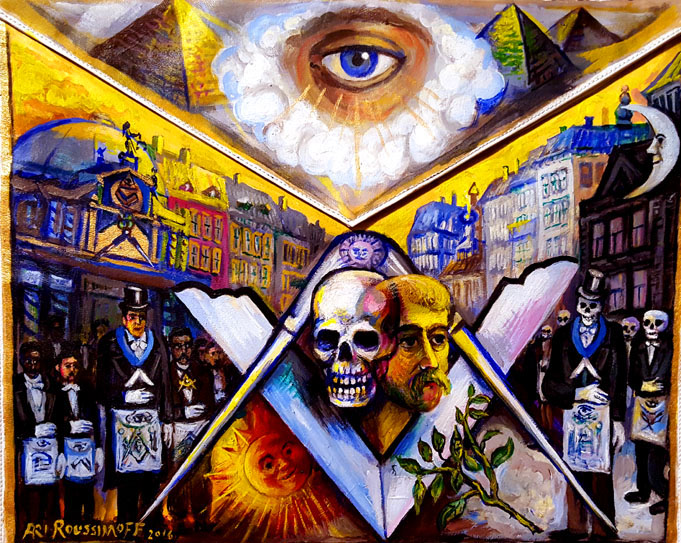 "MEMENTO MORI: WE ARE ALL MORTAL" MASONIC APRON
Original Acrylic Painting by Ari Roussimoff
Roussimoff Photo Gallery
The following pictures show examples of Roussimoff's Masonic themed paintings.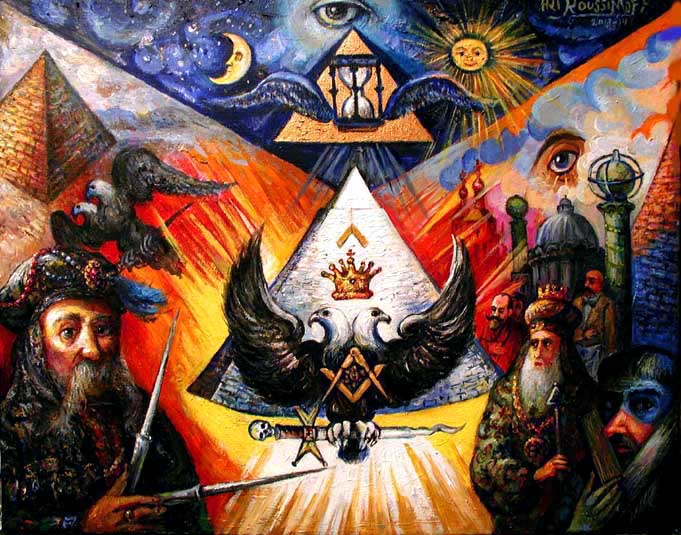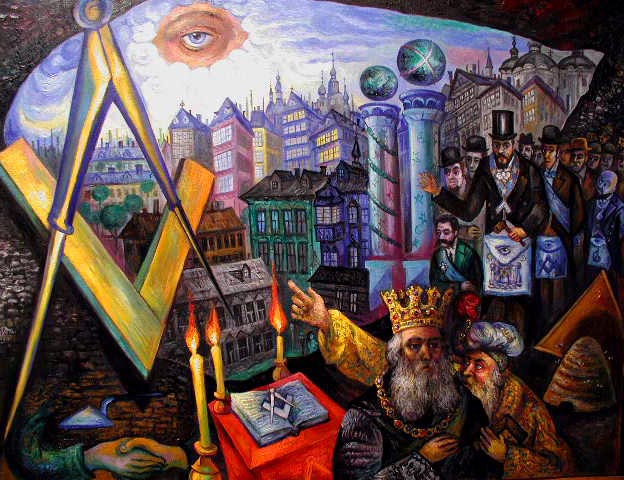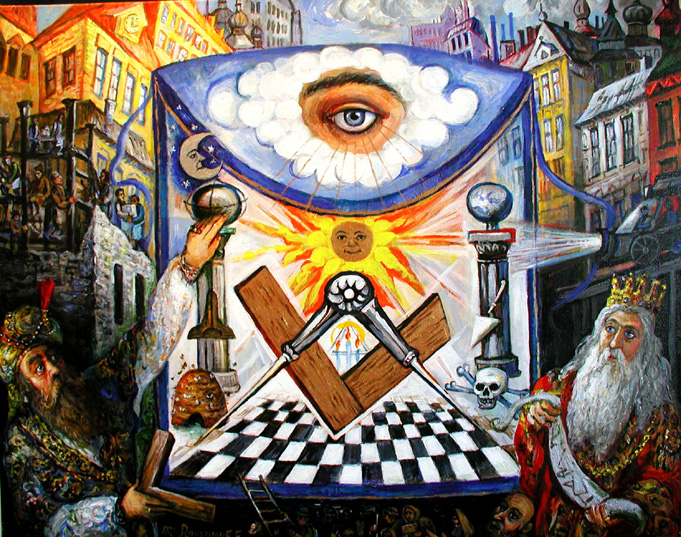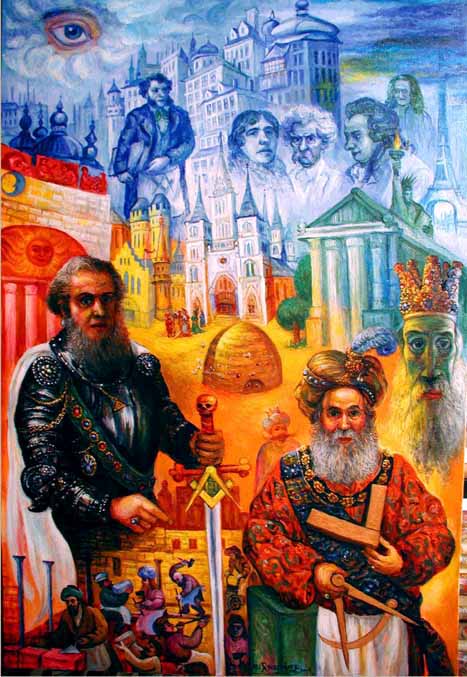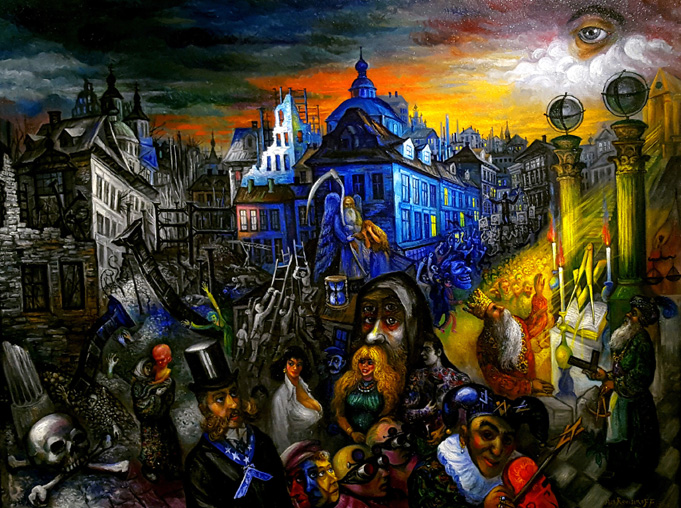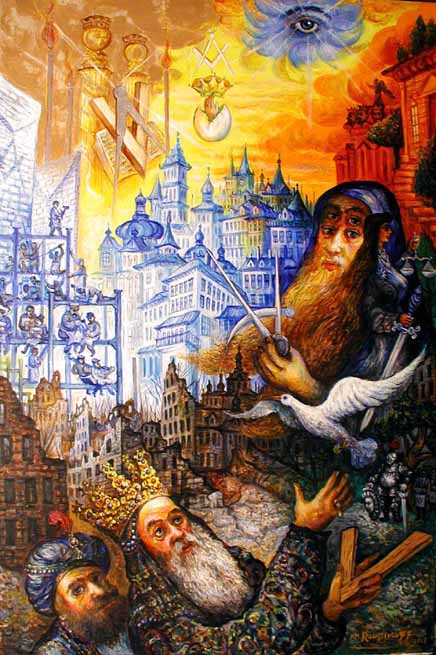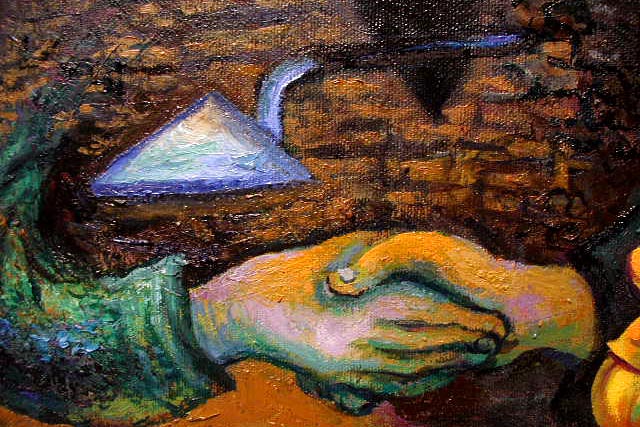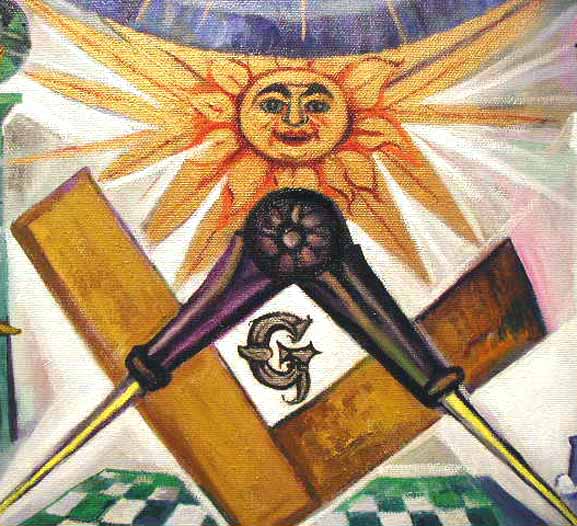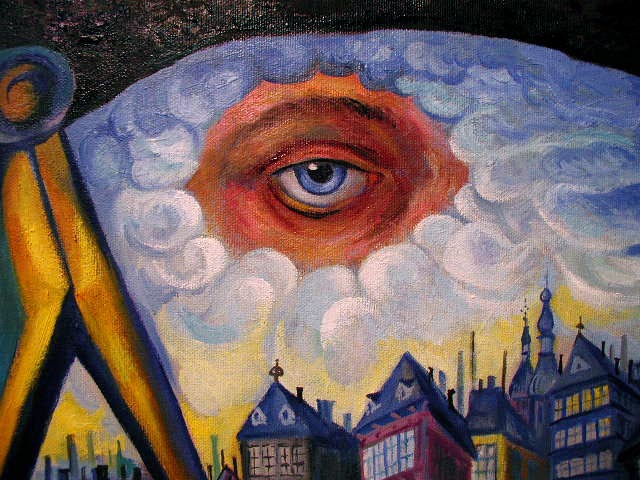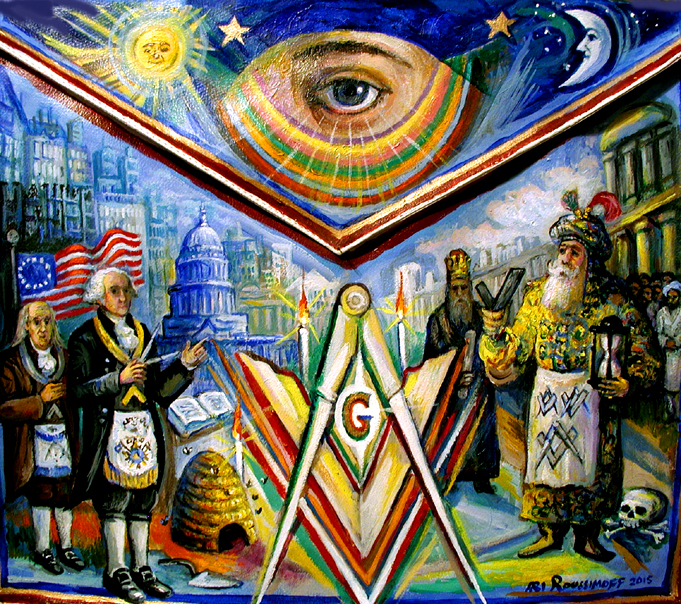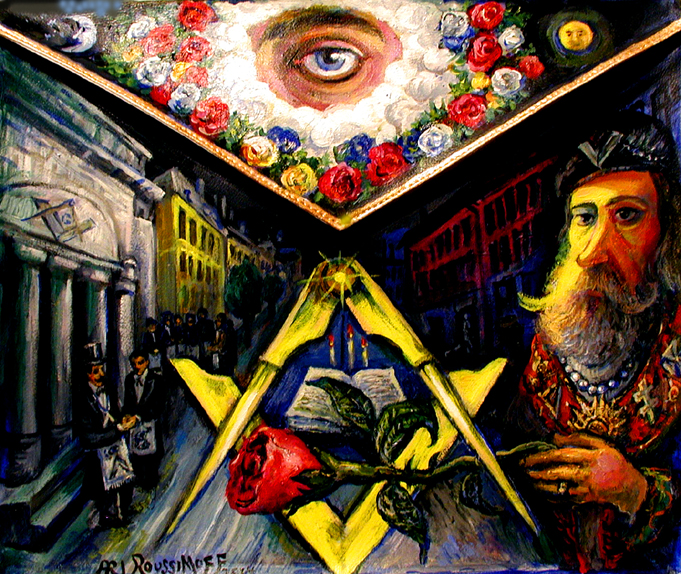 Below are several views showing Roussimoff's three painting series "Parable of Light and Dark" as was exhibited at the Chancellor Robert R. Livingston Masonic Library and Museum of the Grand Lodge of New York at 71 West 23rd Street, NY, NY (14th Floor)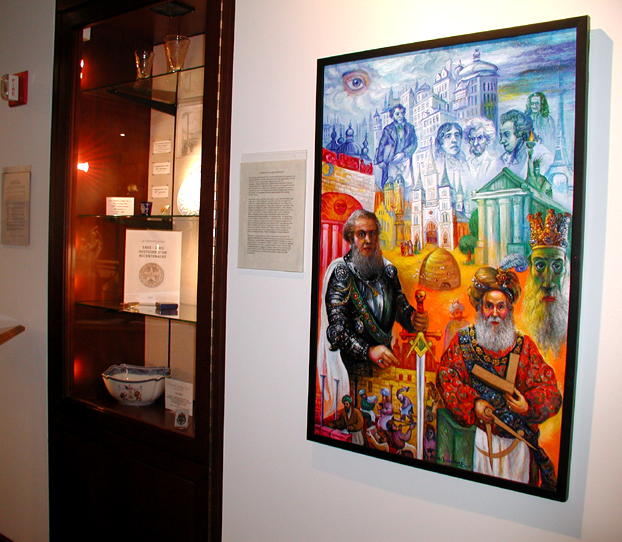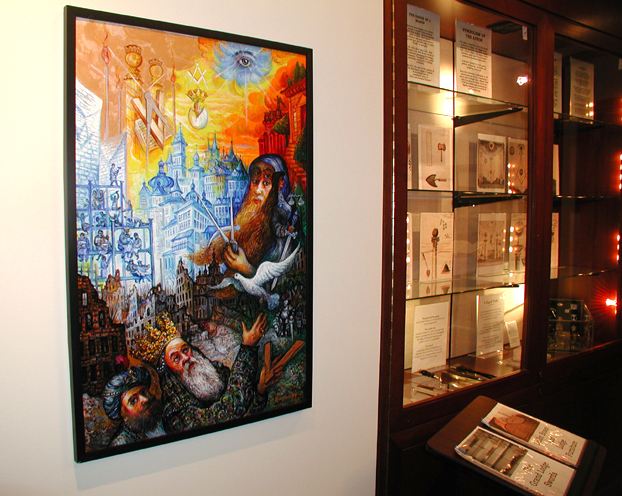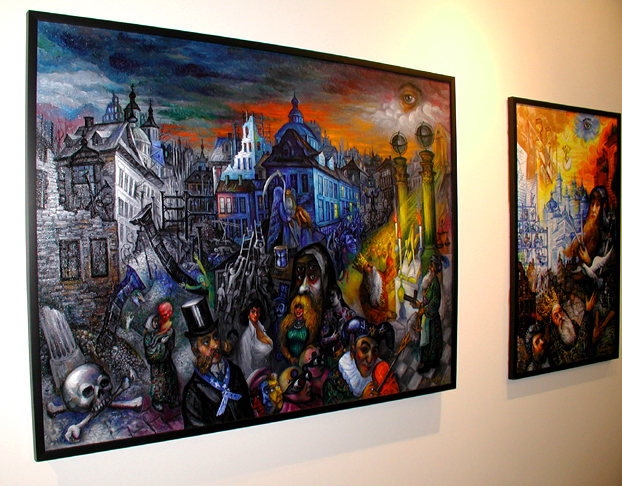 (below) Here is a small selection of photos showing Roussimoff's paintings being displayed in prestigious art galleries and museums.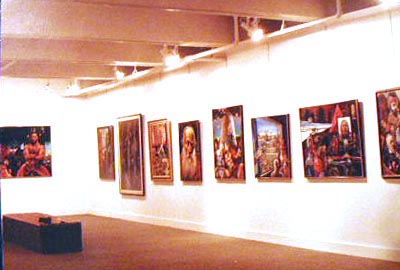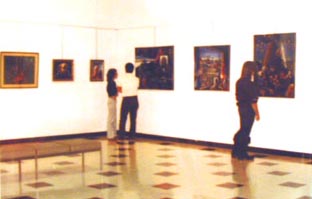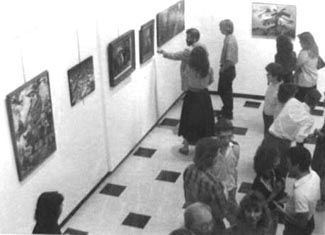 (below) Magazine & newspaper articles and announcements for Roussimoff exhibits in different languages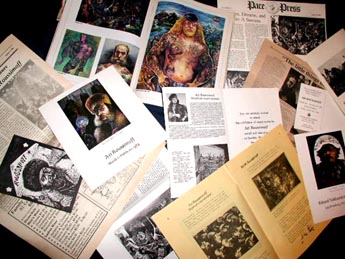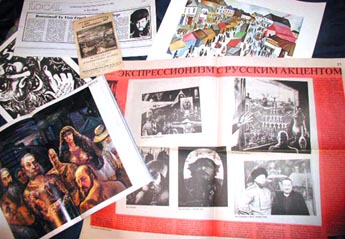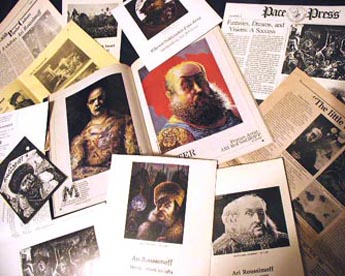 (below) Roussimoff's live appearances. 1. Lecturing to university students. 2. Featured on MTV. 3. Amusing a sell-out crowd in New York's famed Disco club, The "Limelight".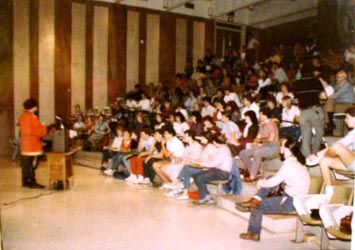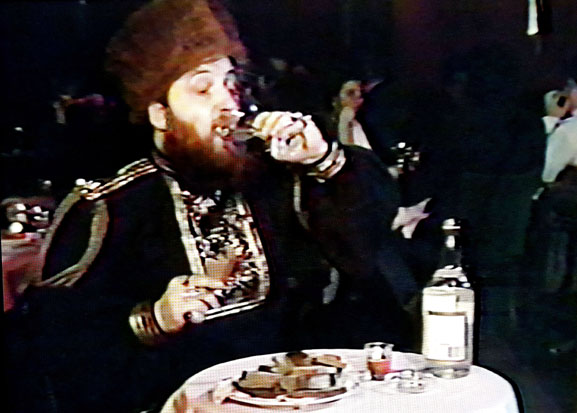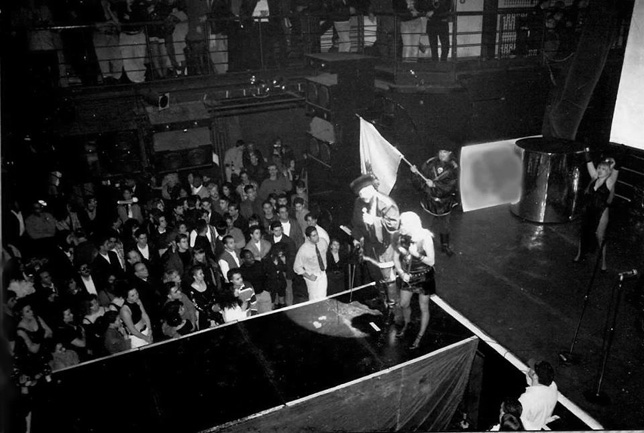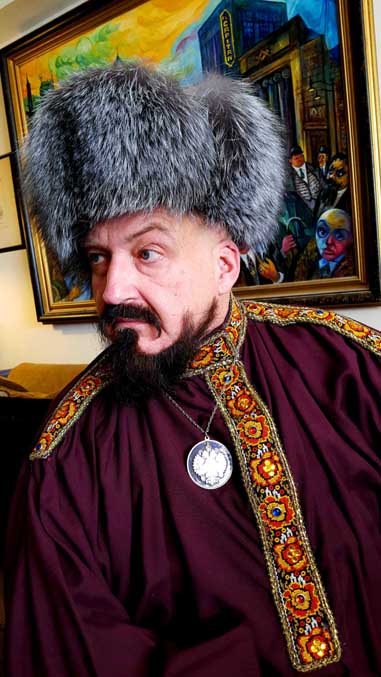 (below) Among his works works at a recent exhibition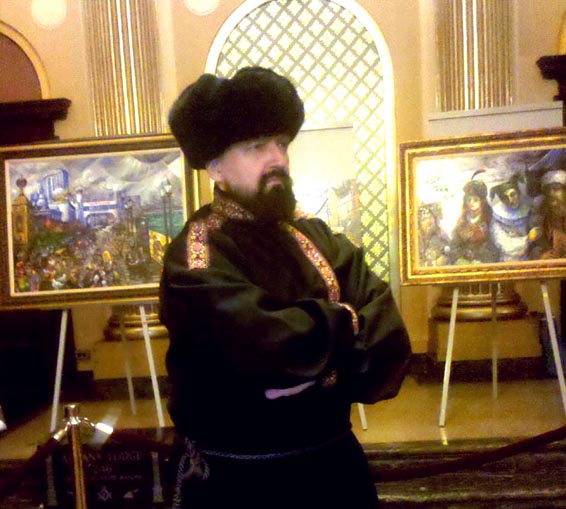 ABOUT ARI ROUSSIMOFF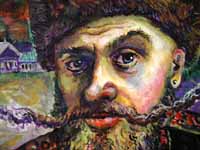 Ari Roussimoff, a critically acclaimed painter and film director, has been called one of the most prolific and creative artists of his generation. His paintings of Russian, Ukrainian, Jewish, symbolic and Masonic themes have earned him much acclaim and they have been shown in over 80 exhibitions worldwide, including at the Eduard Nakhamkin Fine Arts Galleries, M.L. International Gallery of Fine Arts, The Metropolitan Museum of Art, A & J Galleries, The Bucharest Museum , The Nicholas Roerich Museum, Chancellor Robert R. Livingston Masonic Library and Museum, The Peter Fingesten Gallery-Pace University, Arma Galleries, Galerie Ehmer, Stephanie Ann Roper Gallery-Frostburg State University, The Theodor Herzel Institute, Masonic Hall-Grand Lodge of NY, Evangelical Lutheran Church, Weintraub Gallery, Anthology Film Archives, Ingber Gallery, Hudson Guild Art Gallery, YM-YWHA, Art Gallery of the Educational Alliance, Galerie Fischer, Ukraine Club Gallery and many others. Among the many who have lauded Ari Roussimoff's paintings were the modern art masters Marc Chagall and Oskar Kokoschka. And as a teenager, he was invited to lunch with Salvador Dali and his wife Gala. For some years now, Ari Roussimoff has also been active as a director of motion pictures. His first full-length feature film was the critically acclaimed surrealist horror movie, "SHADOWS IN THE CITY". Roussimoff won the Phantom of the Movies' award for Best Documentary of 1999 for his incredible film, "FREAKS UNCENSORED" (directed by Roussimoff, screenplay by Vivian Forlander). Considered by critics and audiences alike as the best ever documentary about Circus Sideshow Performers, "FREAKS UNCENSORED" was listed by the esteemed Facets Movie Lovers Video Guide as one of THE BEST DOCUMENTARY MOVIES OF ALL TIME! Roussimoff's colorful life also includes creating sets for a Broadway show, costume design, performance art, hosting a three-part television music program on MTV and appearing on the stage of the Metropolitan Opera in a non-singing acting role. A colorful speaker, the artist has given many talks on his work (and still does). Roussimoff has lectured at colleges, universities, cultural institutions, and various functions in both Europe and America. He has perfectly meshed his life as a painter and as a filmmaker in a way that has not been done before. A world traveler, Roussimoff has lived and worked in Zurich, Amsterdam, New York, Los Angeles, Munich, Miami Beach and San Diego, among other places. Roussimoff works at painting all the time and considers each picture an adventure.