An Incredible Vision!!! A One-Of-a-Kind Artwork! Up for Auction is a Dynamic New Masonic Themed Painting by Internationally Acclaimed Russian-European Painter and Film Director Ari Roussimoff.

"MASONIC APRON: THE LEGACY OF HIRAM ABIFF" is a powerful and stirring composition that is dedicated to both the ideals and history of Freemasonry. This impressive panorama is a Genuine Signed & Dated Ari Roussimoff Oil on Canvas Painting, measuring a large-sized 24 x 30 inches. This exciting new work is dated 2004. "MASONIC APRON: THE LEGACY OF HIRAM ABIFF" dazzles with its use of hypnotic, jewel-like colours set into a bold composition depicting a world in progress, a world in transition between shadow and light, a society ever being built up. It is a virtual rainbow of poetic, pastel coloured shades. The images which include numerous profound esoteric symbols are rendered with painstaking care to achieve a high level of detail. The effect is truly magical. The artist succeeds in giving new expression to Masonic language in art. Here is a uniquely contemporary statement on Freemasonry. A Masonic allegory via the year 2004.
A bustling modern metropolis, populated by industry and activity serves as the background for a monumental Masonic Apron which both manages to stand apart of and at the same time meld into the overall scene.

On the bottom left is the turbaned Master Hiram Abiff, authoritatively pointing upward toward the Apron.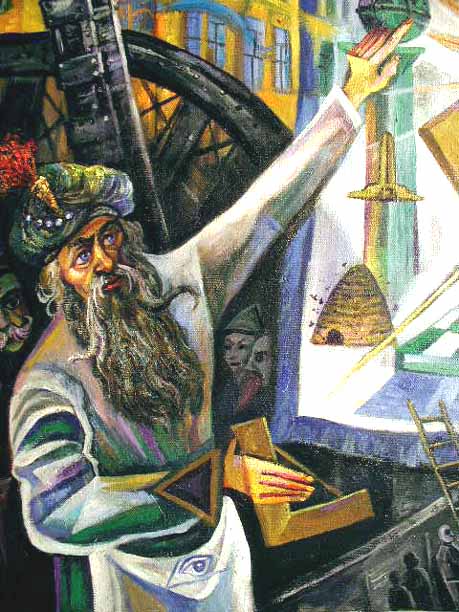 He is decisive and passionate. Hiram, with his long, flowing beard forms a wonderfully majestic presence. He is painted in a manner that recalls the works of the Dutch and Italian 17th century Old Masters (Roussimoff's most beloved schools of painting. Behind him, in the dark, lurk three mysterious men. To Hiram's right are a multitude of Masons busily attending to their tasks. These industrious builders are diligently erecting pillars and laying foundations for a Temple of the future. Their wives offer support.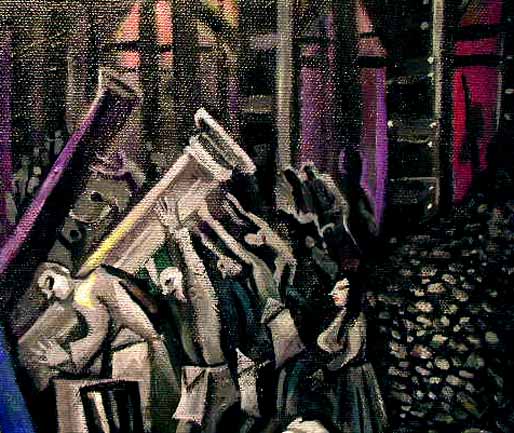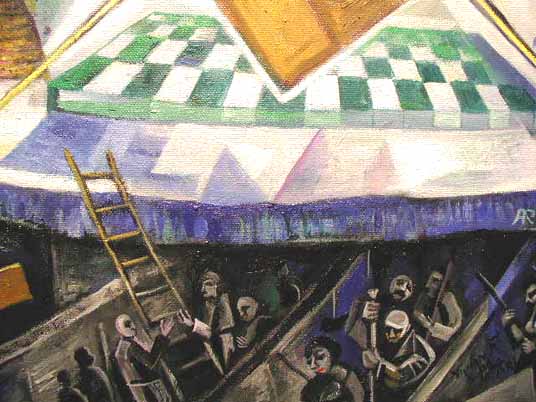 Present are Master Masons, Apprentices as well as the Worshipful and Past Masters of various Lodges.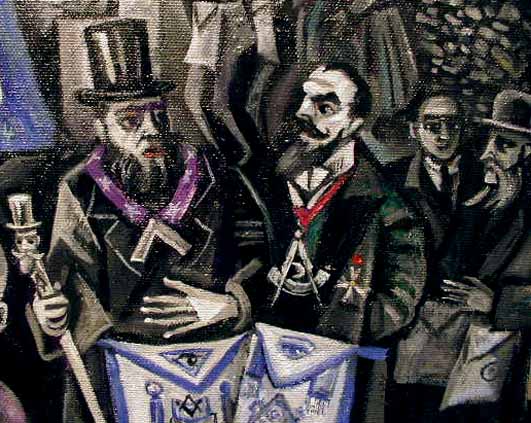 Here both Free and Accepted Masons symbollically work together. Seen on the right side is an elevated locomotive racing from out of the darkness into the light. The side of the train is marked by the letters "Tubal...".

The centerpiece of the painting is of course the glorious Apron itself. Based upon (but not copied) from several historic examples, the artist decorates his Apron with significant symbols. The All-Seeing-Eye of the Great Architect of The Universe oversees all from the top flap of the Apron.

The Eye is quite life-like in appearance. Because of Deity's centrality to Masonic belief, Roussimoff chose to paint this image as a realistic living entity rather then as a simple two-dimensional illustration. The Apron features a particularly strong Square and Compass alongside the glowing Sun,

the pillars Jachin and Boaz,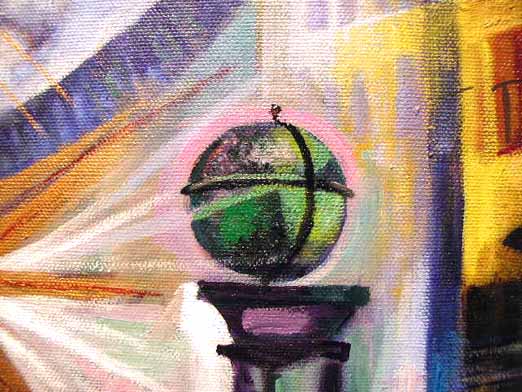 mortality represented by the Skull and Crossbones,

the Checkered Floor, the Beehive,
Workman's Trowel.

With great subtlety and relying more on traditional Masonic symbolism then Cubism, the artist organizes much of the picture surface into different areas where shapes of triangles and squares have been discreetly integrated and hidden.

Through a vivid use of colour and shapes, every object interconnects with one another to form yet another.

This painting deals with truth and hope for the future. Please Note: This is a very difficult painting to photograph and the reproductions seen in this ad do NOT even remotely do justice to this painting. It Is Absolutely Gorgeous!!!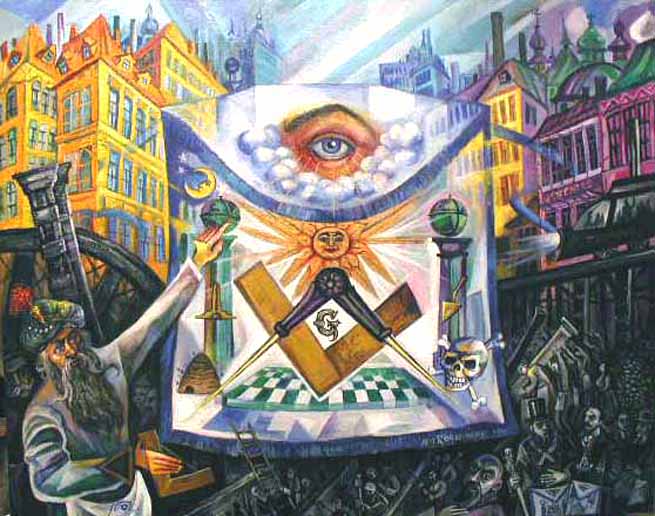 "MASONIC APRON: THE LEGACY OF HIRAM ABIFF" is a fabulous work of art and one of Roussimoff's favourites. The artist has been and continues to be very inspired by Freemasonry to create challenging works of art.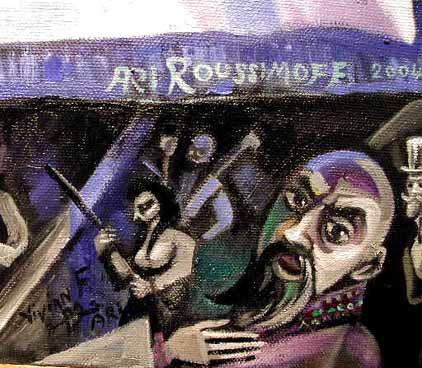 For some time now Roussimoff has been developing a series of works dealing with Masonry from various perspectives. Currently, he is completing a Masonic historical composition entitled, "Franc Macon, Freimaurer, Freemason, Yesterday, Today and Tomorrow". When these works are completed, he intends to feature all of these Masonic paintings in an exhibition. In his over 75 exhibitions, Roussimoff has usually avoided presenting a single themed show. This would mark the first. And what more befitting then the theme of Freemasonry (as some very interesting works have already been sold to collections, he hopes to be able to borrow them for such an exhibit). We should also mention that in line with the artist's fascination for historic Masonic regalia and artifacts, he is also known for his rare and most beautiful hand-painted Masonic Aprons. Following an old and virtually abandoned Masonic tradition, he paints each Apron individually and often personalizes it for the wearer. Masonic Aprons by Roussimoff are genuine works of art that can be framed and displayed. His prolific output of paintings also includes metaphysical themes such as the Kabbalah. And also having the dual distinction of being not only a painter, but a film director as well, Roussimoff is developing an idea for a feature-length documentary film on Freemasonry. The film would be highly informative and extremely visual, thereby directly relating to the artistry of his paintings.
Freemasonry is an ages old institution which has included among its distinguished luminaries, the likes of : Mozart, Franz Liszt, Voltaire, Goethe, Lessing, George Washington, Benjamin Franklin, Garibaldi, Casanova, Pushkin, Grand Duke Nicholas of Russia, Simon Bolivar, Chagall, Houdini, Kaiser Wilhelm I, King George of England, Al Jolson, Kerenski, Duke Ellington, H.G. Wells and many others of note.