Up for Auction is a Very Beautiful Original Artwork. A Mystical, Magical and Poetic Composition Depicting a Huge Bouquet of Flowers Amidst a Rustic Russian or Ukrainian Village During a Summer A Wonderful Painting by World Famous Russian-European Artist and Film Director Ari Roussimoff.
MAGICAL FLOWERS ON A WARM SUMMER EVENING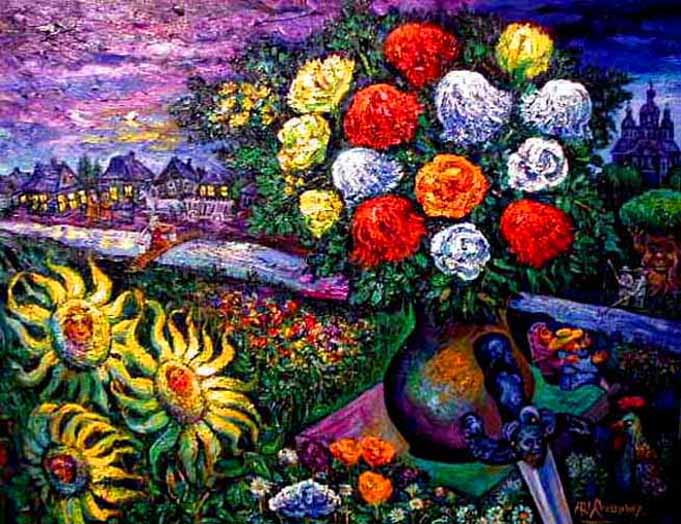 A LOVE SONG TO MOTHER NATURE!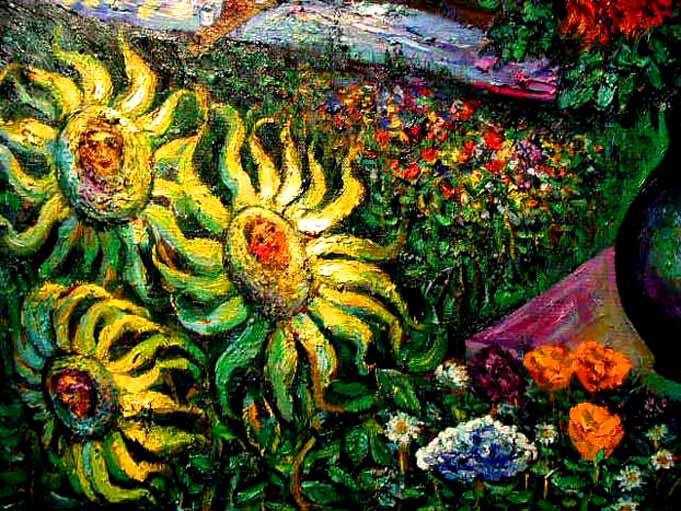 SUMMERTIME IN A QUAINT OLD VILLAGE!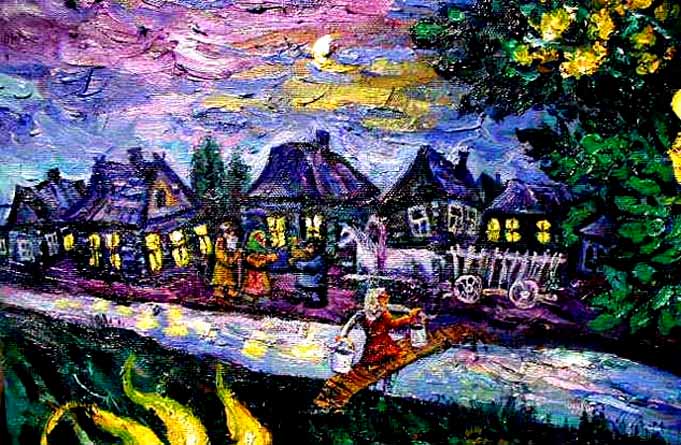 AN ARTWORK RICH IN COLOR AND TEXTURE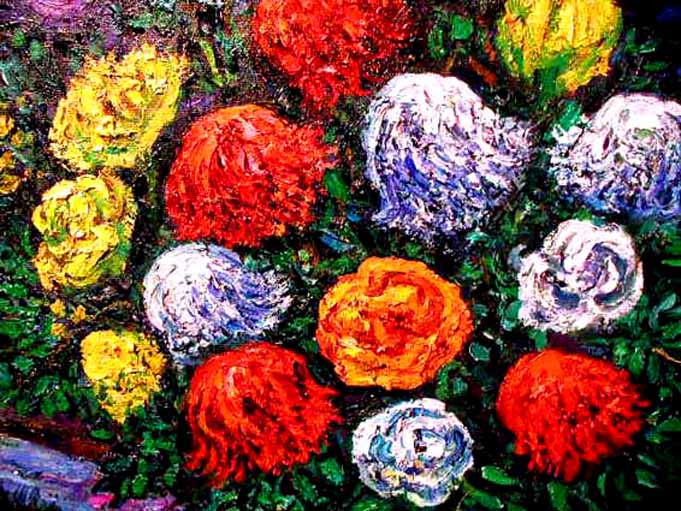 LOVE AND RELAXAITION IS IN THE AIR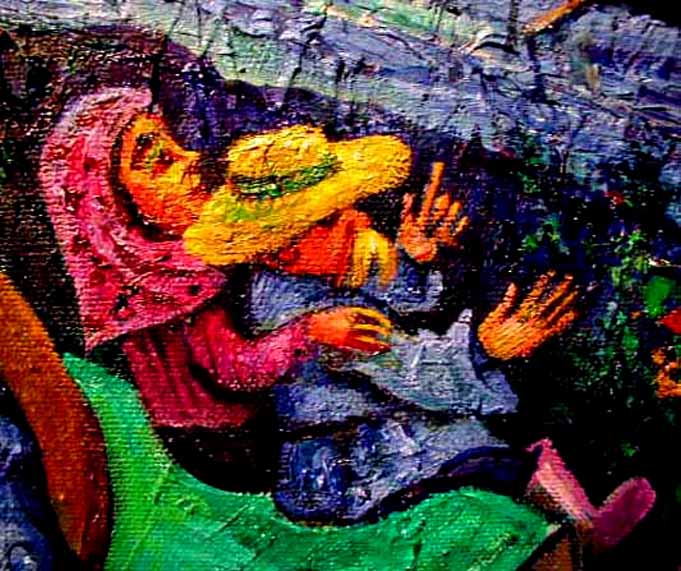 GOING FISHING AS A HAPPY TREE OBSERVES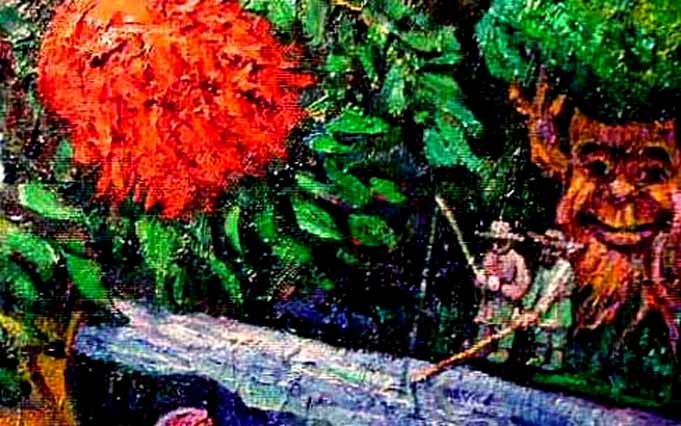 PASSION, MYSTERY AND MYSTICISM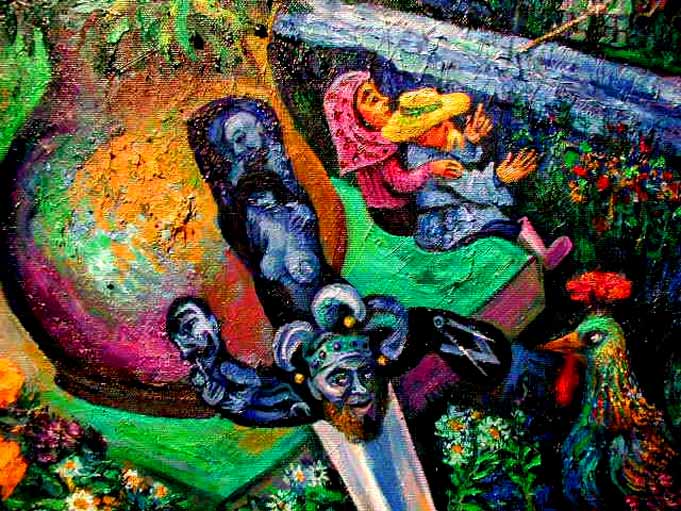 ANCIENT WOODEN ONION DOMED CHURCH
EVERYTHING SO LUSH AND BEAUTIFUL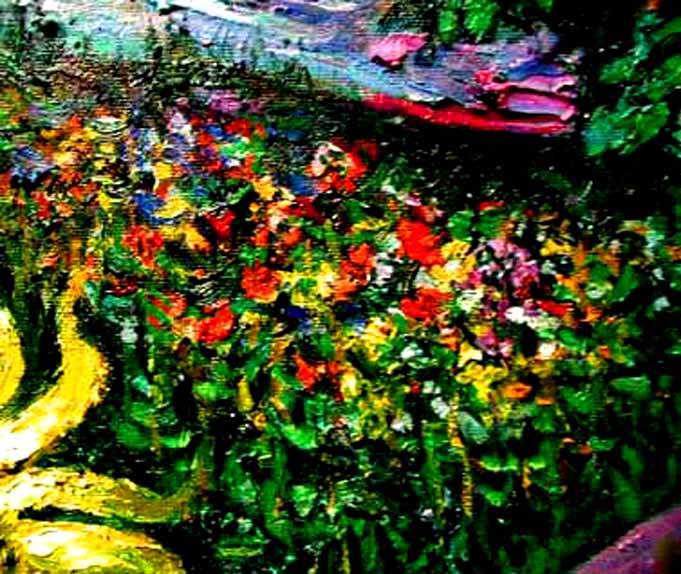 SMILES AND JOY AFTER THE DAY'S WORK IS DONE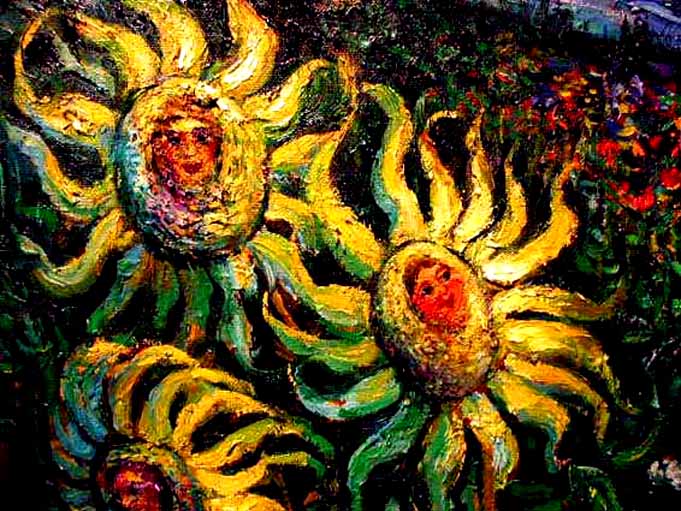 MAGICAL FLOWERS ON A WARM SUMMER EVENING
2004 Oil on Canvas 24 x 30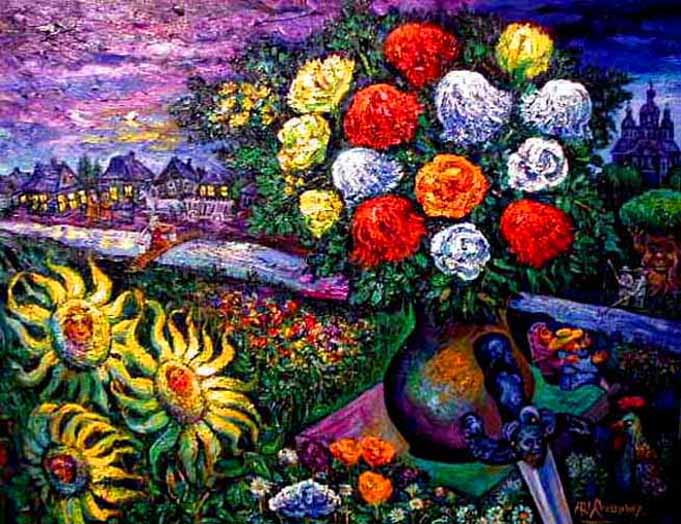 Presenting a sensuous depiction of the romantic soul of an old world Russian or Ukrainian village after the day's work is done. MAGICAL FLOWERS ON A WARM SUMMER EVENING is a Genuine Signed And Dated 2004 Ari Roussimoff Oil on Canvas Painting, measuring a large 24 x 30 inches. A hypnotic glowing composition, the colors are a harmony of deep rich blues and greens with vivid, mysterious yellows, enamel-like reds and purple-blues. The artist uses thick, vigorous brushstrokes in creating this poetic Impressionist inspired work. Roussimoff captures the rich spirit of Mother Nature with a field abundant with jewel like, glistening flowers. A large floral bouquet compliments the Sun Flowers that growing freely. The Sun Flowers, which are the national Ukrainian flower have smiling human faces in this mystical work. A picturesque wooden cottage is lit up from inside with flickering lights, just like candles and the quaint onion domed Church. MAGICAL FLOWERS ON A WARM SUMMER EVENING is a splendid love song to Mother Nature. This is a larger sized painting. $65.00 S/H (USA). Payment is expected within 5 days of auction close. International bidders should first contact us to find out about exact charges and conditions. Thank You.
Here is a Great Opportunity to bid on and own this Colorful Original Painting by World-Class Artist Ari Roussimoff. Paintings by Roussimoff are being purchased by art collectors the world over. Works such as this one bring joy to any home.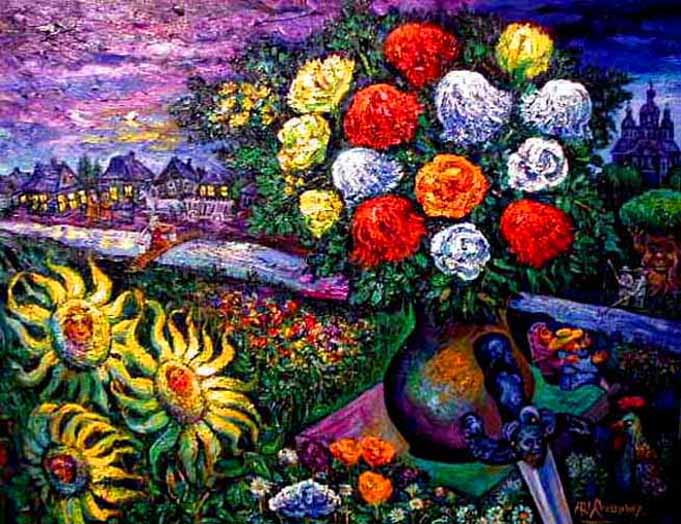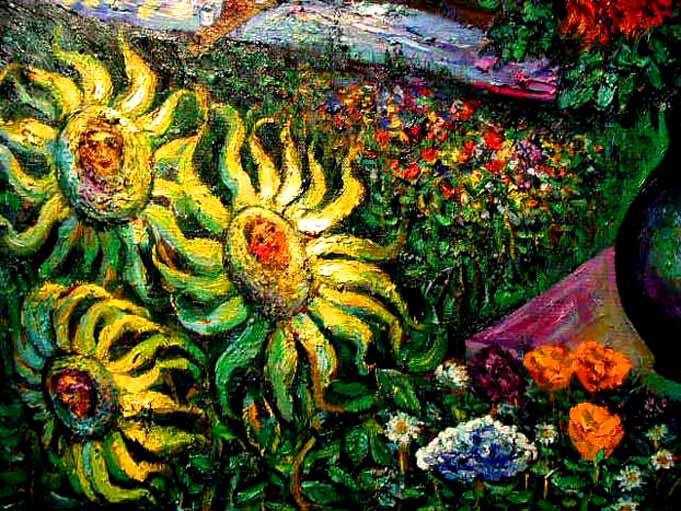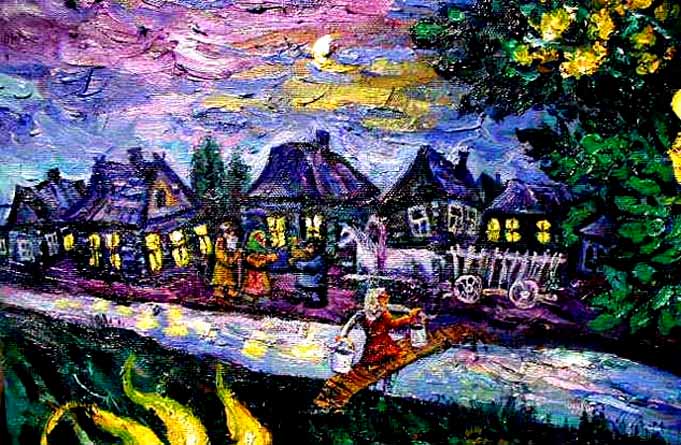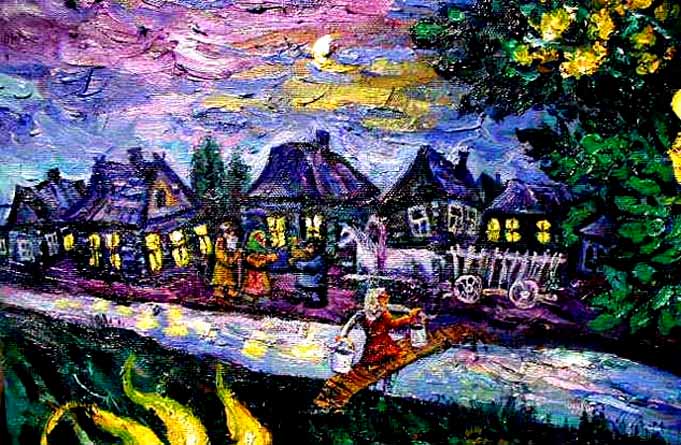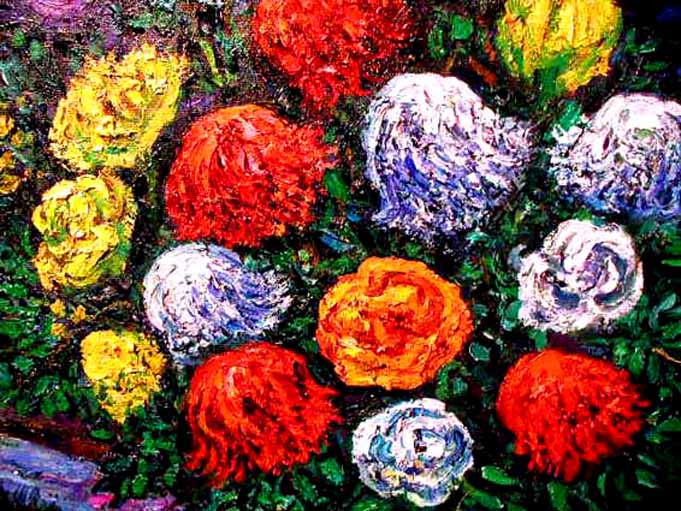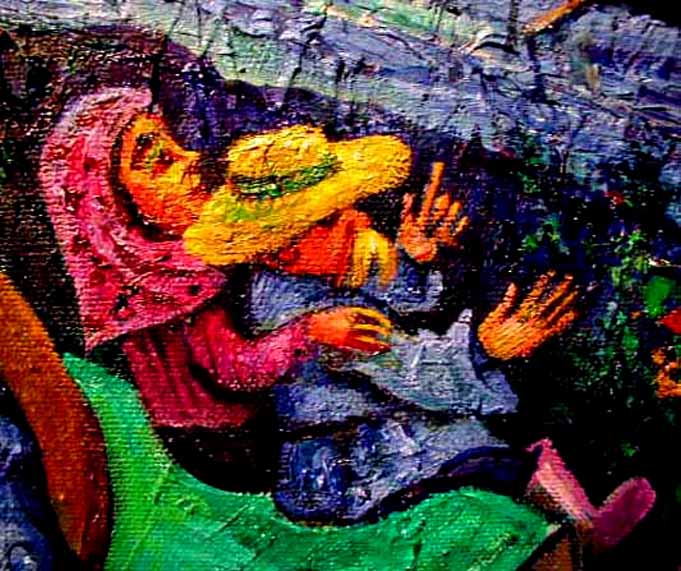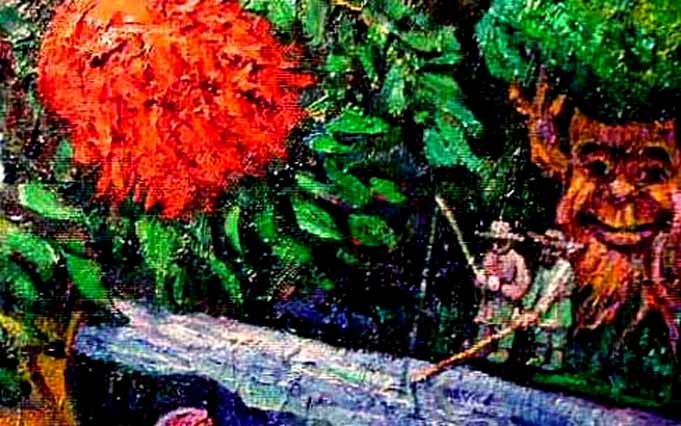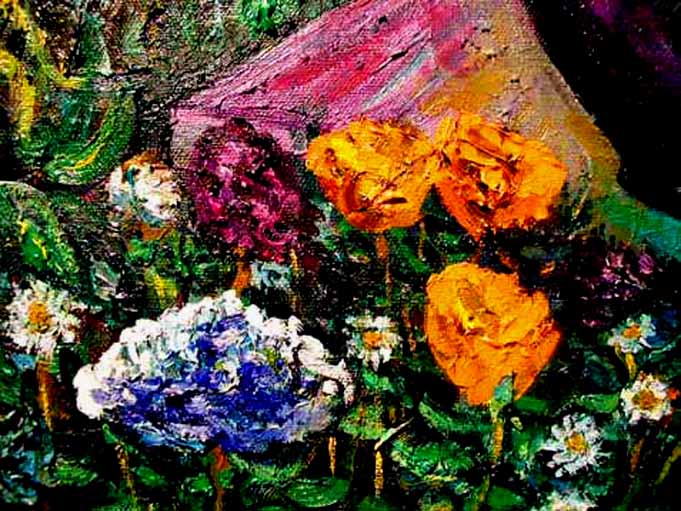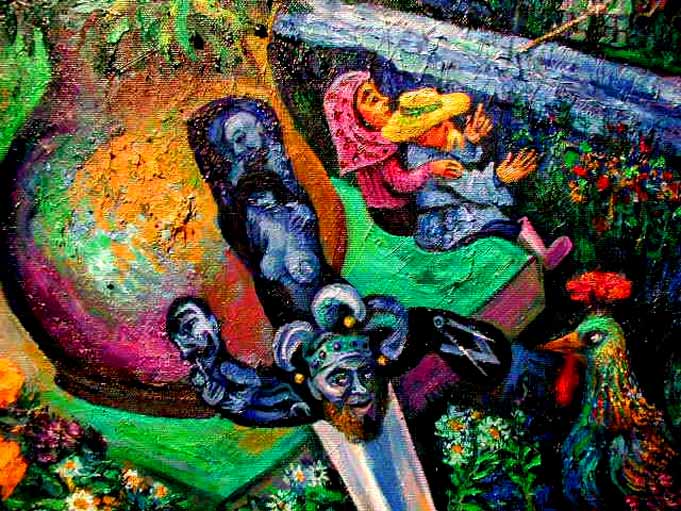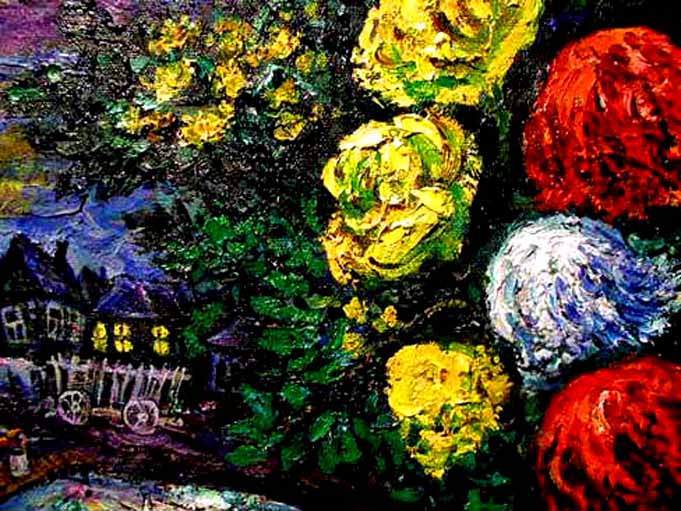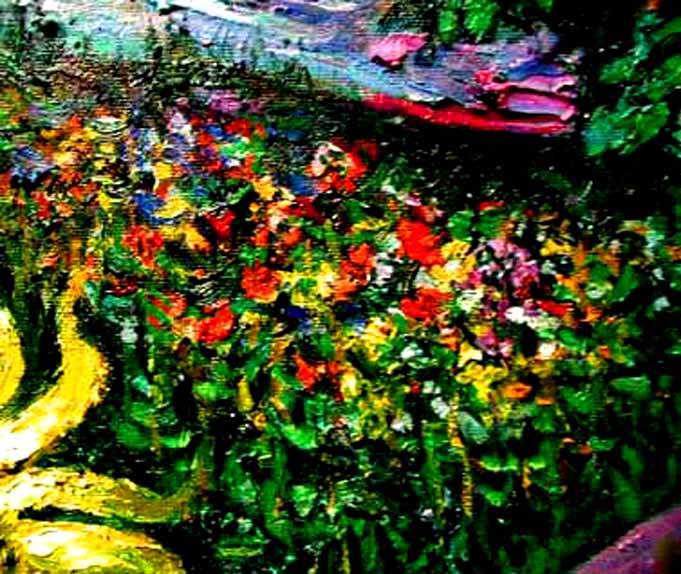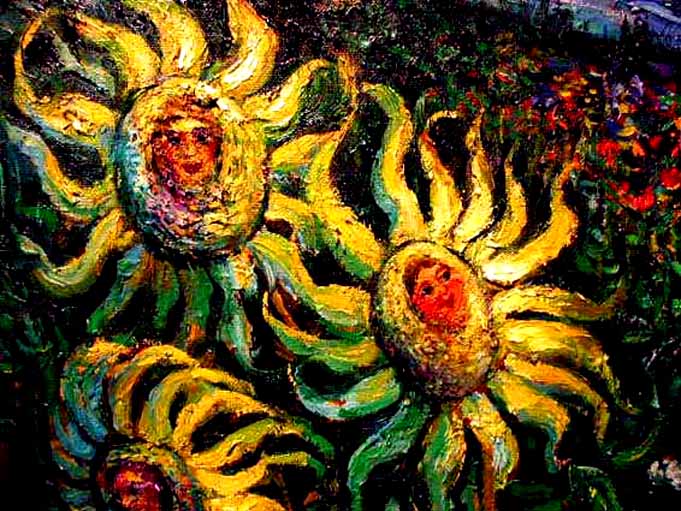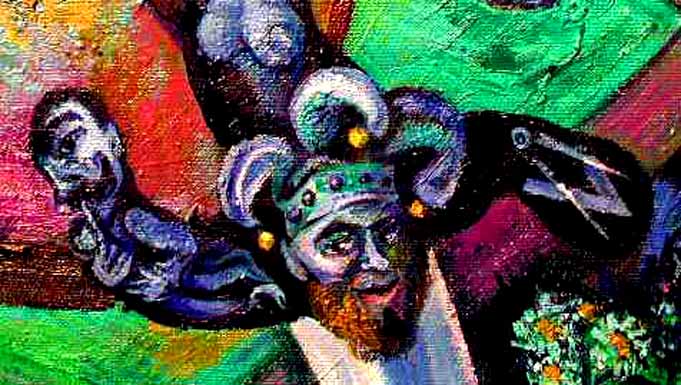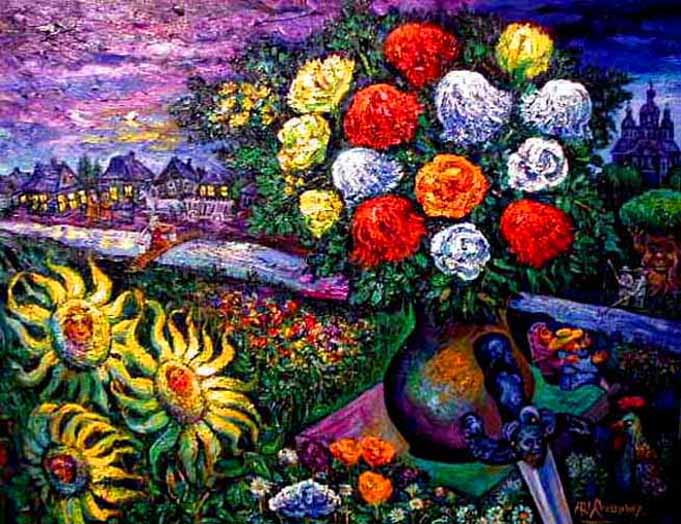 MAGICAL FLOWERS ON A WARM SUMMER EVENING
2004 Oil on Canvas 24 x 30