HOLLYWOOD ETERNAL
Presenting a Large Colourful Dream world Devoted to the Historic Legends of Film .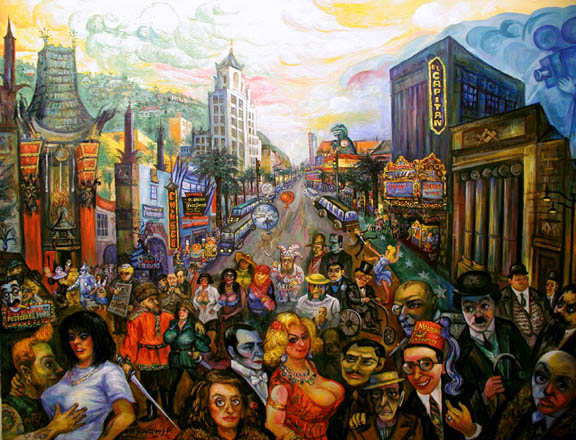 "HOLLYWOOD ETERNAL"
2006 oil on canvas 36 x 48 inches
The artist is a true believer in the motto: "that which is truly great is eternal". In this monumental composition, Roussimoff pays homage to Hollywood at its finest. In this tribute to Hollywood, Roussimoff has included some of his favourite movie legends. In awe of the artistic triumphs of historic Hollywood, he feels that there are many other geats of the past which he yet intends to paint in future works. Set against a landscape of contemporary Hollywood Boulevard are the eternal legends that constituted the soul of the city. Charlie Chaplin, Buster Keaton, Harold Lloyd, Bette Davis, Peter Lorre, Clark Gable, Erich Von Stroheim, Laurel & Hardy, Edward G. Robinson, Rudolph Valentino, Mae West, Eric Campbell, The Three Stooges, The Marx Brothers, Lon Chaney Sr. (as the Phantom of the Opera), John Wayne, Boris Karloff (as Frankenstein's Monster), Gibson Gowland, Fred Astaire, Ginger Rogers, the Wizard of Oz stars (Judy Garland, Ray Bolger, Jack Haley, Bert Lahr & Toto) and others. Seated discreetly within a newspaper stand is the mystical Guru George Ivanovitch Gurdjieff. A nod to the influence of mysticism in Hollywood circles at the time. Also within the group is the dwarf performer, Major Noble George Washington Winner who was with Ringling Brothers Barnum and Bailey Circus. Grauman's Chinese Theater is on the left. Incidentally, Harold Lloyd appears wearing the official Fez of the "Al Malaika" Shriners Temple , of which he served as Imperial Potentate. On the right side of the composition once can see the old Hollywood Masonic Temple. This building now serves as the studio of the "Jimmy Kimmel Live" television program.
This is an Authentic Signed and Dated, Ari Roussimoff Oil on Canvas Painting from the year 2006. It measures an almost monumental 36 x 48 inches. This very large and monumental like composition is painted in uniquely poetic colours. There is much attention paid to detail, as those who know Hollywood will recognize some familiar sites, the star lined streents, the theaters, hotels and the famous sign which once read as "Hollywoodland". For many years Roussimoff wanted to express his great love for classic cinema. To this day, the movies he watches are mostly pre-1948. And silent films have been a love since early childhood, when his father would take him to revivals held in art cinemas and at museum screenings. So this painting is a true labour of love. The artist who is not only an esteemed painter, but a director of movies as well, makes reference to the favorite of his own movies, "Freaks Uncensored", which he has painted on a T-Shirt worn by a character in the background. Roussimoff incudes himself and his partner as a spectators, garbed in traditional Russian attire and brandishing a medieval swords. This large colourful composition is guaranteed to brighten up any room and collection!
The purchaser will receive a certificate of authenticity. FREE S/H (USA). International buyers should first contact us to find out about exact charges and conditions. Thank You.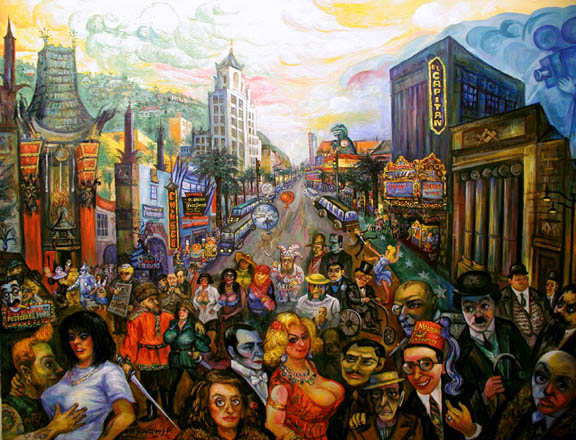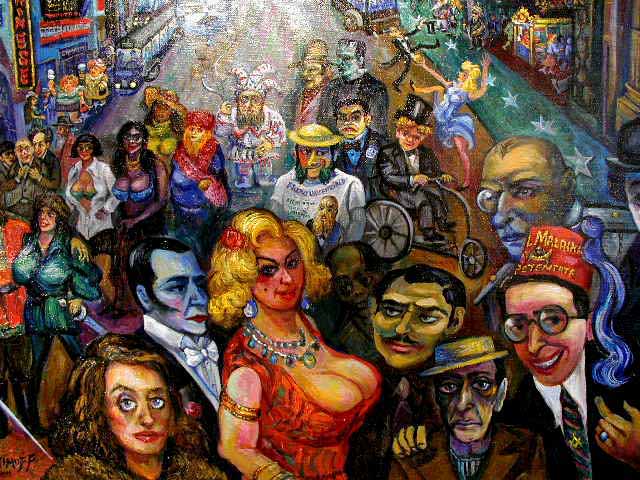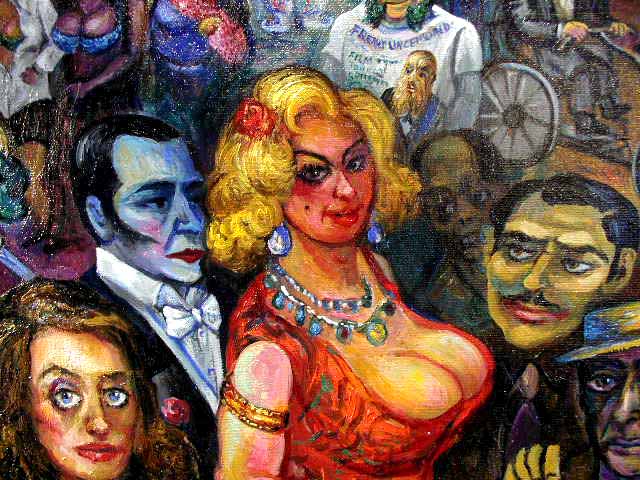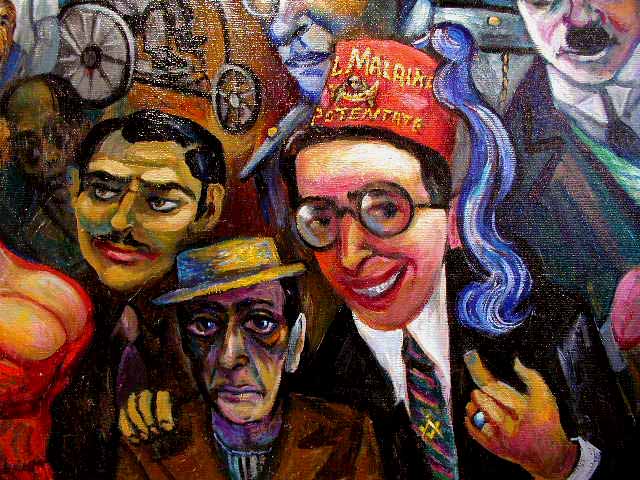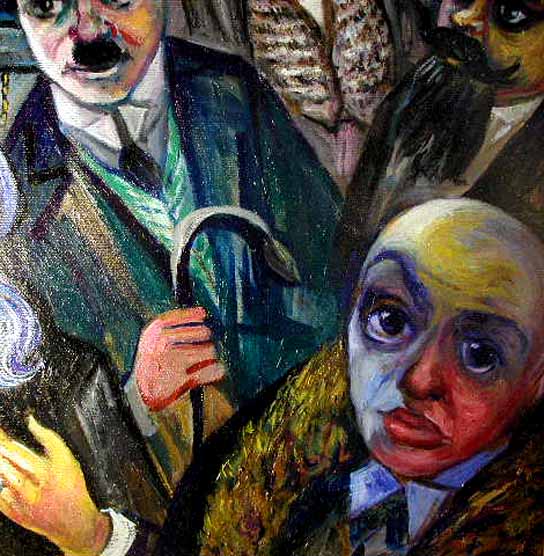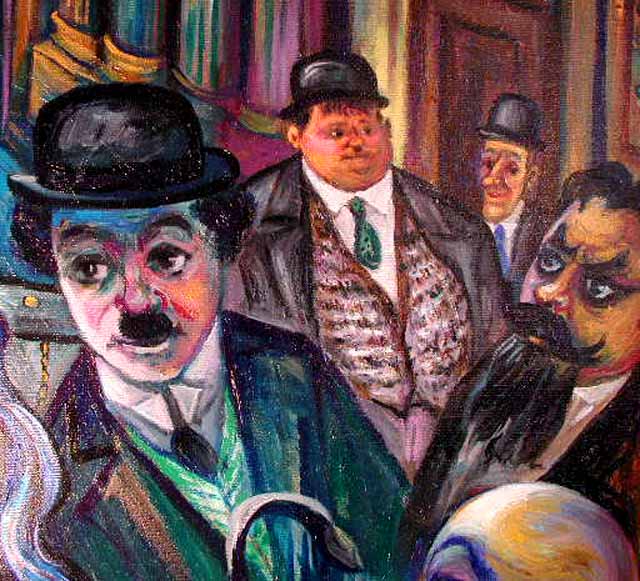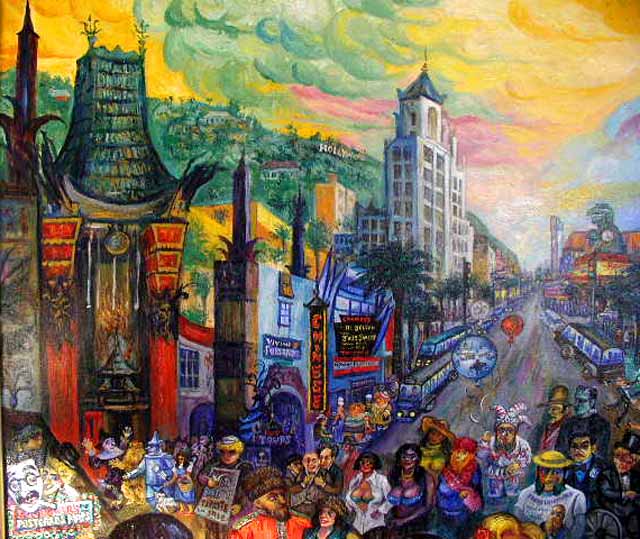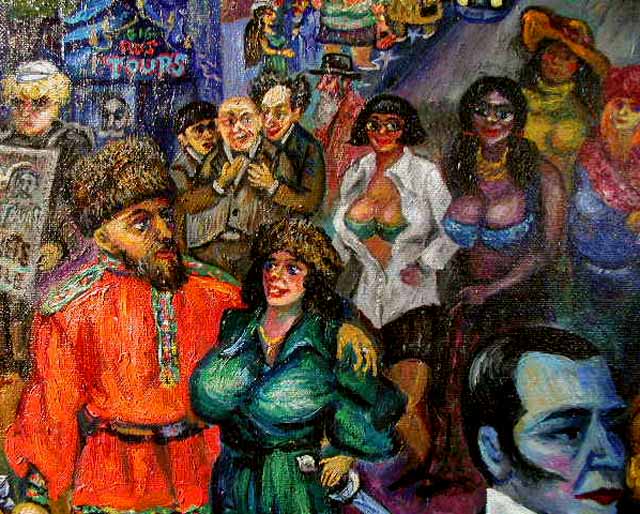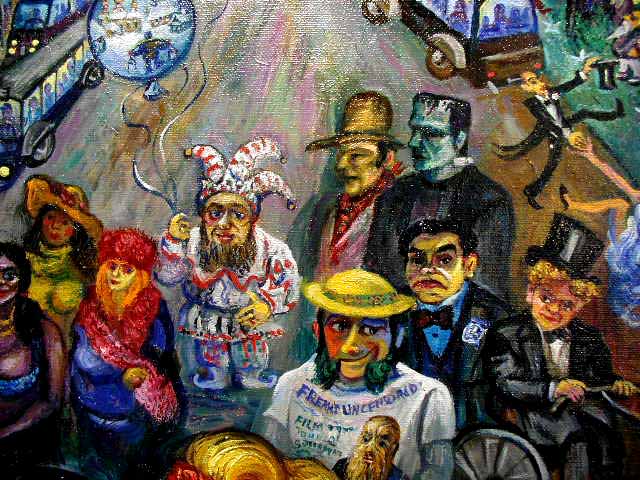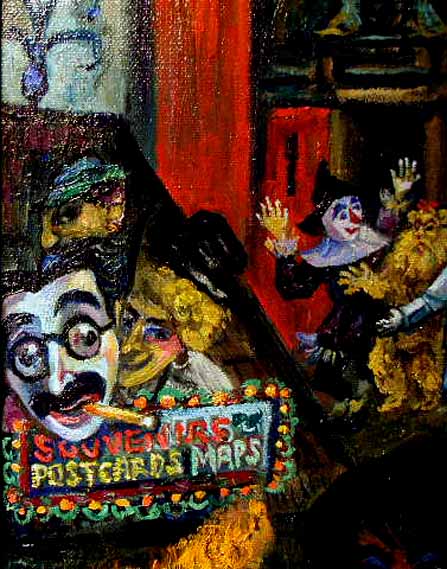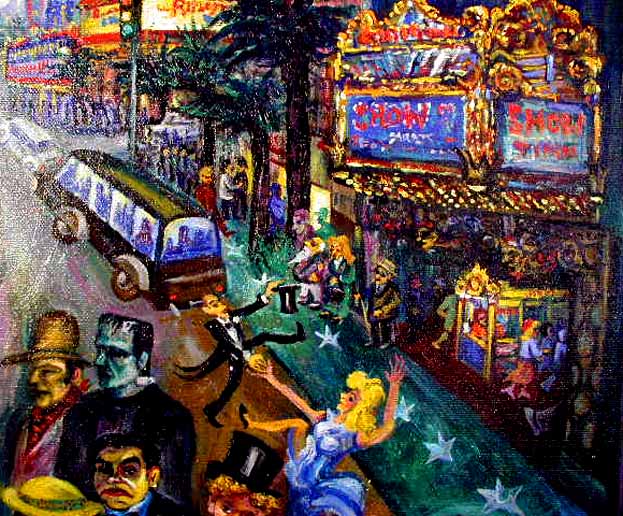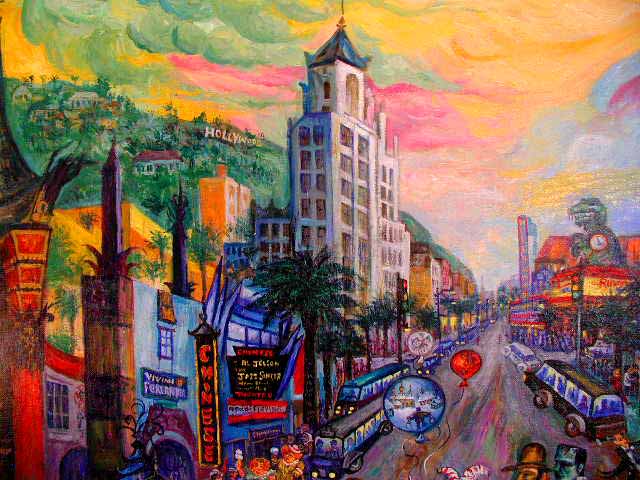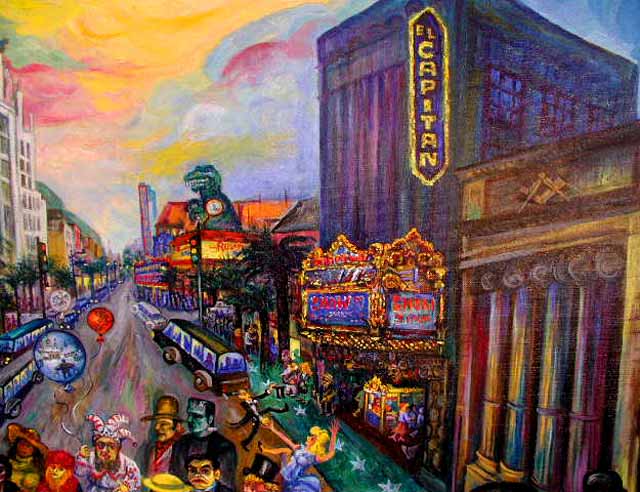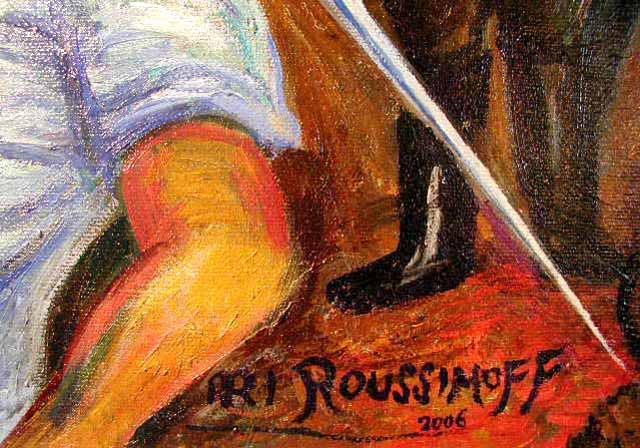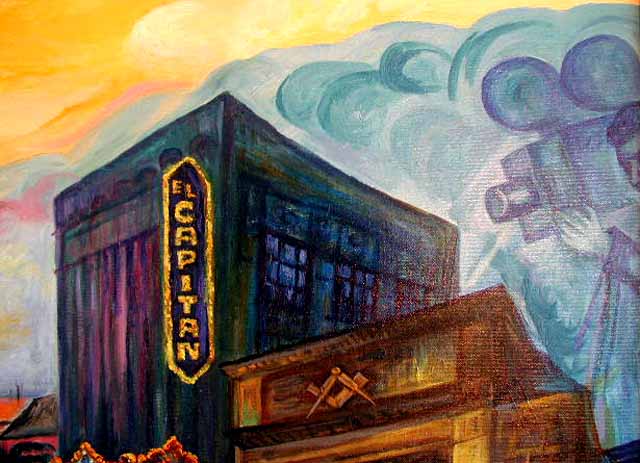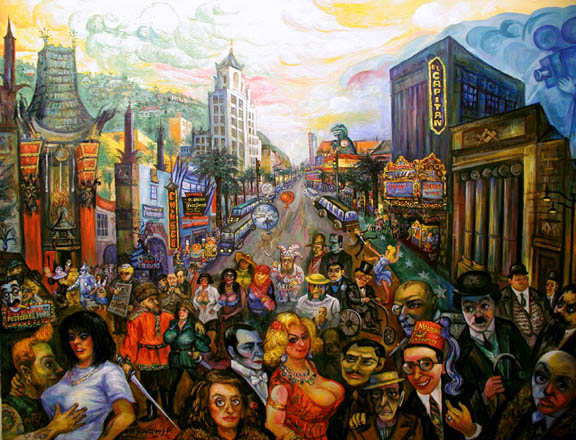 "HOLLYWOOD ETERNAL"
Oil on Canvas by Ari Roussimoff