HASSIDIC WEDDING AT THE OLD WOOD SYNAGOGUE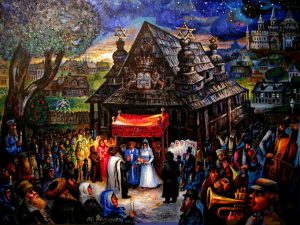 RICH, MAGICAL COLORS, THIS IS ONE OF THE MOST BEAUTIFUL DEPICTIONS OF A JEWISH WEDDING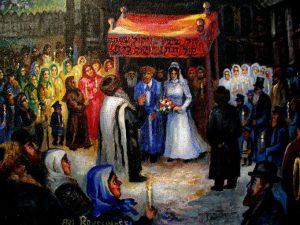 SPIRITUALITY, LOVE AND ANCIENT TRADITIONS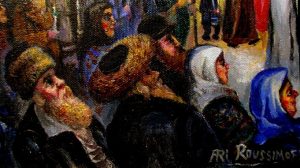 CHASSIDIC MYSTICISM AND GREAT MERRIMENT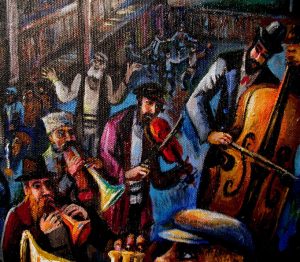 RELATIVES, FRIENDS AND NEIGHBORS ALL CELEBRATE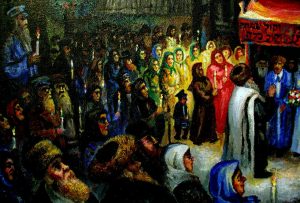 A CLASSIC WOOD SYNAGOGUE. ONCE A REALITY IN TOWNS AND VILLAGES OF UKRAINE, POLAND, BYELORUSSIA AND THROUGHOUT EASTERN EUROPE.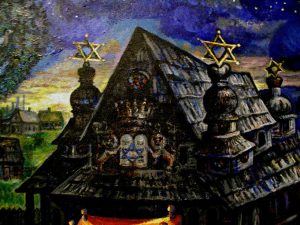 FIDDLER, HORNS, TRUMPET AND GRAND CELLO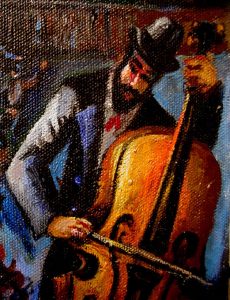 A HISTORIC CASTLE TELLS OF GREAT KINGS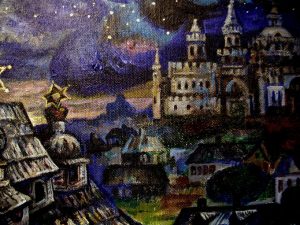 A LIFE AFFIRMING AND WONDERFUL ARTWORK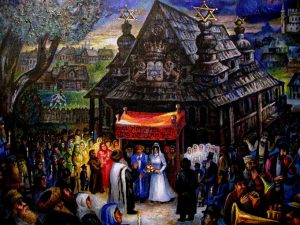 EVEN BIRDS PARTAKE IN THE JOYOUS CELEBRATION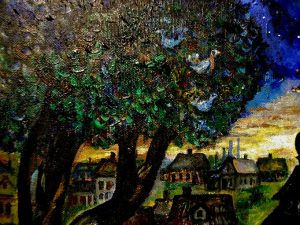 THE ARTIST PRESENTS US WITH A TRUE TO LIFE VISION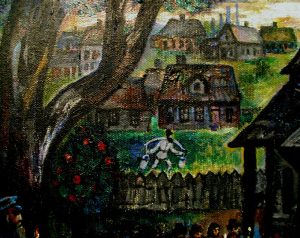 A PAINTING FEATURING THE MAGIC GLOW OF LIFE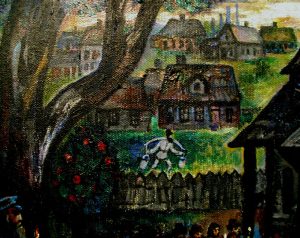 HASSIDIC WEDDING AT THE OLD WOOD SYNAGOGUE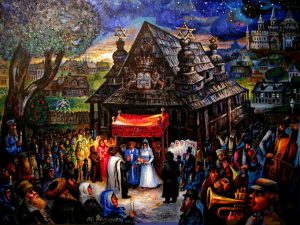 2015 Acrylic on Canvas 18 x 24 inches
This original painting by International-Russian artist Ari Roussimoff is one of the most beautiful depictions of a Jewish Wedding. The celebration takes place in front one of the great ancient wood Synagogues that once existed in shtetls (small towns) and villages of Ukraine, Poland, Belorussia and throughout Eastern Europe. The artist masterfully captures the intense spirituality and life affirming majesty of this wonderful scene. Roussimoff has painted his vision with an inner realism seldom found in contemporary pictures of Jewish themes. Sparkling, magical colors bring everything to life. The use of light and shadow shows the influence on the artist of the Old Masters. Here in this composition are celebrants, guests, Klezmer musicians, scholars and simple townfolk. All bear witness to the Rabbi blessing a couple under the canopy. The landscape, like the people, is true to life. In the distance stands the historic castle of a great king. "HASSIDIC WEDDING AT THE OLD WOOD SYNAGOGUE" is an Authentic Signed and Dated Ari Roussimoff Acrylic on Canvas Painting, measuring 18 x 24 inches and dated 2015. Buyer will receive a certificate of authenticity. This painting is an absolute gem! A perfect addition to any quality collection of fine art or Judaica. .
HASSIDIC WEDDING AT THE OLD WOOD SYNAGOGUE
2015 Acrylic on Canvas 18 x 24 inches