GRANDPARENTS OF THE OLD COUNTRY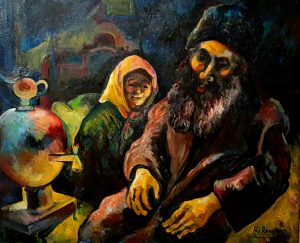 HIGHLY EXPRESSIVE AND VERY BEAUTIFUL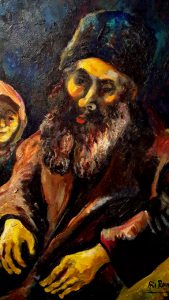 n
PIETY AMIDST HUMBLE SURROUNDINGS
THIS ELDERLY COUPLE HAVE WORKED HARD THEIR ENTIRE LIVES. ALTHOUGH TIRED, THEY RADIATE GREAT SPIRITUALITY AND LOVE.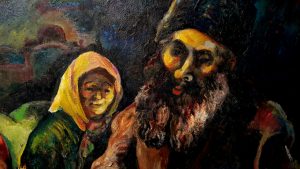 THE SAMOVAR IS AN EVERYDAY ESSENTIAL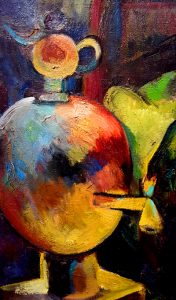 A HEARTWARMING AND SOULFUL PAINTING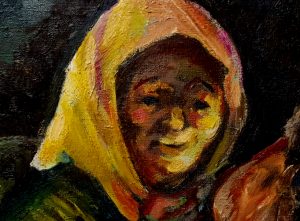 SENSITIVE AND POETIC COLOURS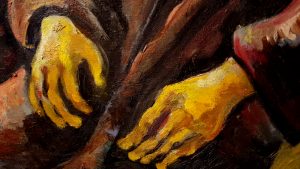 AN EVOCATION OF A LONG GONE PAST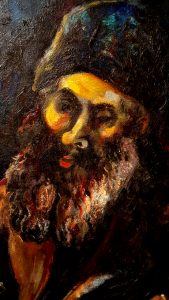 "GRANDPARENTS OF THE OLD COUNTRY"
1969 Oil on Canvas 34 x 40 inches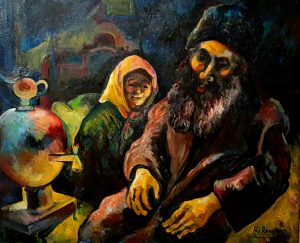 "GRANDPARENTS OF THE OLD COUNTRY" is a beautiful and very poetic original early painting by International Artist Ari Roussimoff. This is a wonderful and sensitive portrayal of an old Jewish married couple in a typical setting of a Russian, Ukrainian, Polish and Eastern European Shtetl environment. Here one sees great piety amidst humble surroundings. The faces are lovingly rendered. These elderly people have worked hard their entire lives and although tired, they radiate great spirituality and love. On the table to the left is the Samovar. This heartwarming work is painted with the vigorous brushwork of Expressionism combined with colours that are delicate and warm. There is lovely texture throughout the work. "GRANDPARENTS OF THE OLD COUNTRY" is an Authentic Signed and Dated Ari Roussimoff Oil on Canvas Painting, measuring 34 x 40 inches and dating to 1969. Buyer will receive a certificate of authenticity. This painting is exceptional! A perfect addition to any quality collection of fine art or Judaica.