ASurreal Visionary Early Painting by the World Famous Russian-European Artist and Film Director Ari Roussimoff.
"MYSTICAL SELF-PORTRAIT IN FUR HAT WITH PIPE"

"MYSTICAL SELF-PORTRAIT IN FUR HAT WITH PIPE"
1982 Oil on Panel approximately 14 x 17 inches
This is an expressive metaphysical self portrait. The artist depicts himself wearing a Russian fur hat and smoking a pipe (he gave up smoking some years later). Roussimoff believes that on a spiritual plane, the enlightened individual has been endowed by his Creator with two inner pair of eyes. One pair represents the intellect, the thought process and the mind. These would be useless without the other pair, which represents the soul, the spirit and the heart. Combined, the four eyes symbolize creativity and spirituality. "MYSTICAL SELF-PORTRAIT IN FUR HAT WITH PIPE" is a Genuine Signed & Dated Early Ari Roussimoff Oil on Panel Painting, measuring approximately 14 x 17 inches. This powerful introspective work was painted in the year 1982. It is a fine metaphysical portrait of the artist in thoughtful gaze. There is not the slightest hint of either caricature or frivolity in this serious portrayal. According to Roussimoff, all creative and spiritual people possess two pair of eyes. This can be understood also as an insight into the inner world of creative individuals. The visionary being, possessing four individual eyes can channel important and intense vibrations. This painting stems from Roussimoff's fantasy oriented works which, to many, recall surrealism. This is a beautiful and expressive artwork from an earlier period in Roussimoff's creativity!
This Fascinating Painting, rich in Surreal imagery, is rendered in magical and poetic colours. "MYSTICAL SELF-PORTRAIT IN FUR HAT WITH PIPE" (four eyes)" is a fabulous work of modern art. It is a great addition to anyone's fine collection of Art. FREE S/H (USA). With this purchase, the buyer receives a certificate of authenticity. International buyers should first contact us to find out about exact charges and conditions. Thank You.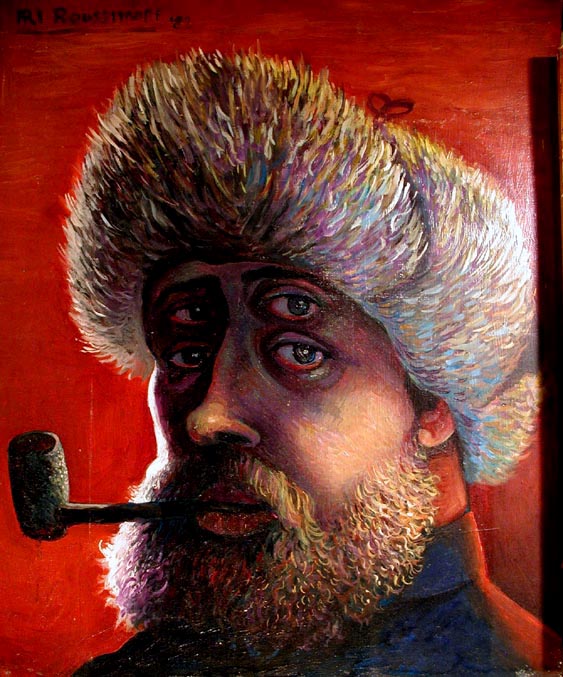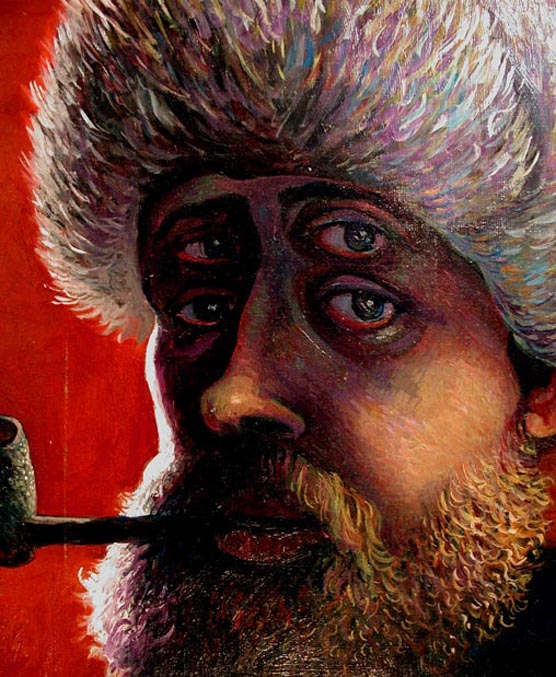 "MYSTICAL SELFPORTRAIT IN FUR HAT WITH PIPE"