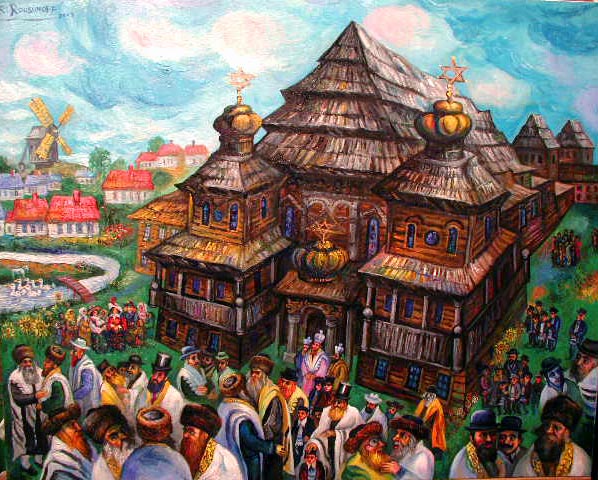 "ANCIENT WOODEN SYNAGOGUE" is a Genuine Signed and dated Ari Roussimoff Oil on Canvas Painting, measuring a large 24 x 30 inches. This outstanding work of art was painted by Roussimoff in 2007. True to life, this "ANCIENT WOODEN SYNAGOGUE" is set in an old Ukrainian village. With its impressive towers shaped like royal crowns, this most holy and majestic building has likely served its community for over a period of several hundred years. Worshipers are seen relaxing in conversation during an intermission in the Sabbath prayer services. Soon to resume praying in the Synagogue, the congregants have not removed their prayer shawls. Everyone is dressed in realistic Hassidic and Jewish costumes of Pre-War Eastern Europe. The tall fur hat is known as a "Spodik". The shorter fur hat, the "Shtreiml" as seen here, differs greatly in style from the versions made in our modern day. Likewise historically accurate, at that time, some men also wore silken Top Hats and Bowlers (Derby) to services. The women, as was customary, stand segregated from the men. We see wives, sisters and daughters in the distance enjoying the fresh air of the quaint landscape. A truthful artistic interpretation of Shtetl life. Besides its historical accuracy, as a work of art this painting is most impressive. The incredible high-angle view of the Synagogue gives the entire composition a dynamic quality. The Impressionist colours are rendered with a lyrical vibrancy that gives the work a unique sense of poetry. Wooden Synagogues were often located beside a river. Here we see the thatched roof homes, the vibrant sunflowers, the whie goat, the ducklings swimming in the river and the rustic Windmill, all typical icons of Ukraine, Russia, Belarus and Poland. Once upon a time, the Jewish populated Villages (also some towns) of East Europe were home to many beautiful Wooden Synagogues. These great buildings were often the first Jewish house of worship built at a locations. There was a warm earthiness to these incredible architechtural structures. People felt comforted by the warm appearance of natural wood. Roussimoff's very colourful "ANCIENT WOODEN SYNAGOGUE" will make an exquisite centerpiece on someone's wall. It will take the viewer back into space and time. It is a Wonderful Evocation of a World Which Still Lives On in Our Hearts and Memories.
The purchaser will receive a certificate of authenticity. FREE S/H (USA). International buyers should first contact us to find out about exact charges and conditions. Thank You.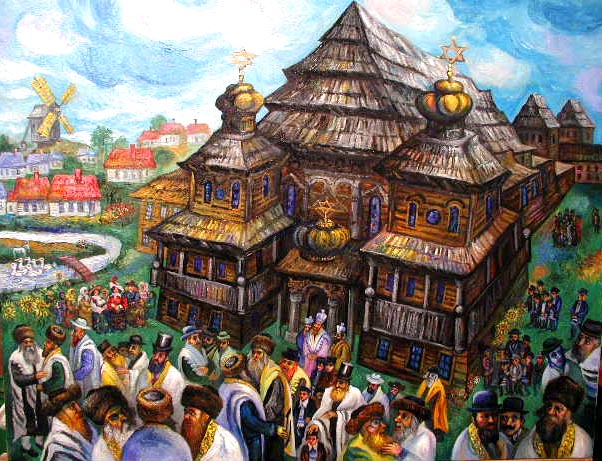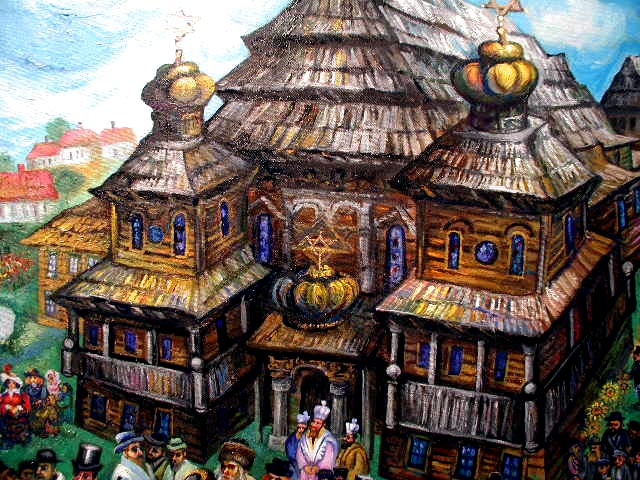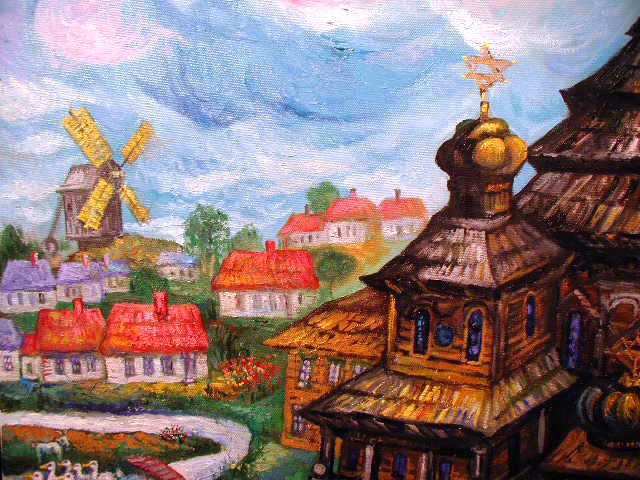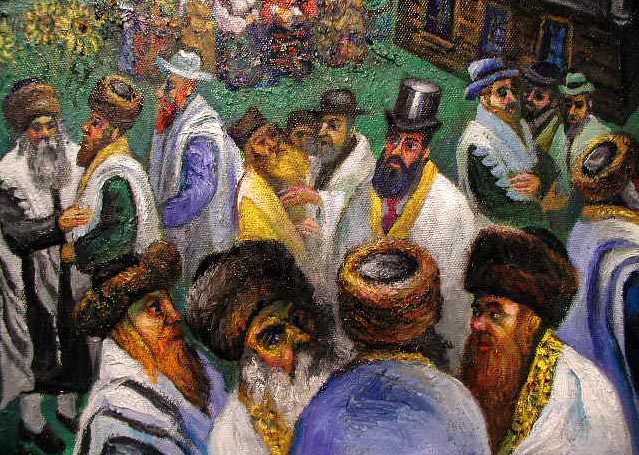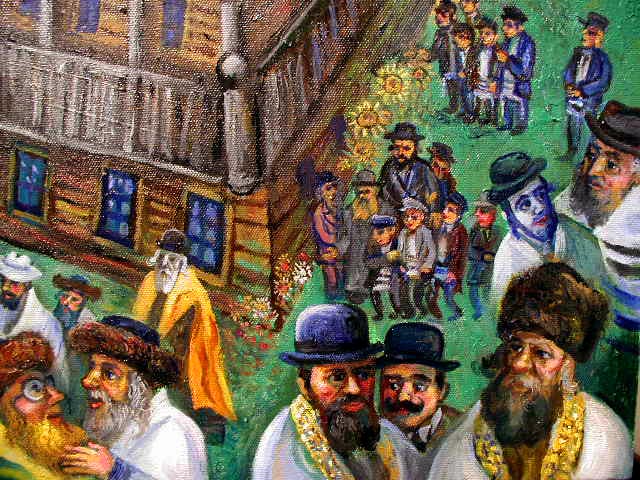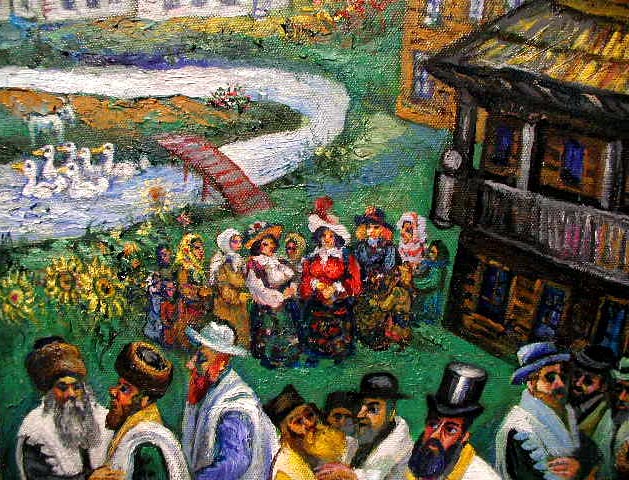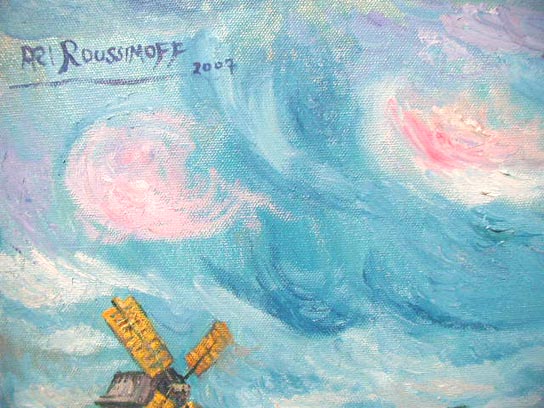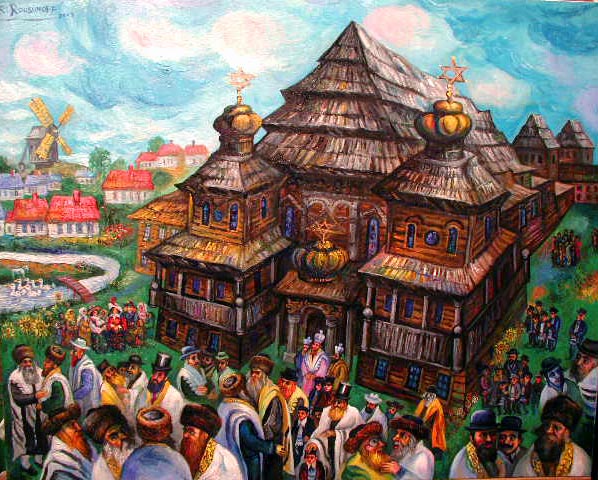 "ANCIENT WOODEN SYNAGOGUE"
Oil on Canvas by Ari Roussimoff