A RUSSIAN VIEWS AMERICA
This title "A Russian Views America" was given to describe a series of works created over the past few years. Paintings in this genre are ongoing in my repertoire of themes. Creating these works has been one of the most challenging experiences. When asked what country today I most identify with, I can only respond that I am a citizen of God's world. My true homeland has always been the world lived on my
canvases. On a practical plateau, I have been the consummate world traveler, living in a variety of lands. Over the years, although I have spent
considerable periods of time in the United States, for some reason I never felt familiar enough with the country to be able to paint it. During recent years however, I broadened my horizons and luckily was able to travel more extensively through America. And in the process, I discovered a new language. And I became inspired to paint. Being European, I was moved by a uniquely lyrical spirit in America, one not commonly appreciated or even recognized. What now spoke to me was a sensibility which was universal. One which placed these favourite American cities amongst other great
international metropolises, Paris, Munich, Venice
, all of which I love dearly. Here now are a few examples of works from this series inspired by the great cities of America.
MIAMI BEACH

, FLORIDA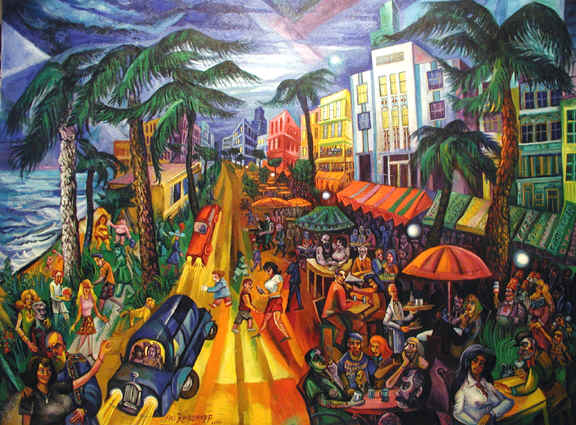 SOUTH BEACH
CAFÉ LIFE
30 inches x 40 inches Oil on Canvas
SOLD
This was the very first work I had done in the series. I had been instantly enamoured with South Beach which reminded me of the great European Riviera. At the time, I had no idea I would be doing other works depicting my interpretations of American cities.
SPAIN IN MIAMI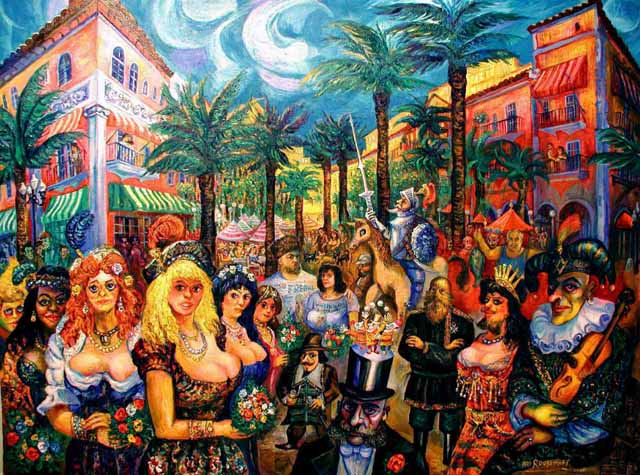 CARNIVAL IN MIAMI

36 inches x 48 inches Oil on Canvas

$18,999.99

OR TO MAKE A BEST OFFER EMAIL forviv@aol.com

One of the most picturesque areas in Miami Beach is called Espanola Way. In this work I used the sensuous, almost exotic neighborhood setting as a backdrop for a Carnival, timeless in spirit. This area with its unique old-world Spanish architecture added much to what I see as Miami Beach's European aura. In this composition I placed a host of figures from the carnival, the circus and the sideshows. There are Jesters, dancing Pinheads, a Bearded Lady, Jo-Jo the Russian Dog Faced Man, a Magician as well as as the great 17th century Spanish old master Velasquez, Don Quixote and Sancho Panza.

ATLANTIC CIT

Y

A great ever growing amusement center on the Eastern Coast of the USA . Second to Las Vegas in spirit, I have enjoyed many visits here over the recent times.

THE BOARDWALK OF ATLANTIC CITY

30 x 40 oil on canvas

$14,999.99

OR TO MAKE A BEST OFFER EMAIL forviv@aol.com

With seagulls constantly flying overhead, one should never be surprised at unwelcome droppings. In the distance is American tycoon Donald Trump's ornate "Taj Mahal Hotel and Casino". This is a great looking building. With its onion-like domes it reminds me of classic Russian architecture. On the left side is the Hard Rock Café with its murals of Elvis Presley and its bustling outdoor café.

HOLLYWOOD, CALIFORNIA

One of my favourite cities. The ultimate testimonial to creativity and art in America. Having made films myself, I am passionate about cinema. And the history of Hollywood Cinema is something I have lived with since childhood. To this day, it is the classic films which continually stimulate and inspire me.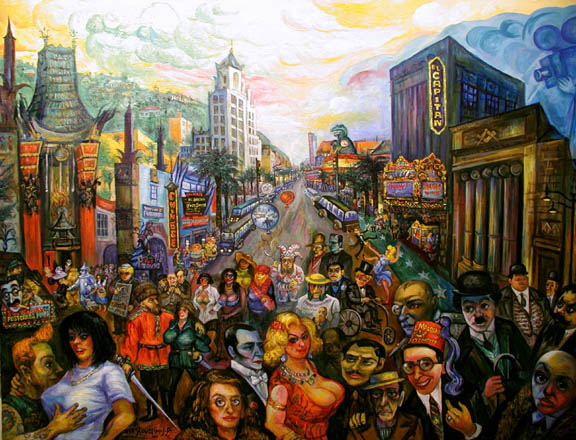 HOLLYWOOD ETERNAL

36 x 48 oil on canvas

$24,999.99

OR TO MAKE A BEST OFFER EMAIL forviv@aol.com

That which is truly great is eternal. Here I wanted to pay homage to Hollywood at its finest. Although certainly many more great artists warranted inclusion, choices had to me made. In my first tribute to Hollywood I have included Charlie Chaplin, Buster Keaton, Harold Lloyd, Bette Davis, Peter Lorre, Clark Gable, Erich Von Stroheim, Laurel & Hardy, Edward G. Robinson, Rudolph Valentino, Mae West, Eric Campbell, The Three Stooges, The Marx Brothers, Lon Chaney Sr. (as the Phantom of the Opera), John Wayne, Boris Karloff (as Frankenstein's Monster), Gibson Gowland, Fred Astaire, Ginger Rogers, the Wizard of Oz stars (Judy Garland, Ray Bolger, Jack Haley, Bert Lahr & Toto). I also included a small portrayal of mystical Guru George Ivanovitch Gurdjieff as a news vendor. This was done because of the heavy influence of mysticism in Hollywood circles at the time. Also within the group is the dwarf performer, Major Noble George Washington Winner who was with Ringling Brothers Barnum and Bailey Circus. Incidentally, Harold Lloyd appears wearing the official Fez of the "Al Malaika" Shriners Temple , of which he served as Imperial Potentate. On the right side of the composition once can see the old Hollywood Masonic Temple. This building now serves as the studio of the "Jimmy Kimmel Live" television program.

LAS VEGAS, NEVADA

While Coney Island may once have been known as America 's playground, I find that today the moniker belongs hands down to Las Vegas. Gaudy and Kitsch though it may be, I love the place. A brilliant vision that stands on its own as an icon of the times.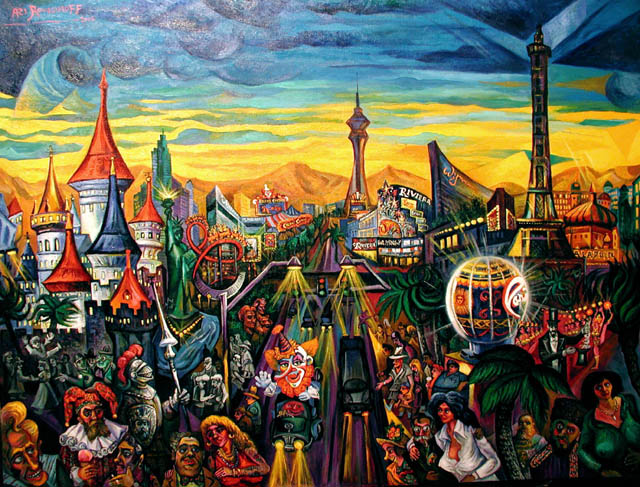 LAS VEGAS RAZAMATAZ

30 x 40 Oil on canvas

SOLD

Las Vegas Boulevard
is huge beyond belief. With artistic license I condensed the scene to include certain landmarks. The hotel casinos Riviera, Wynn, Paris, Mirage and New York, New York. I even depicted the landmark sculpture of magicians Siegfied and Roy.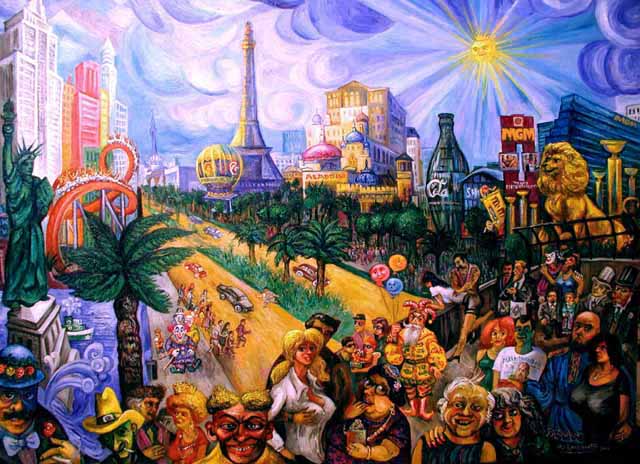 SUN OVER LAS VEGAS

30 x 40 Oil on canvas

$14,999.99

OR TO MAKE A BEST OFFER EMAIL forviv@aol.com

The Casinos, the Circus, the sexy visitors on the bridge. The sun smiles down over a panorama which stretches from the MGM Casino to the Paris
. Circus characters are wonderful to paint. So similar to what I painted in Miami Beach, here too are clowns, a Bearded Lady, Magicians and a Jester carrying balloons. There is the famed P. T. Barnum discovery, the "midget" General Tom Thumb alongside his wife Lavinia Warren. Also on the bridge are two Freemasons wearing their ritual aprons.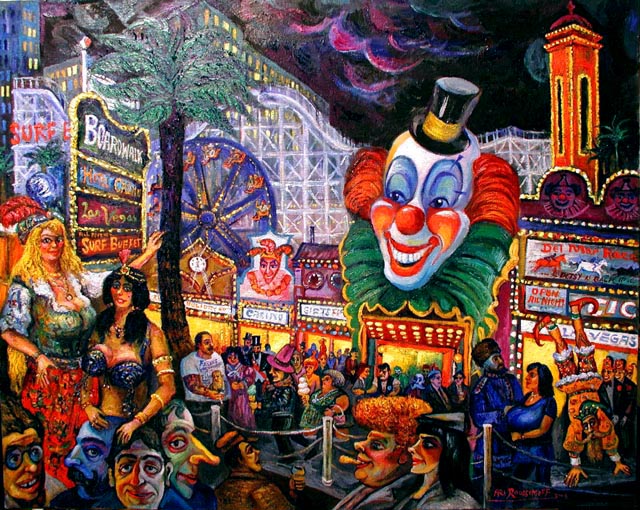 BOARDWALK CASINO, LAS VEGAS
24 x 30 Oil on canvas
$8,999.99
OR TO MAKE A BEST OFFER EMAIL forviv@aol.com
This particular Casino, quite literally belongs to history. With its "Surf Buffet", it was patterned to symbolize old-time Coney Island . The Casino was recently demolished.