A Highly Inspirational Example of 20th Modern Judaica Art. A Fantastic Cubist-Oriented Religious Themed Work.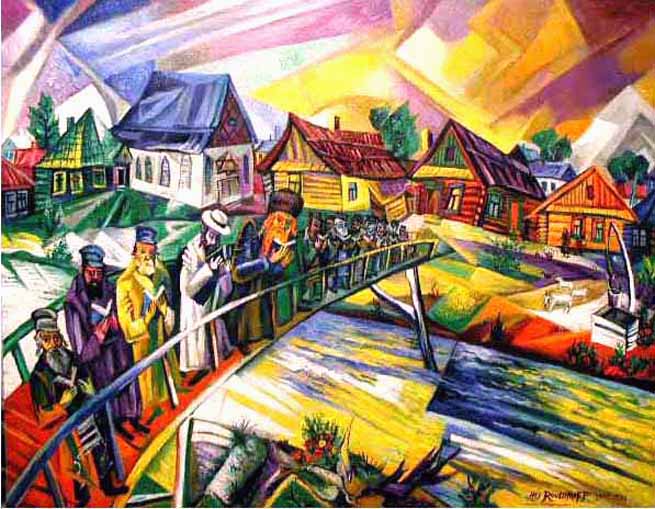 "RIVERSIDE PRAYER SERVICE" is a Genuine Signed and Dated Ari Roussimoff Oil on Canvas Painting, measuring a large-sized 24 x 30 inches. This Highly Impressive Cubist style work was completed in the year 2004, although the artist first conceived the composition in 1973. The picture has an interesting history. In 1973, Roussimoff sketchily painted in only the background and not until 2004 did he work full-force to complete what is a phenomenal gem of Jewish themed artwork. Roussimoff considers this canvas to be one of his favourites. "RIVERSIDE PRAYER SERVICE" is a highly engaging study of a group of Hassidic Jews in Russia, celebrating the religious service of "Taschlich'. They are passionately reciting prayers as they symbolically cast their stones into the river. These devout people are garbed in the traditional costumes of old-world Russian and Eastern European Jews. This particular scene takes place in a typical Shtetl (small Jewish town). We see the familiar small wooden homes, a watering-well, and the prominent structure of the white and blue-coloured ancient Synagogue. A majestic edifice with its stained glass windows and large Star of David above the entrance. In the distance, we even have some townsfolk and two lovable birds. This very poetic rendering sets off a beautiful and spiritual composition. This captivating artwork is rendered in a lyrical manner based on both the Cubist and Expressionist styles. There is even an aspect of Slavic folk art. There is an amazing amount of intricate detail-work here. Everything is depicted with both a historical accuracy and also a deeply felt inner truth that distinguishes this painting from most "genre" pieces. Although one can ascribe a most charming folk-like quality to this piece, it is nonetheless, a work of true modernism and great overall artistic sophistication. Here is the type of sensitive nostalgic painting that, when displayed, will definitely bring much delight to any household. It is a picture painted with great love and warmth of spirit, evoking the great and beloved stories of Yiddish authors like Scholem Aleichem (his "Tevye Stories" having inspired the play, "Fiddler On The Roof"), Y. L. Peretz, the Singer brothers and many others.
Roussimoff paintings on both Jewish and Russian themes cross over all cultural, religious and ethnic boundaries as they are being passionately collected by art lovers the world over! The humanity of these Roussimoff works makes them truly universal. The purchaser will receive a certificate of authenticity. FREE S/H (USA). International buyers should first contact us to find out about exact charges and conditions. Thank You.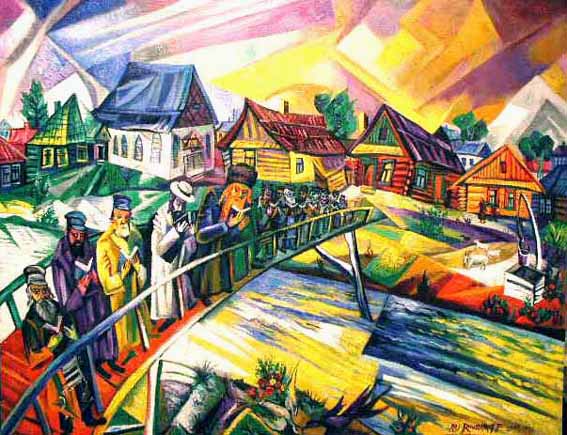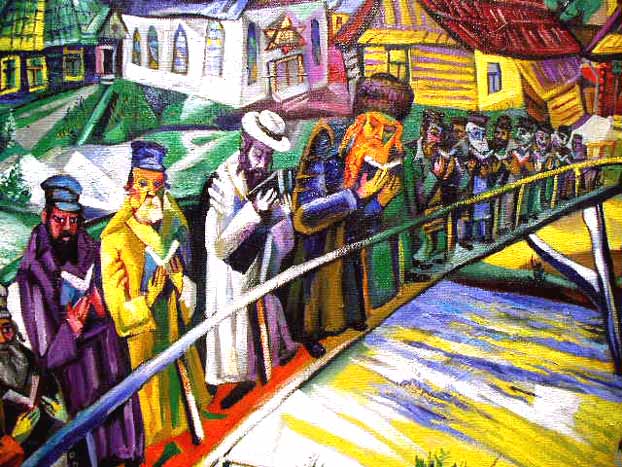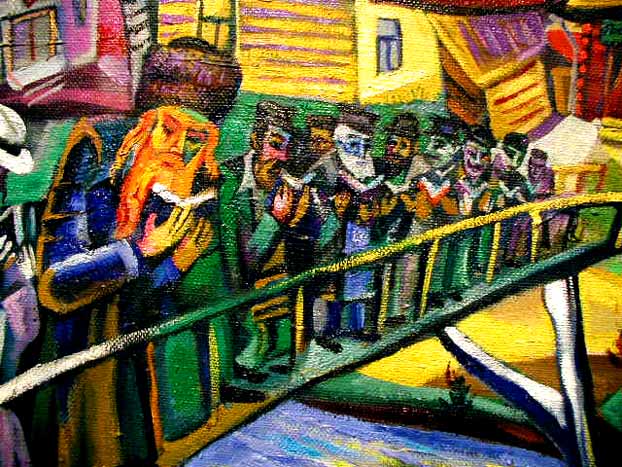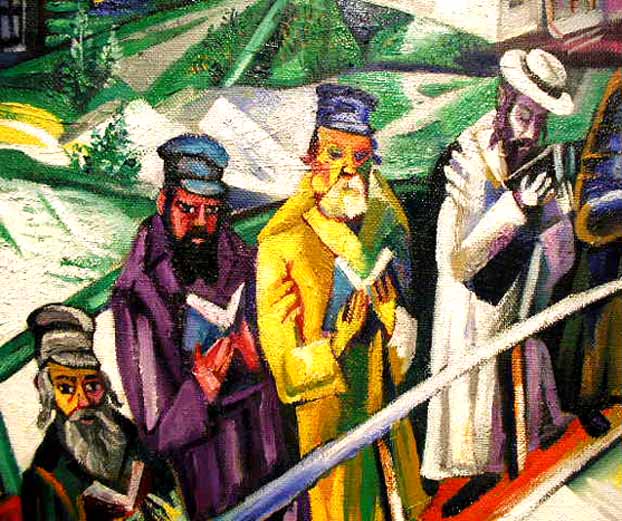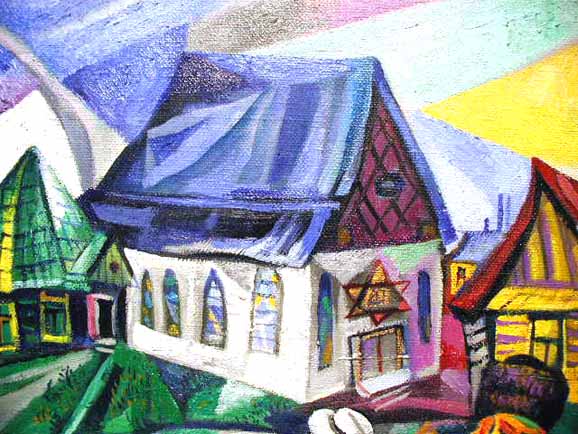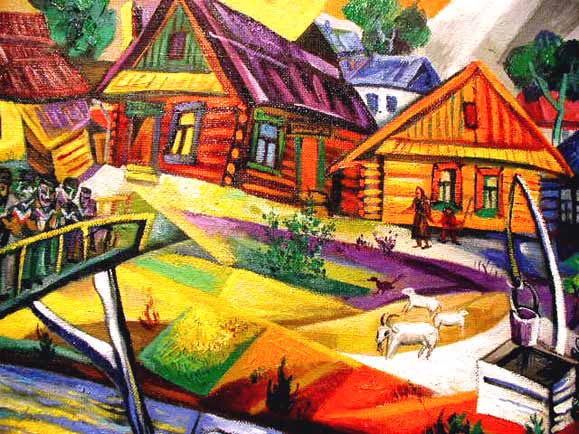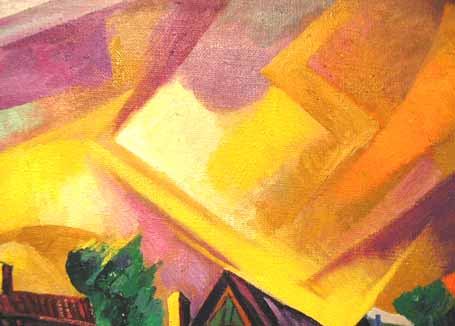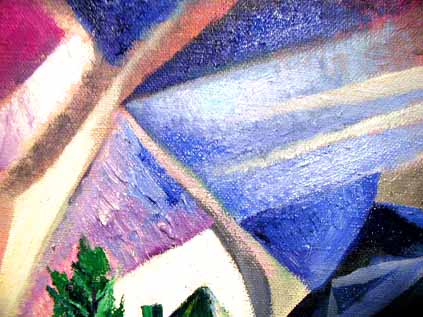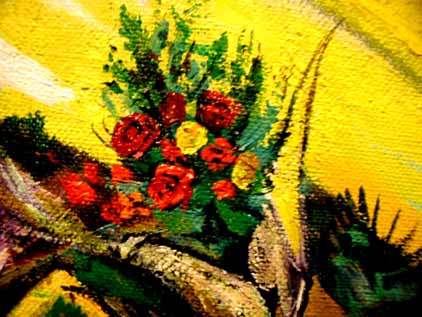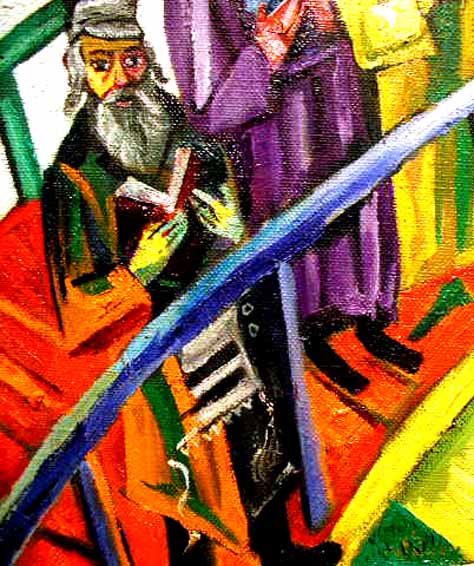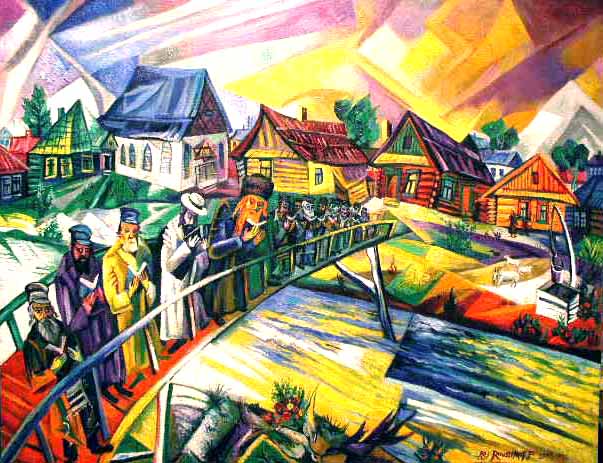 "RIVERSIDE PRAYER SERVICE"
Oil on Canvas by Ari Roussimoff